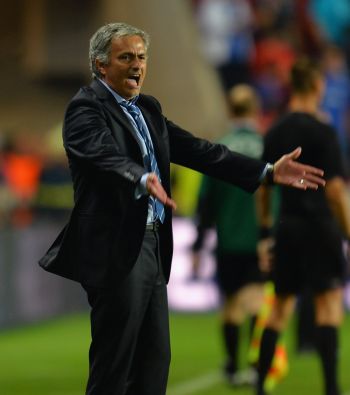 Chelsea manager Jose Mourinho is "disrespectful" and a "bully" for describing Arsene Wenger "a specialist in failure", former Arsenal goalkeeper Bob Wilson said on Sunday.
Mourinho was hitting back at the Arsenal manager's claims that the Portuguese coach was playing down Chelsea's title credentials because of a "fear to fail".
"I think at it's best it's disrespectful, at it's worst despicable," Wilson told BBC Radio 5 Live. "I find him boring in the extreme."
Mourinho, who is in his second spell in charge of Chelsea having in rejoined the club in June, has wound up a number of Premier League managers this season, including West Ham's Sam Allardyce and Manuel Pellegrini of Manchester City.
"I think it's personal," continued Wilson, who made 308 appearances for Arsenal.
"To say West Ham play 19th century football, to give Manuel Pellegrini the abuse he has. This is a weekend when we honour a gent - Tom Finney - I don't like bullies."
Mourinho and Wenger have endured a fractious relationship since the Portuguese coach called Wenger a "voyeur" in 2005 after the Frenchman repeatedly spoke about Chelsea in the media.
Wilson would like to see the end of the verbal sniping between the two and believes that Mourinho should model his behaviour on former Liverpool manager Bill Shankly.
"He (Mourinho) is a hugely talented, amazing manager but a self-publicist and it's mainly inaccurate," Wilson said.
"I like people who have within them some humility as well," he added.
"Bill Shankly was, in his day, like Jose Mourinho. He took every opportunity to psyche you out. He would get at you, but in a lovely, sort of competitive way."
Image: Jose Mourinho
Photograph: Shaun Botterill/Getty Images