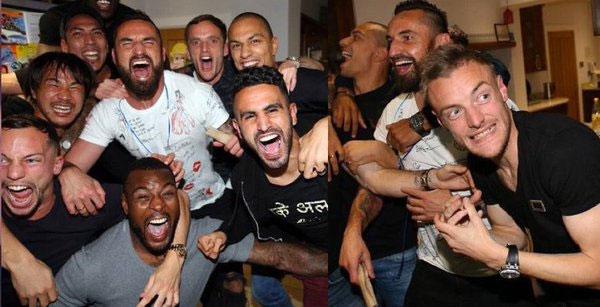 IMAGE: Leicester City players celebrate after winning the titile following a draw played out between Chelsea and Tottenham Hotspur in their Premier League match on Monday. Photograph: Leicester City FC/Twitter
In April last year Leicester City were seven points adrift at the foot of the Premier League and seemingly going down.
After pulling off an incredible escape, they have produced an even more astonishing story by winning the title for the first time in one of the biggest upsets in the history of sport.
Here are the key moments in the club's annus mirabilis.
2015
March 21:Leicester lose 4-3 at Tottenham Hotspur to find themselves bottom, seven points adrift. They have won four of their 29 games. Jamie Vardy scores -- his second goal of a season that eventually produced five goals in 37 appearances.
March 26: The remains of King Richard III, discovered under a Leicester car park, are reburied in the city's cathedral -- later seen as the turning point in the club's fortunes.
April 4: The fight back begins with a 2-1 home win over West Ham United.
April 25: A 1-0 victory at relegation rivals Burnley makes it four wins in a row and hauls Leicester out of the bottom three.
May 16: A goalless draw at Sunderland confirms Leicester will remain in the Premier League with a game to spare.
May 24: Leicester end the season in style by thumping Queens Park Rangers 5-1. Having won four of their first 29 games they won seven and drew one of their final nine to finish 14th in the 20-team league.
QPR, Burnley and Hull are relegated. Aston Villa, Sunderland and Newcastle escape by the skin of their teeth.
June 17: James Pearson, son of manager Nigel, is one of three Leicester players sacked by the club after their involvement in a racist, sexual incident with three local woman during the club's "goodwill tour" of Thailand.
June 30: Nigel Pearson, hero of the city a month before, is fired amid rumours of a fallout with the club's Thai owners related to the sacking of his son.
July 13: Italian Claudio Ranieri is appointed manager of his 15th club.
Aug 8: Ranieri's Leicester kick off the new season with a 4-2 home win over Sunderland.
Sept 26: Leicester's six-game unbeaten start to the season is brought to an emphatic end with a 5-2 home defeat by Arsenal.
Nov 21: Leicester win 3-0 at Newcastle United and go top of the league.
Nov 28: Leicester draw with Manchester United. Vardy is on target and becomes the first player to score in 11 consecutive Premier League games.
December 23:Leicester win 3-2 at Everton to secure top spot at Christmas -- eight of the last 11 teams in that position have gone on to win the league.
2016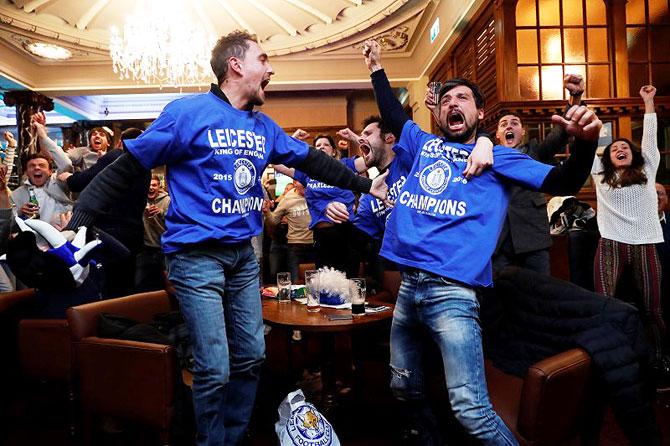 IMAGE: Leicester City fans celebrate after Chelsea scored the second goal against Spurs on Monday. Photograph: Eddie Keogh Livepic/Reuters
January 13: After a relatively dry spell of a defeat and two draws that launched a thousand "bubble has burst" conversations, Leicester are back to winning ways with a 1-0 success at title rivals Tottenham Hotspur.
January 16: A scrappy 1-1 draw at Aston Villa is enough to put Leicester back on top of the table, ahead of Arsenal on goal difference.
February 6: "And now you're going to believe us, we're going to win the league!" roar the Leicester fans, and few people are arguing as, four days after beating Liverpool 2-0, they destroy Manchester City 3-1 at the Etihad.
February 14: The dream is on hold as Danny Welbeck comes off the bench to snatch a stoppage-time 2-1 win for Arsenal.
February 27: The beginning of "phase two" as, with opponents wising up to Leicester's quick-fire counter-attacking game, they are forced to tough it out, starting with a scruffy 1-0 win at Norwich City.
April 10: An impressive 2-0 victory at Sunderland means Ranieri's side have kept five successive clean sheets and are seven points clear with five games remaining.
April 17: Trailing 2-1 at home to West Ham, with Vardy sent off, Leicester are handed a last-gasp penalty lifeline that Leonardo Ulloa grabs to snatch a 2-2 draw, lifting the roof off the King Power stadium.
April 24: Leicester shrug off the absence of suspended Vardy to hammer SwanseaCity 4-0. To complete a great day, Riyad Mahrez is named PFA Player of the Year. Vardy, midfielder N'Golo Kante and centre-back and captain Wes Morgan are also included in the PFA Team of the Year.
April 25: Tottenham, the only team who can catch them, are held 1-1 at home by West Bromwich Albion, leaving Leicester needing a maximum of three points from their last three games to secure the title.
May 1: Leicester draw 1-1 at Manchester United to inch closer to the trophy.
May 2: Spurs need to win all three of their remaining games to have a chance of taking the honours but after leading 2-0 at last year's champions Chelsea, they are pegged back to 2-2 and the title goes to Leicester.