Images from the English Premier League football matches played on Saturday.
Lukaku reaches century in easy United win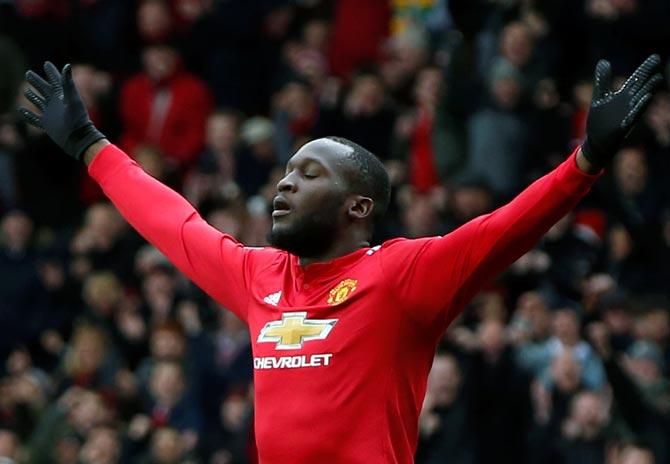 IMAGE: Romelu Lukaku celebrates scoring the first goal for Manchester United. Photograph: Andrew Yates/Reuters
Romelu Lukaku became the first Belgian to reach 100 Premier League goals as Manchester United quickly regained second place in the table from Liverpool with a comfortable 2-0 win over Swansea City on Saturday.

The powerful striker put his team in front within five minutes from a pass by Alexis Sanchez, who added the second a quarter of an hour later.

United, with record signing Paul Pogba back in the side, were dominant, although David de Gea did have to make two saves from Tammy Abraham.
Swansea, revitalised under Jose Mourinho's friend and compatriot Carlos Carvalhal, remained three points above the relegation zone.

"It would be perfect if we could play the second half as well as we did the first half," Mourinho said.

"The first half we played very well: we kept Swansea back, we scored, we played beautiful. It was perfect.

"The second half they improved but we let it go. But it's fine.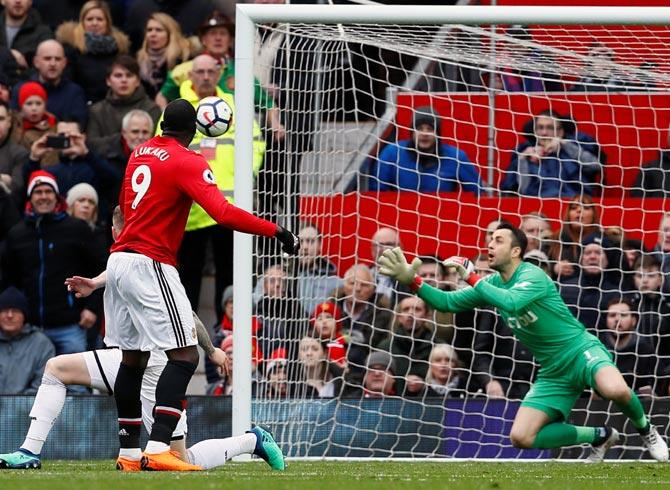 IMAGE: Romelu Lukaku scores the first goal for Manchester United. Photograph: Andrew Yates/Reuters
"We want to finish second this year and have 10 points more than last season, more goals scored, less goals conceded, but there is a club which is making it practically impossible to follow. In other leagues we would be fighting for the title."

Carvalhal was pleased with the way his team improved after halftime.

"If we achieved one goal in those few situations, when David de Gea made fantastic saves, you never know," he said. "We could have made United nervous.

"We have eight games left. I have good expectations for the future as I think if we will play like that in the future, then we will stay in the Premier League."
Late Salah strike gives Liverpool win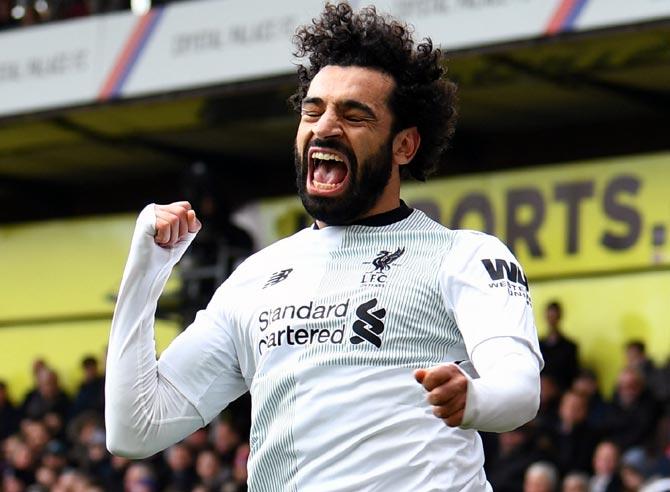 IMAGE: Liverpool's Mohamed Salah celebrates scoring their second goal. Photograph: Dylan Martinez/Reuters
Liverpool's Egyptian forward Mohamed Salah scored his 29th Premier League goal six minutes from time to secure a 2-1 win at Crystal Palace that took them up to provisional second spot in the table on Saturday.

Palace took an early lead with Luka Milivojevic's seventh successful penalty this season after Liverpool goalkeeper Loris Karius had charged into goal-bound Wilfried Zaha and was booked.
Sadio Mane made up for missing some first-half chances by giving Liverpool a deserved equaliser early in the second half, tapping in James Milner's loss cross from the left.

Palace striker Christian Benteke was guilty of two bad misses against his former club in quick succession before Salah struck to leave the hosts mired in the relegation fight.

Liverpool are a point ahead of Manchester United, who can reclaim second place at home to Swansea City later on Saturday. Palace remain two points above the relegation zone.

"Maximum credit to my players," Liverpool manager Juergen Klopp said after marking his 100th Premier League game with victory. "It's very difficult after the international break because we are all used to a specific training intensity and then the players go away to different teams."

Klopp felt Sadio Mane should have been given a penalty instead of a yellow card for simulation in the first half. But he agreed the Senegalese international could have received a second yellow after deliberate handball when he felt he had been fouled.

"It looked like a clear penalty. Yes he goes down late but there was contact there. For me it's a penalty and no yellow card," he said.

"The second one is a foul on Sadio and yes, he puts his hand on the ball, which is a second yellow, so we were lucky in that instance."

Palace's Roy Hodgson, the Liverpool manager for just over six months in 2010-11, was left to rue another late home defeat after suffering the same fate against Manchester United earlier this month.

"It feels like a groundhog day when we play against the top teams," he said.

"It's very disappointing for them to get the winning goal so close to end of the game.

"In the second-half we played well and controlled the ball and created better chances, but we also conceded both goals."
Leicester leave it late to secure victory at Brighton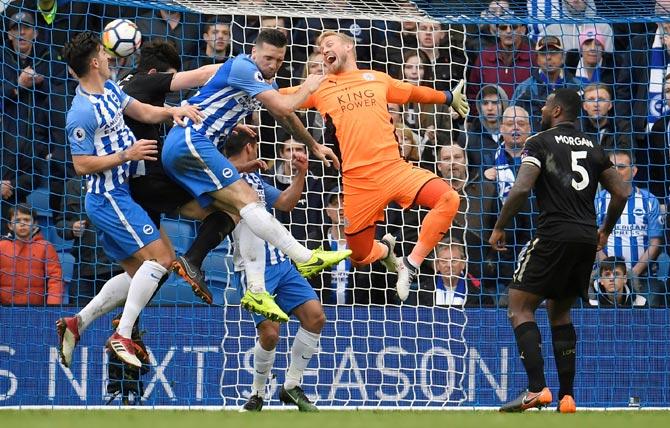 IMAGE: Leicester City's goalkeeper Kasper Schmeichel, centre, in action after a Brighton corner. Photograph: Toby Melville/Reuters
Two late goals helped Leicester City earn a 2-0 victory at Brighton and Hove Albion.

The game at the Amex Stadium seemed to be heading for stalemate as both sides struggled for any fluidity, but it came to life in the final stages as first Glenn Murray's 77th-minute penalty kick was saved and then Vicente Iborra put Leicester ahead with seven minutes left.

Leicester finished the match with 10 men after Wilfred Ndidi was sent off with three minutes to go, but that didn't stop Jamie Vardy adding a second in stoppage time to make sure of a second successive away win for eighth-placed Leicester.

Brighton dropped to 13th after a first home defeat in five games in all competitions.