Fans around the world have been asked by the fiancee of Bolton midfielder Fabrice Muamba to pray for him as he remains in a critical condition in hospital after collapsing during Saturday's FA Cup tie against Tottenham.
Muamba's heart stopped for two hours after his shock collapse during the tie, but medics managed to get it beating again.
Muamba, who became engaged to girlfriend Shauna Magunda on Valentine's Day, has been in intensive care at the London Chest Hospital since being admitted on Saturday evening after suffering a cardiac arrest in the 41st-minute of the sixth-round game at White Hart Lane, which was abandoned by referee Howard Webb.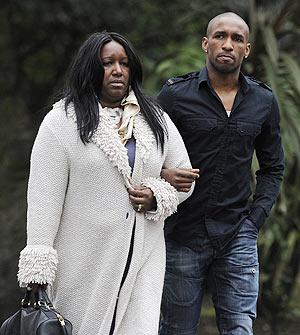 Distraught fiancee Shauna, mother of his son Joshua, three, was at his bedside with relatives.
The 23 year-old's plight has prompted a huge reaction across the global football community and Shauna issued her plea for continued prayers through her Twitter account on Sunday night: "Please keep praying for @fmuamba its really helping I can feel it xx."
The call was echoed by former Bolton captain Gary Cahill, who displayed a "Pray 4 Muamba" T-shirt after scoring in Chelsea's FA Cup win against Leicester City on Sunday, The Telegraph reports.
Real Madrid players last night wore shirts before their Spanish League match wishing Muamba well.
Tributes to Muamba have been widespread, with many teammates and rival players tweeting their thoughts. Manchester United's Rio Ferdinand, Wayne Rooney, Paul Scholes and Jonathan Evans came out in support of Muamba's recovery.
Meanwhile, a student has been arrested after allegedly making sick comments about Fabrice Muamba.
Bolton club manager Owen Coyle said support for player and his family has been incredible, and hoped for a happy outcome
Liam Stacey, 21, is accused of making offensive remarks on Twitter about the Bolton Wanderers player, who last night remained in a critical condition and on a life support.
The Swansea University student is alleged to have tweeted: 'LOL [Laugh out loud]. **** Muamba. He's dead!!! #haha.'
When Twitter users objected, Stacey is said to have launched a volley of vile racist and sexist abuse, which is too offensive to print.
Later, the biology undergraduate, originally from Pontypridd, South Wales, posted tweets saying the remarks were not his and insisting he was not a racist.
He claimed his account had been hacked and he hadn't had access to his phone at the time the remarks were made.
However, he was arrested by South Wales police officers early on Sunday.