Bolton Wanderers midfielder Fabrice Muamba was critically ill in hospital after collapsing on the pitch during the FA Cup quarter-final at Tottenham Hotspur on Saturday.
The match was abandoned at 1-1 just before half-time after the 23-year-old fell to the turf near the centre circle.
"Bolton Wanderers can confirm that Fabrice Muamba has been admitted to The Heart Attack Centre at The London Chest Hospital where he is in a critically ill condition in intensive care," said a joint statement from Bolton and the hospital.
"No further information will be issued at this stage.
"The club and hospital request that the media and public respect the family's privacy at this time."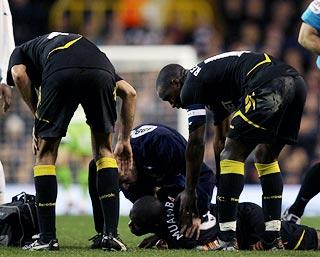 No other player was involved in the incident and after a delay of several minutes referee Howard Webb took the teams off the field.
Medics arrived on the pitch quickly and gave Muamba CPR (cardiopulmonary resuscitation), a Reuters eye witness said.
A number of players gathered around Muamba, some crying and holding their heads in their hands.
As he was carried off the pitch on a stretcher there were a few bursts of applause from the crowd at White Hart Lane before they fell silent.
Muamba, born in Democratic Republic of Congo and an England Under-21 international, was taken to hospital.
"On behalf of The FA, I would like to send our thoughts and prayers to Fabrice Muamba and his family this evening," FA chairman David Bernstein said in a statement.
"Fabrice has played 33 times for England Under-21s, captaining Stuart Pearce's side during this time and is a player, and more importantly, a person we care greatly for.
"We are in contact with Bolton Wanderers over Fabrice's condition and are awaiting updates."
Premier League chief executive Richard Scudamore also made a statement.
"The thoughts of the Premier League, its clubs and players are with Fabrice Muamba, his family and Bolton Wanderers," he said.
"We would like to praise the players, match officials, coaching staff and medical teams of both clubs at White Hart Lane for their swift actions in attending Fabrice.
"The League would also like to commend the compassion shown by the fans of Bolton Wanderers and Tottenham Hotspur.
"We hope to hear positive news about Fabrice who is and has been a wonderful ambassador for the English game and the League at Arsenal, Birmingham City and Bolton Wanderers."
Tottenham passed on their best wishes.
"Everyone at the club sends their best wishes to Fabrice Muamba and his family," Spurs said on their Twitter feed.
Muamba joined Bolton from Birmingham City in 2008 in a deal worth over 5 million pounds and has made 130 league appearances for the club.
He came through Arsenal's youth academy and made two League Cup appearances for the Gunners in the 2005-06 season.
Photograph: Getty Images