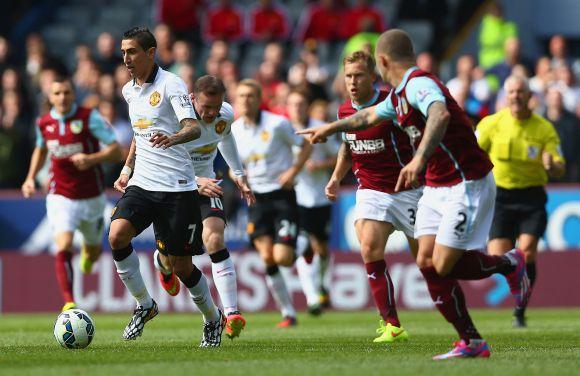 Angel di Maria of Manchester United in action during the Premier League match against Burnley at Turf Moor. Photograph: Clive Brunskill/Getty Images
There was little fanfare but a few lessons perhaps learnt as the most expensive player in the history of English football - Angel di Maria - lasted 70 minutes on his Premier League debut for Manchester United in their goalless draw at Burnley on Saturday.
It was a result and performance which highlighted just how much work lies ahead for United's Dutch coach Louis van Gaal as he seeks to rebuild the 20-times English champions into a team capable of competing at the very top again.
In that process much is expected of Di Maria, who was sold by Real Madrid to United for a British record £59.7 million ($ 99 million) and who showed a few flashes of his undoubted talent on Saturday.
But United, yet to win this season, again looked disjointed and lacking in confidence against a determined Burnley, who earned their first point since returning to the Premier League.
For Di Maria Premier League debut was a reality check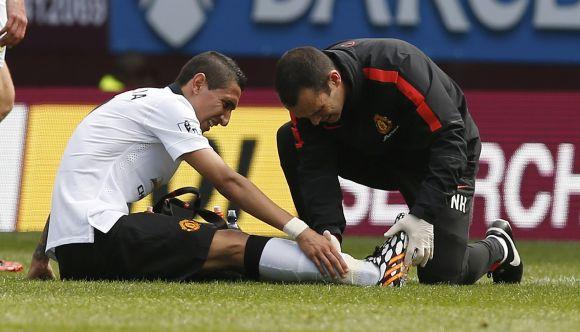 Manchester United's Angel Di Maria is treated for an ankle injury. Photograph: Andrew Yates/Reuters
For the Argentine midfielder, who was a Champions League winner with Real last season, his Premier League debut was a reality check.
Naturally he was heralded by United's travelling support among the wooden seats in the Cricket Field stand at Turf Moor, but his first misplaced pass was greeted with jeers from the Burnley fans and later mistakes led to mocking chants from them of "What a waste of money".
The 26-year-old can expect plenty more of that in the coming weeks as his transfer fee will generate the kind of attention that he rarely received at Real, where he was often viewed, perhaps ungenerously, as a supporting actor to the bigger name stars in the Bernabeu stadium show.
The spotlight will shine the brightest when Di Maria faces the title-chasing teams from the top end of the table but the Argentine will have learnt on Saturday that even the most modest clubs in the English top flight will not roll over - as he discovered when he left the field after what his manager called a "kick to the calf".
United have spent £132 million so far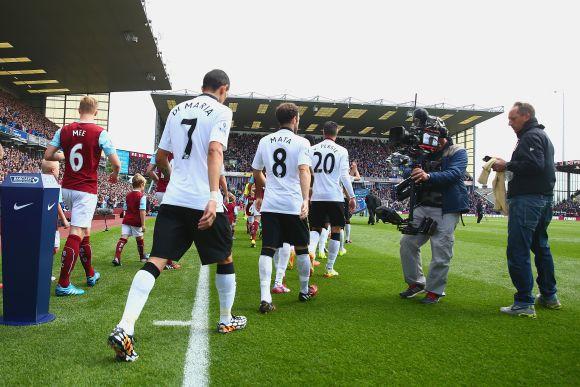 Angel di Maria, Juan Mata and Robin van Persie of Manchester United head out at the start of the match during the Barclays Premier League match. Photograph: Mark Thompson/Getty Images
Burnley, based in the centre of a former textile industry town of 87,000, were founder members of the Football League and the smallest town to win it. They are what English clubs used to be – owned by local businessmen who are fans of the club, with an English manager and a real rarity - an all-British squad of players.
In this transfer window, so far, United have spent £132 million on new players – Burnley have invested £four million.
In fact, Burnley's combined transfer fees from the club's entire 132-year history do not tally up to what United manager Louis van Gaal invested in Di Maria on Tuesday.
Much has been made of Di Maria's choice of shirt number and his predecessors in the number seven at Old Trafford – George Best, David Beckham and Cristiano Ronaldo among them.
Saturday's game offered a reminder that money talked long before the Premier League was created – back in the 1960's United lured away Burnley's fine 'number sevens', John Connelly and Willie Morgan, as the East Lancashire club, champions in 1960, started to find it hard to keep hold of talent.
Burley slogged hard against United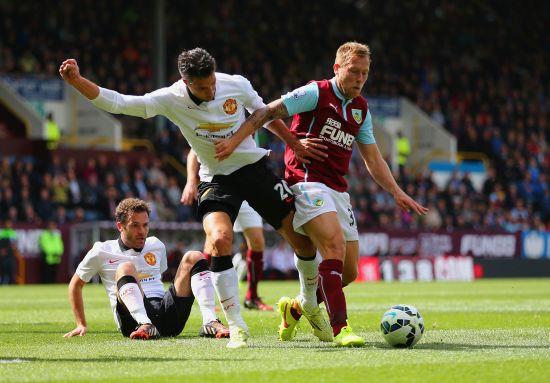 Robin van Persie of Manchester United and Scott Arfield of Burnley battle for the ball during the Barclays Premier League match. Photograph: Clive Brunskill/Getty Images
But on Saturday, Burnley showed that, sometimes at least, for 90 minutes, the working class can match the super rich.
Burnley midfielder Scott Arfield, who plays a similar role to Di Maria, was signed for nothing by Clarets manager Sean Dyche after Huddersfield Town released him just over a year ago.
Dyche is hoping to find a couple more bargains by the time the window closes on Monday, while United acquired another big money player, this time signing Ajax's Dutch international Daley Blind for 17.5 million euros ($ 23 million).
The difference in resources between the two clubs will show in the end – as will Di Maria's quality.
But on Sunday, Arfield will wake up with his adrenalin still pumping in pride while Di Maria will have a sore calf as a reminder of his first trip to East Lancashire.