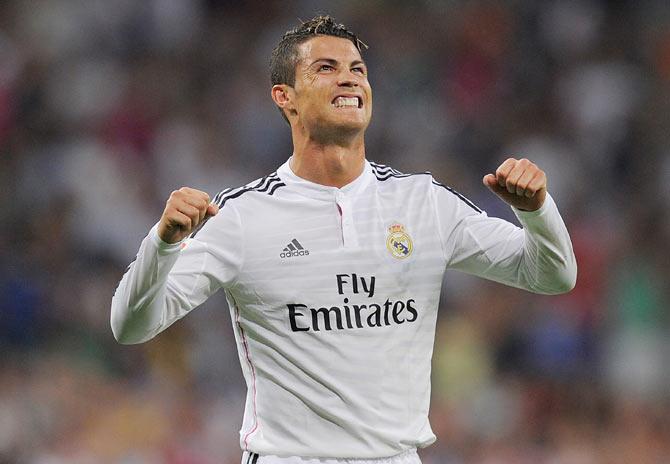 Cristiano Ronaldo of Real Madrid. Photograph: Denis Doyle/Getty Images
Cristiano Ronaldo admits that he suffered for pushing himself too much at the end of last season but is now close to his best as Real Madrid prepare to face Real Sociedad this weekend.
The Portuguese forward, who was named UEFA's Best Player in Europe on Thursday, suffered knee problems at the end of the last campaign and was not fully recovered by the World Cup.
He has now put that injury behind him but has been since affected by a hamstring strain he picked up last week.
"In life you don't win without making sacrifices and you have to take risks at times. Perhaps in other circumstances I would have acted differently," Ronaldo told Marca.
Ronaldo played a key role as Real finally won their 10th European Cup crown following a 12-year wait, setting a new Champions League scoring record along the way with 17 goals.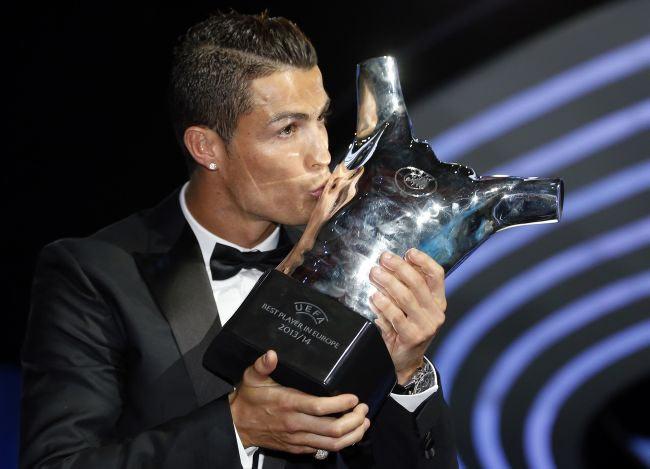 Real Madrid's Cristiano Ronaldo kisses his Best Player UEFA 2014 Award. Photograph: Eric Gaillard/Reuters
'Last week I was running okay but I still need some days to be at my best'
"We were involved in important competitions with the Champions League and then the World Cup," he added.
"Things went well and I beat the record of goals in the Champions League. I then had holidays where I could rest a month and only had treatment and looked after my body.
"Then there were ups and downs in pre-season which is normal with the Real Madrid tour, the trips, the tiredness and jet-lag. All this means that you can't work well.
"Last week I was running okay but I still need some days to be at my best although it will be soon.
"Clearly I did (force myself too much). I should probably have stopped and now I would be fine."
Real have made an inconsistent start to the season as following an impressive victory in the European Super Cup over Sevilla, they then lost the domestic version to Atletico Madrid.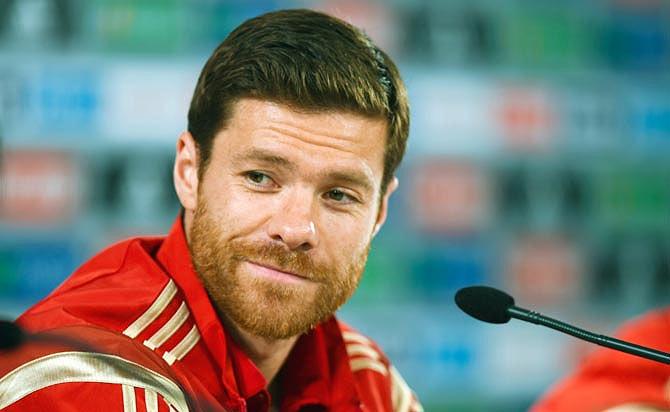 Xabi Alonso. Photograph: David Ramos/Getty Images
'I will miss players that go like Di Maria and Xabi Alonso'
They won their first match of the La Liga season last weekend against newly promoted Cordoba but it was not a strong display and they lacked rhythm and pace through midfield and attack.
Carlo Ancelotti's side are now having to come to terms with the loss of Angel Di Maria and Xabi Alonso, who have joined Manchester United and Bayern Munich this week and were fundamental players in the side last season.
"I will miss all the good players that go like Di Maria and Xabi Alonso. The president knows better than anyone what he is doing and we have good players here to help us keep winning," Ronaldo added.