Chelsea manager Roberto Di Matteo returns to former club West Bromwich Albion convinced that his sacking there last year strengthened his resolve and helped him become a European champion.
Di Matteo led West Brom to promotion to the Premier League in 2010 but was fired in February 2011, only to join the coaching ranks at ex-club Chelsea and eventually become manager in time to inspire their Champions League final triumph in May.
"Look at where I am sitting now - so I am not so sure it was such a bad thing," the Italian told a news conference on Friday ahead of Saturday's meeting between the sides.
"In a manager's career you are going to get the sack at some point if you have a long career and it makes you stronger."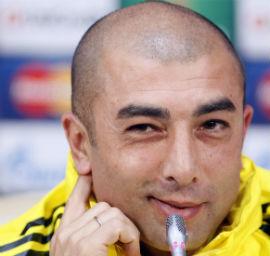 His predecessor Andre Villas-Boas was dismissed in March after a defeat at West Brom and Di Matteo is wary of his former side, who are fifth in the table just four points behind third-placed Chelsea and seven adrift of leaders Manchester United.
"I don't have such good memories of the game there with Chelsea last season," he said.
"We didn't play a good game and it was a shame because we were in a difficult period at the time and that defeat led to a reaction."
While Chelsea have not won in three league games, surprise packages West Brom took the three points in their last two outings as former Chelsea assistant boss Steve Clarke continues to impress in his first role as a manager.
"When I played with Roberto I didn't see him as a future manager. When I was coaching the youth team at Chelsea, he suddenly turned up one day and was standing by my side wanting to know what I was doing," said Clarke, who expects a better prepared Di Matteo at the Hawthorns.
"The fact we've done so well this season will start to make the games harder for us because people will come here knowing they're in for a tough afternoon. They certainly won't take us lightly."
Photograph: Gleb Garanich/Reuters