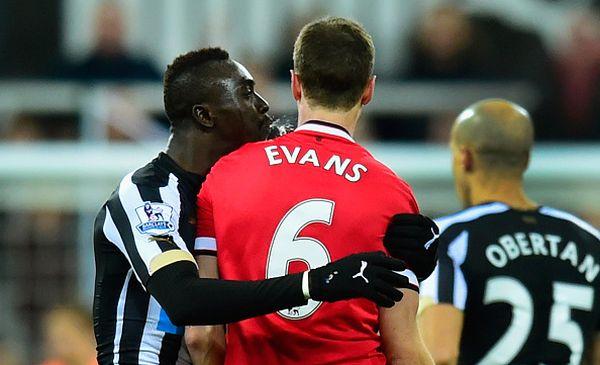 Manchester United player Jonny Evans (r) looks on as Papiss Cisse of Newcastle appears to spit during the Barclays Premier League match. Photograph: Stu Forster/Getty Images
Newcastle United striker Papiss Cisse will face a severe punishment after accepting an FA charge of spitting at Manchester United defender Jonny Evans in Wednesday's Premier League match.
"Both ourselves and Papiss agree this kind of behaviour is not acceptable," Newcastle managing director Lee Charnley said in a statement on Thursday.
The precise sanction the FA will hand out is not yet known but media reports said the Senegalese international faced a lengthy ban. Evans has also been charged for spitting at Cisse but he denies any wrongdoing.
"In life when you do something wrong you have to front up, admit your mistakes and accept the punishment," Charnley added.
"Papiss was proactive this morning in making a full and heartfelt apology which he did in advance of any notification from the FA regarding this charge. This was something he felt strongly about and we fully support him in accepting the charge."
The FA said the incidents, unseen by match officials, were caught on video and reviewed by a three-man panel of former elite referees who agreed unanimously that both players should have been sent off.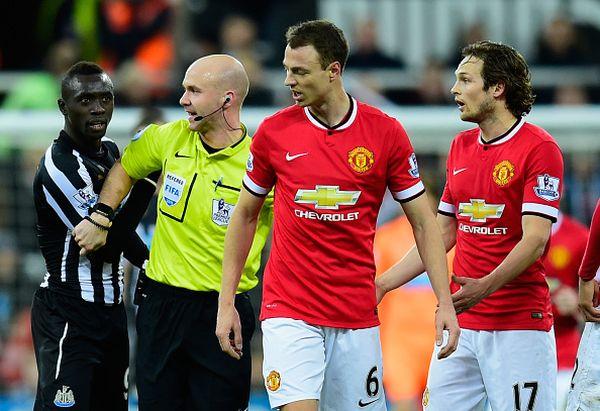 Referee Anthony Taylor steps in as Manchester United player Jonny Evans (c) and Papiss Cisse of Newcastle have words during the Barclays Premier League match. Photograph: Stu Forster/Getty Images
Northern Ireland international Evans issued a statement on Thursday denying he had done anything wrong in the game won 1-0 by Manchester United.
"I am shocked to have seen the media coverage. I would like to make it clear I did not spit at Papiss Cisse," said Evans.
"I was totally unaware of any spitting incident and had assumed the issue at the time was with the challenge and his attempted retaliation to the tackle from the floor.
"It is not in my character or nature to spit at anybody nor is it something I have ever done or would ever do. It is certainly not something I did last night," added Evans.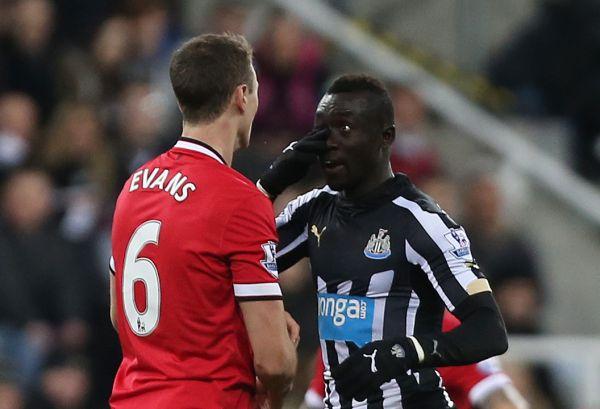 Manchester United's Jonny Evans clashes with Newcastle's Papiss Cisse. Photograph: Dylan Lee Smith/Reuters
Manchester United manager Louis van Gaal and Newcastle counterpart John Carver said they had not seen the incident which did not result in either player being cautioned.
"I have apologies to make to a lot of people," Cisse said earlier. "Firstly to my team mates and to our supporters, secondly to Jonny Evans, and thirdly to every football fan who saw the incident.
"I reacted to something I found very unpleasant. Sometimes it is hard not to react, particularly in the heat of the moment. I have always tried hard to be a positive role model, especially for our young fans, and yesterday I let you down."