Six weeks ago, with Newcastle United in the Premier League's relegation zone and still looking for a first win of the season, Alan Pardew seemed highly unlikely to reach his fourth anniversary as manager in December.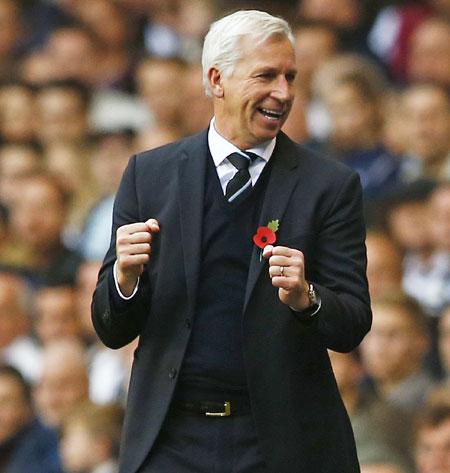 Maverick club owner Mike Ashley, the billionaire founder of sportswear firm Sports Direct, was under siege from fans demanding Pardew's head and there were regular noisy protests at both home and away games.
For once, however, in the volatile world of football where trigger-happy chairman fire at the first sign of trouble, a manager has been given time to fight his way out of trouble.
Sunday's 2-0 victory over West Bromwich Albion, Newcastle's fifth successive win in all competitions, lifted them to within two points of the top four and means Pardew has every reason to believe he will still be in charge next month.
Having been sacked by three of his four previous clubs, West Ham United, Charlton Athletic and Southampton, the former Crystal Palace midfielder had to face down opposition from the start as a surprise appointment in December 2010.
He seemed to have won them over by lifting Newcastle, who have not won a major trophy since 1969, into fifth place at the end of his first full season in May 2012.
That earned him two Manager of the Year awards in England and took the club back into European competition.
Rumblings were heard from supporters when the north-eastern club slumped to 16th place a year later and last season they were well-placed at the halfway stage but suffered from losing outstanding French midfielder Yohan Cabaye to Paris St Germain.
Amid media reports that he had two matches to save his job, Pardew won both, but incurred a seven-game ban for headbutting an opposition player, Hull City's David Meyler.
Losing seven of the final eight games of the season to finish 10th meant he needed a good start to this season to restore any faith but with striker Papiss Cisse and new signing Siem de Jong injured, Newcastle were bottom after five games.
It was mid-October before their first win, at home to Leicester City, but that became the first of five in succession, with close-season signing Ayoze Perez from Tenerife scoring three in four games.
The way he back-heeled the opening goal at West Brom on Sunday was indicative of the confidence flowing through the side. "We find ourselves right up the league where a club of this size should be," Pardew told Sky Sports afterwards.
"After a difficult start we were looking at statistics and they weren't suggesting we were in the position we should have been in.
"It is difficult to say that when you are under so much pressure and the fans are almost revolting.
"We have got a really young team, quite an exciting team and it is very nice to manage."
All of which was difficult to believe just a couple of months ago.
Image: Newcastle United manager Alan Pardew celebrates his team's victory in their Premier League match against Tottenham Hotspur at White Hart Lane
Photo: Andrew Winning/Reuters