Britain's Prime Minister David Cameron watches the English Premier League match between Queens Park Rangers and Aston Villa with his son Arthur at Loftus Road in London on Sunday.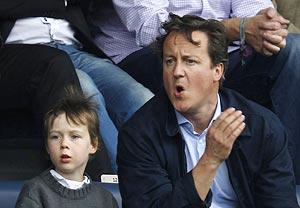 Cameron's presence at a Premiership match is not a rare sighting as the British Prime Minister is spotted now and then at these top-flight matches. Cameron is the nephew of Sir William Dugdale, former Chairman of Aston Villa Football Club.
The Prime Minister and his son (5) watched as Queen's Park Rangers managed to eke out a draw after Villa defender Richard Dunne scored an own goal at stoppage time.