For all the question marks posed by their performance during their 28-17 rugby World Cup quarter-final victory over Wales on Sunday, nobody can question England's ability to last the distance.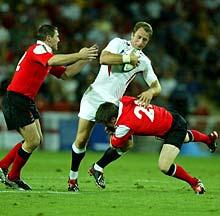 The world's number two side, which has recorded 20 victories in its last 21 games and only slipped from the number one spot after the quarter-finals on the weekend, has been threatened in three of its tournament matches so far, but has always managed to recover.
The English were rattled, disorganised, and worried against the Welsh, but kept their calm, got their lineout functioning, and started kicking for territory.
With Jonny Wilkinson then able to score six penalties and a drop goal, they once again took control of a match that had been on the verge of getting away.
England also had to come from behind at the break to beat Samoa, only making sure of the win in the last 20 minutes.
The only reason they remained level with South Africa at half-time was because Springbok flyhalf Louis Koen missed four of six first-half penalty attempts.
But in each match, the Six Nations champions, who, with more than 700 caps among them on Sunday, were the most experienced international XV ever to take the field, have turned on the power in the second period.
Coach Clive Woodward, who said he had remained calm during the problems in the group stage, admitted there had been some harsh words this time. "There was a bit of colourful language," he said. "One or two individuals weren't thinking too clearly at times."
| | |
| --- | --- |
| | Also Read |
| | |
One of those was winger Ben Cohen.

With England clinging to a fortunate 3-0 lead, they were awarded a penalty in the 25th minute in front of the posts. Before Wilkinson had the chance to secure an easy three points, Cohen inexplicably launched a high kick in the general direction of flanker Neil Back which, unsurprisingly, the shortest member of England's team failed to grasp.

"We weren't exactly saying 'wow, well done Ben'," said Woodward.

One man who has been a vital ingredient in England's strong finishes has been tireless centre Will Greenwood, scorer of their only try on Sunday.

While everyone else watched in admiration as Jason Robinson sprinted 50 metres in a thrilling kick-return three minutes after the restart, Greenwood galloped alongside him and was on hand to collect the ball to score in the corner.

Greenwood was also England's sole try scorer against South Africa, got two in the opener against Georgia, and chipped in against Uruguay despite only coming on for the last 18 minutes. His remarkable career tally now stands at 30 tries in 45 games.

It is a return that appears all the more important in the light of injuries to fullback Josh Lewsey and winger Iain Balshaw that have forced England to fly utility back Austin Healey out as stand-by cover on Monday.

With winger Dan Luger looking out of sorts, Woodward suddenly finds himself short in the back three, an area in which he said just three days ago that England were "blessed".