'Barca are the best team around and when we play as we know how we are unstoppable'
'We want to have more control, create and take advantage of space and create chances'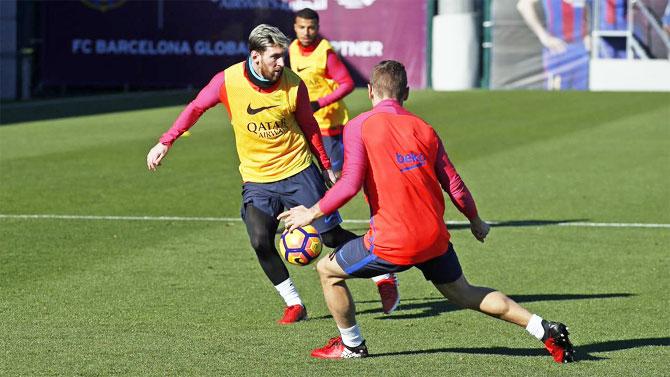 IMAGE: FC Barcelona's Lionel Messi trains during a practice session in Barcelona on Friday. Photograph: FCB/Twitter
Barcelona remain the best team in the world on their day despite unconvincing displays this season, coach Luis Enrique said on Friday ahead of their clash with La Liga leaders and arch-rivals Real Madrid.
- El Clasico: Will struggling Barcelona stop Real Madrid's charge?
Barcelona trail Zinedine Zidane's unbeaten side by six points going into Saturday's Clasico at the Nou Camp having failed to beat the likes of Malaga and Real Sociedad and losing to Celta Vigo and Alaves in their worst start to a season since 2004-05.
The champions have produced blistering displays this season, however, beating Real Betis 6-2 on the opening day and hammering Celtic 7-0 and Manchester City 4-0 in the Champions League.
"I feel optimistic when I see my team train and compete every day. There are many great teams around but no-one is better than us," Luis Enrique told a news conference.
The coach was echoing the words of Barca's Turkey international Arda Turan.
"Barca are the best team around and when we play as we know how we are unstoppable," he told the club website.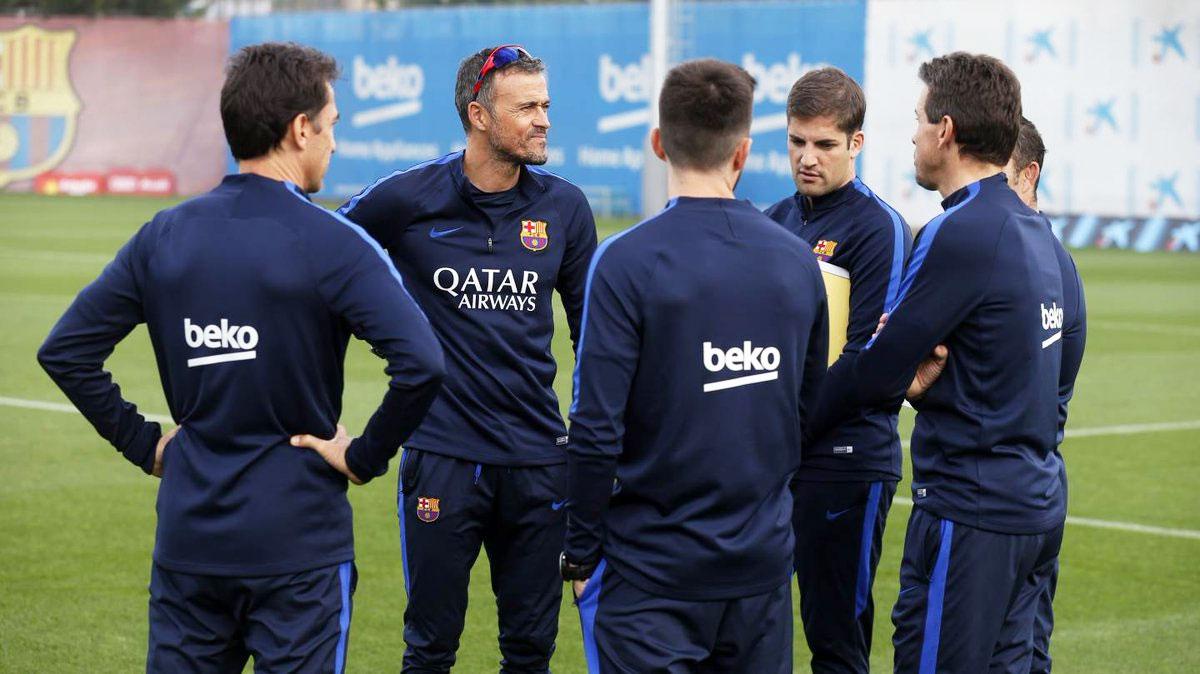 IMAGE: FC Barcelona coach Luis Enrique speaks to his players in training on Friday. Photograph: FC Barcelona/Twitter
Luis Enrique also predicted that Real would come to the Nou Camp with a defensive approach.
"They'll have no problem with giving the ball to us and that suits us as we need it. They'll try and take advantage of set pieces, quick transitions and try to be effective in the final third. We want to have more control, create and take advantage of space and create chances," the coach said.
Midfield maestro and captain Andres Iniesta returns to the side after six weeks out with a knee injury, meaning Barca could have their first choice starting 11 if full back Jordi Alba recovers from a knock sustained against Real Sociedad.
"Iniesta is our captain and the reference point for our style but I don't think our style will change because of one player, although it's great news to have our captain back," Luis Enrique said.
"We have the chance to put ourselves at a more comfortable distance from Real Madrid, but it will not determine the outcome of the title."