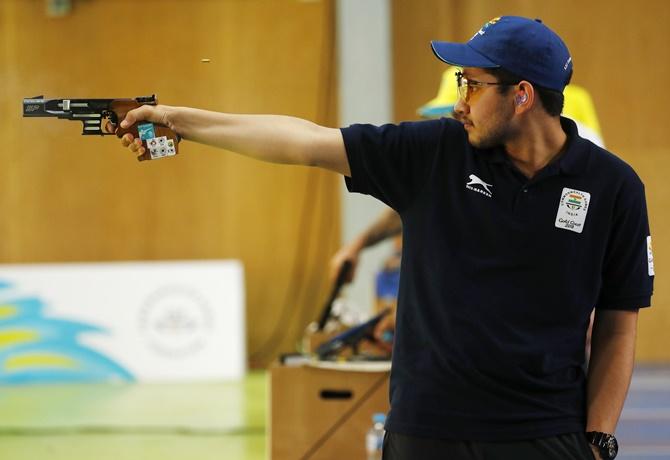 Dropping shooting from the 2022 Commonwealth Games will be a huge setback for India, especially for its young shooters, says Abhinav Bindra, the country's only individual Olympic gold medallist.
"No doubt, it will be a huge setback for the country and our shooters. It will hit hard on the up-and-coming shooters," said Bindra, on the sidelines of a felicitation ceremony for India's Olympic medallists by visiting International Olympic Committee chief Thomas Bach.
"Shooting is an optional sport and they (Birmingham organisers) say they don't have the facilities to host shooting events. Had Durban (South Africa) hosted the 2022 Commonwealth Games, shooting would have been there," he added.
Durban was to originally host the 2022 Games but it later expressed its inability due to financial problems. The Commonwealth Games Federation later awarded the Games to Birmingham.
The Birmingham Organising Committee has decided to exclude shooting from the 2022 Games, citing logistical issues.
India won a bagful of shooting medals at the just-concluded Games in Gold Coast. The shooting squad bagged as many as 16 medals, seven of them gold.
Shooting, though an optional sport at the Commonwealth Games, was a discipline in every edition since Kingston 1966, except once in Edinburgh in 1970.
A few days back, National Rifle Association of India (NRAI) president Raninder Singh had called for India's boycott of the 2022 Games if shooting is not reinstated, but IOA president Narinder Batra, on Thursday, termed it as going a "bit too extreme".
"Raninder is free to make his statements. There are a lot of things related to government. We will certainly pick up the issue of shooting not being there in the 2022 Commonwealth Games but it does not start or end with not participating. A nation boycotting, I think he is going a bit too extreme," said Batra, at a press conference in the presence of Bach.
Meanwhile, several yesteryear hockey stars who won Olympic gold medals, including the legendary Balbir Singh senior, turned up for the felicitation ceremony even as many non-hockey Olympic medallists skipped the event.
Besides Bindra, current sports minister and 2004 Athens Olympics silver medallist Rajyavardhan Singh Rathore was also felicitated by Bach.
2008 Beijing Olympics bronze medallist boxer Vijender Singh turned up for a brief period and left immediately after being felicitated by the IOC chief.