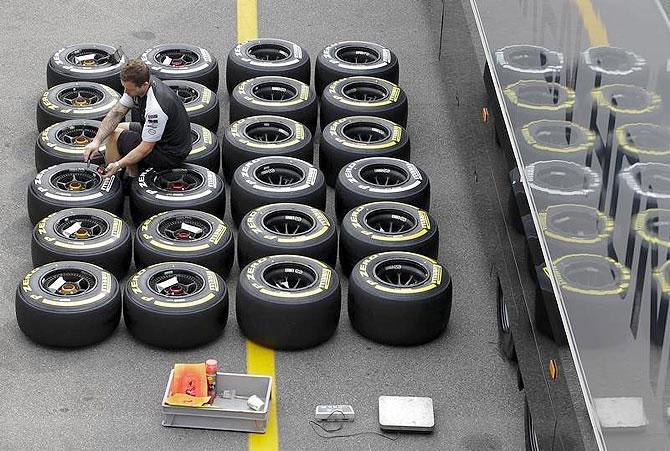 IMAGE: Mercedes mechanic checks the pressure of Pirelli tyres ahead of the Italian F1 Grand Prix in Monza (Image used for representational purposes). Photograph: Max Rossi/Reuters
Formula One's 2016 tyre rules, giving more choice on the selection of compounds and strategy, have left even some drivers confused.
"So far the new tyre regulation isn't clear to me. I'm glad I have an engineer to help," commented French driver Romain Grosjean, who raced for Lotus this year and is switching to Haas, on Twitter.
- Baku to make Formula One debut in 2016
"I've got a headache after reading this," added India's former F1 racer Karun Chandhok, referring to Pirelli's explanation.
Formula One's governing body said after a meeting of its World Motor Sport Council on Wednesday that changes had been approved in order to encourage differing race strategies.
It explained that Pirelli would now provide three dry-weather compounds instead of two.
"Of the 13 sets of dry tyres available to each driver, the tyre supplier will choose two for the race (only one of which must be used in the race), and one set (the softest available) that may only be used in Q3 (the final phase of qualifying.
"Each driver may then choose their remaining 10 sets from the three available compounds," added the International Automobile Federation.
"Unless intermediate or wet-weather tyres have been used, a driver must use at least two different specifications of dry-weather tyres -- at least one of these must be the one chosen by the tyre supplier."
Pirelli issued further information on Thursday, which may have added to the headaches.
"The teams will make their choices within a deadline set by Pirelli. They will communicate their choices to the FIA, which will in turn tell Pirelli how many tyres to produce," it said.
"The choices for each car will remain secret until two weeks before the race. If a team does not meet the deadline, the choice will be made by the FIA.
"The choices made by each team can vary for each of its cars: so each driver within a team can have a different allocation."
Renault to make F1 return in 2016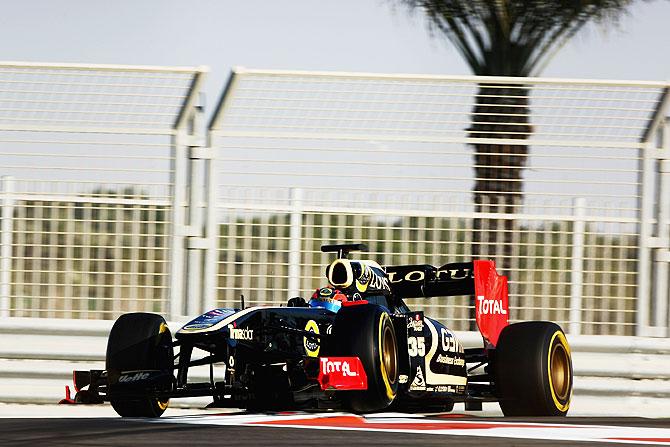 IMAGE: Lotus Renault driven at the Formula 1 Young Drivers Test at Yas Marina Circuit (Image used for representational purposes). Photograph: Andrew Hone/Getty Images
Renault will return to Formula One as a constructor next year after signing key contracts on Thursday to acquire the struggling Lotus team.
Announcing the move, a big boost for the sport after months of uncertainty, the French carmaker's chief executive Carlos Ghosn said he wanted the team to be competitive by 2019.
"Renault had two options: come back 100 percent or leave completely," he said in a statement. "After detailed analysis, I made my decision: Renault will be present in Formula One from 2016."
Renault signed a letter of intent in September to take a controlling stake in British-based Lotus, the team it previously owned but sold in late 2009 after a race fixing scandal involving the 2008 Singapore Grand Prix.
Lotus have struggled financially and were facing legal action and possible administration over unpaid taxes.
They had been due back in the London High Court next Monday.
Ghosn said work was under way to implement as quickly as possible the agreement concerning the acquisition, and key contracts had been signed on Thursday.
"Lotus appeared the best team to partner. We've known each other for 15 years and we were world champions together in 2005 and 2006," the statement said.
The team, which also won world championships with Michael Schumacher under the Benetton guise in 1994 and 1995 before becoming Renault, were renamed Lotus in 2011.
Sponsored mainly by Venezuelan state oil company PDVSA, with Venezuelan driver Pastor Maldonado confirmed for next season alongside British rookie Jolyon Palmer, Lotus finished fourth overall in 2013 but slumped to eighth in 2014 with just 10 points.
They ended the 2015 season that finished last weekend a respectable sixth, despite minimal investment and frequent financial obstacles in their way.