Lance Armstrong on Wednesday stepped down as chairman of the charity he founded to distance the cancer patient-support organization from the widening doping scandal that promises to cost him his seven Tour de France cycling titles.
At the same time, one of his long-time corporate sponsors, Nike Inc., said it could no longer ignore the growing evidence of his illicit behaviour as one of the cycling world's premier athletes and dropped its sponsorship of him.
- All about the Lance Armstrong doping case
Armstrong said in a statement: "To spare the (Livestrong) foundation any negative effects as a result of controversy surrounding my cycling career, I will conclude my chairmanship." He will continue to serve on the board.
Armstrong is set to lose his record seven Tour de France titles after the US Anti-Doping Agency published a 1,000-page report last week that said the now-retired American took part in and organized an elaborate and sophisticated doping scheme on his way to his unrivalled success on the Tour.
Armstrong, 41, has always denied he took banned substances during his glittering career but decided not to challenge the USADA charges against him.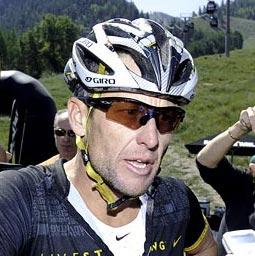 Armstrong founded the Lance Armstrong Foundation in 1997 after being diagnosed with testicular cancer in late 1996, according to the foundation's website. The organization launched the Livestrong brand in 2003 as it widened its cancer patient-support services, and the foundation is now known by both names.
His departure as chairman comes just two days before the foundation's fund-raising gala in Austin, Texas, where Armstrong lives. Celebrities such as Sean Penn and Ben Stiller are expected to attend, with comedian Robin Williams and singer Norah Jones to provide entertainment.
"It is his effort to inoculate the foundation against any risk or damage associated with current controversy in the cycling world," Livestrong spokeswoman Katherine McLane said in an interview.
DONATIONS TO LIVESTRONG RISE
So far, the foundation's financial health appears not to have suffered from Armstrong's cycling scandal.
Contributions have actually risen this year as the USADA probe gathered momentum. For the year 2012 to date, the foundation has reported revenue of $33.8 million, up 2.1 percent from this point a year ago, according to documents provided to Reuters.
Since late August, when Armstrong said he would not contest the USADA findings and the agency said it planned to strip him of his titles, Livestrong has received more than 16,000 contributions, averaging about $97 each. "This is almost twice normal levels," Rae Bazzarre, another Livestrong spokeswoman.
Meanwhile, Nike, in reversing its earlier stand in support of Armstrong, said it is severing ties with Armstrong, but would continue to support Livestrong.
"Due to the seemingly insurmountable evidence that Lance Armstrong participated in doping and misled Nike for more than a decade, it is with great sadness that we have terminated our contract with him," the company said in a statement. "Nike does not condone the use of illegal performance enhancing drugs in any manner."
Cycling's world governing body, the International Cycling Union, has yet to rule on the USADA report. They can either confirm Armstrong's life ban and strip him of his seven Tour titles or take the matter to the Court of Arbitration for Sport.
The USADA report accused Armstrong, as head of the US Postal Service Pro Cycling Team, of running "the most sophisticated, professionalized and successful doping program that sport has ever seen."
The report included sworn testimony of 26 people, including 15 riders, who described years of performance-enhancing drug use.
Also read:
- Armstrong could take lie test over doping
- USADA statement on doping conspiracy
- USADA accuses Armstrong of being doping ringleader
- What former teammates said against Armstrong