The sports world witnessed an outpouring of grief at Phillip Hughes's funeral.
The Australia batsman, 25, died in hospital two days after being struck by a ball in a domestic game last month. In an emotional funeral in his hometown of Macksville, New South Wales, the nation united in celebration and remembrance of the life of a sportsman cut down in his prime.
In India, it was a dream day for the country's tennis fans, as world No 1 Novak Djokovic and Swiss legend Roger Federer sparkled on their maiden appearance in the country.
There was also some great football, cricket and skiing World Cup action from across the globe.
Rediff.com brings you a collection of some of the best sports images from around the world…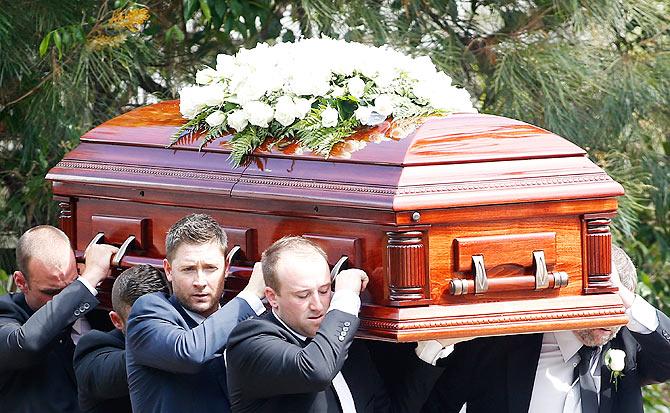 About 5,000 people attended the service in Hughes's home town of Macksville, New South Wales, with mourners including Australia's Test team, coach Darren Lehmann and cricket legends Shane Warne and Brian Lara.
From the eulogies given they learned of a beloved son, brother, cousin and friend whose passion for cricket was matched only by his enthusiasm for the Angus cattle he helped raise on the family farm.
They were also reminded of a small town boy with a prodigious talent for hitting a ball with a bat who headed down the coast to big city Sydney as a teenager and ended up playing 26 Tests for his country.
Australia captain Michael Clarke broke down in tears for the second time in a few days as he paid public tribute to his former team mate and friend. Photograph: Daniel Munoz/Pool/Reuters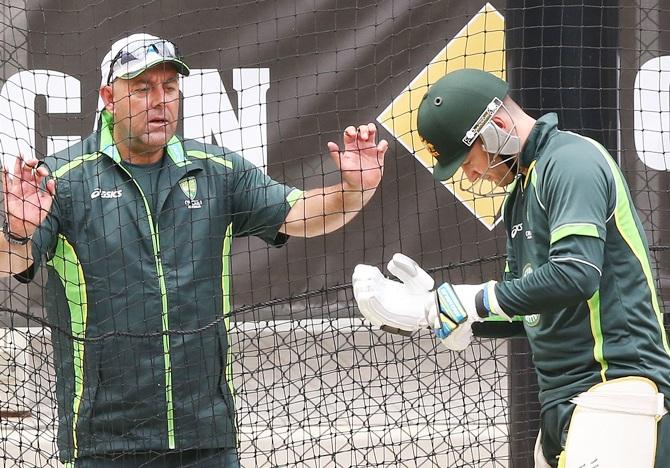 The first Test Australia hosts against India, on Tuesday, is set to be fraught with conflicting emotions as players return to battle with a mixture of relief and apprehension after the tragic death of Phillip Hughes.
Though the first Test was delayed and switched to Adelaide to allow players time to grieve, Tuesday's opening day will be a leap into the unknown for a number of them.
Australia's head coach Lehmann speaks to Michael Clarke during Australian nets session at Adelaide on Monday. Photograph: Michael Dodge/Getty Images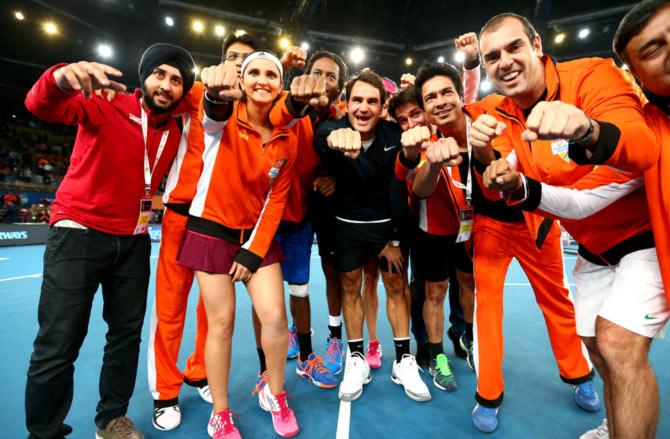 It turned out to be a dream day for Indian tennis fans as world No 1 Novak Djokovic and Swiss legend Roger Federer sparkled on their maiden appearance in the country, in the International Premier Tennis League, at the Indira Gandhi Indoor Stadium, in New Delhi, on Sunday.
The Indian Aces, comprising heavyweights Federer and retired Pete Sampras, pummeled Singapore Slammers 26-16 in the first match of the day for their second straight victory.

Djokovic made an unexpected appearance in the night match but his UAE Royals lost to Manila Mavericks 24-27.
"It is so special to be here. Thank you guys. I have been getting special treatment ever since I have arrived here," said Federer in a court side interview. Photograph: Clive Brunskill/Getty Images for IPTL 2014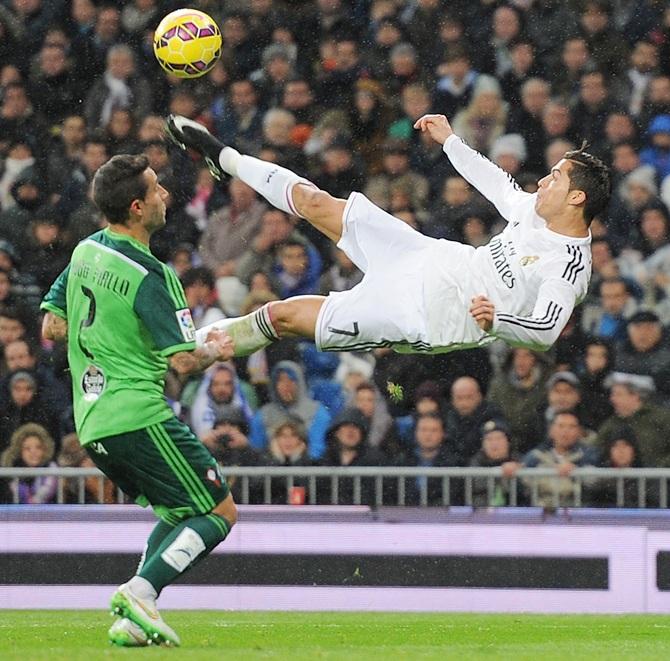 In an exciting weekend for football lovers, Cristiano Ronaldo and Lionel Messi continued their extraordinary double act, both scoring hat-tricks as Real Madrid and Barcelona maintained their battle for supremacy at the top of La Liga. Photograph: Denis Doyle/Getty Images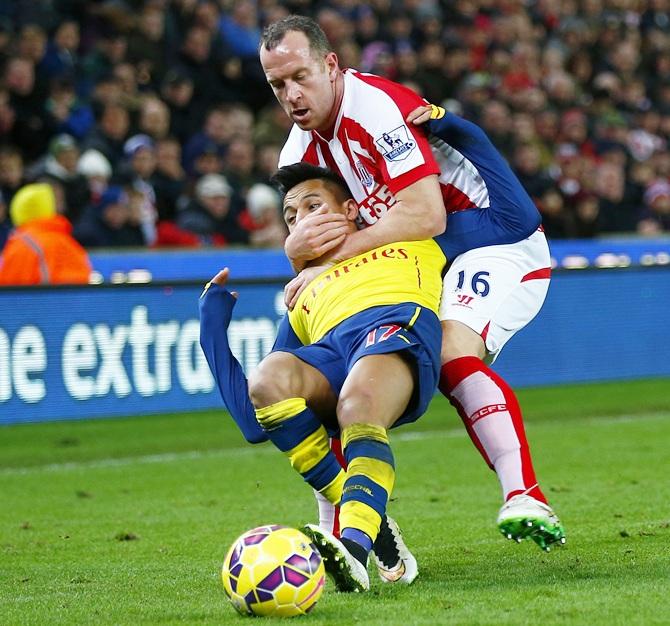 Arsenal's hopes of a third successive win were dashed by a 3-2 defeat at Stoke City, where they trailed 3-0 at half-time. Liverpool were held to a 0-0 home draw by Sunderland, one of three goalless stalemates on Saturday. Photograph: Eddie Keogh/Reuters
England forward Andy Carroll returned to goal-scoring form with two thumping headers in West Ham United's 3-1 victory over Swansea City that lifted the London club to third in the Premier League on Sunday. Photograph: Julian Finney/Getty Images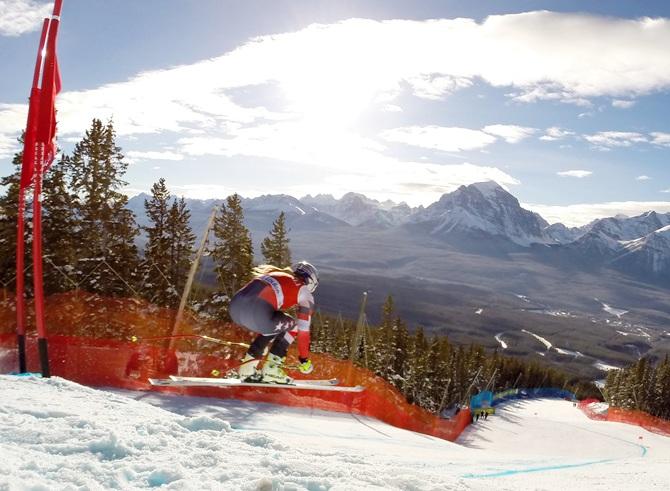 Lindsey Vonn put the 22 hardest months of her career behind her with a 60th World Cup victory in a downhill at Lake Louise on Saturday and said she had always believed in her ability to come back.
The victory was her first in nearly two years.
"I've never had that sort of setback like I've had the last two years," said the American. "I always believed in myself to come back but I never really knew until today. And today I'm finally back at the top. ... It's an amazing day."
She revealed her secret weapon as she fought to get back to the top of the slopes -- her boyfriend and golf star, Tiger Woods. Photograph: Eric Bolte-USA TODAY Sports/Reuters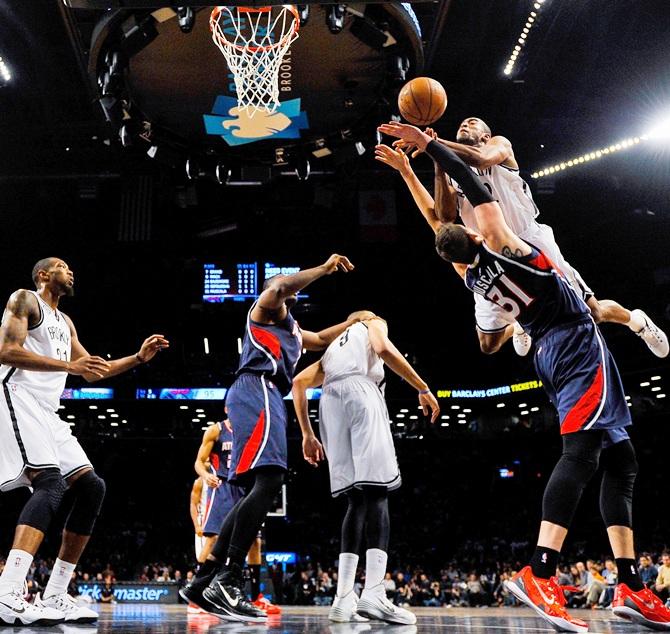 Markel Brown of the Brooklyn Nets attempts a shot over Mike Muscala of the Atlanta Hawks in the fourth quarter at the Barclays Center in the Brooklyn borough of New York City. Photograph: Alex Goodlett/Getty Images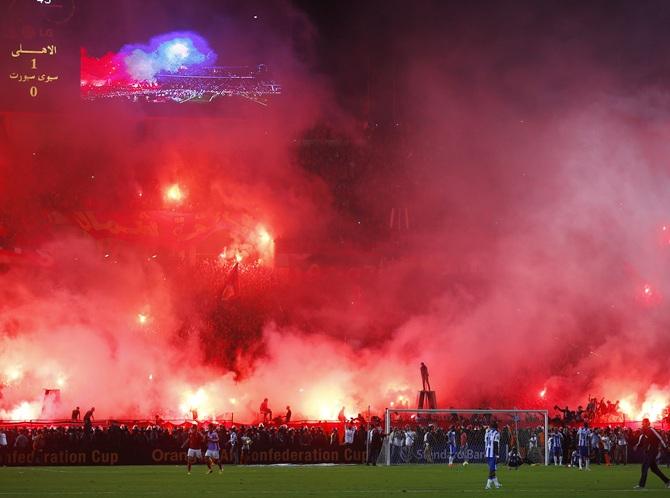 Fans of Egypt's Al Ahly celebrate and light flares after Emad Motaeb scores a goal against Ivory Coast's Sewe Sport during their African Confederations Cup final soccer match at Cairo stadium. Photograph: Amr Abdallah Dalsh/Reuters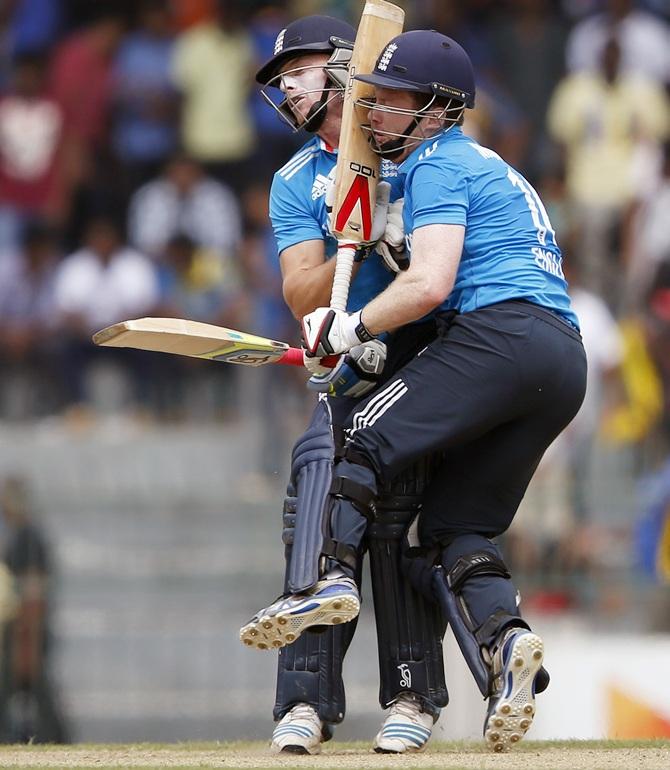 England's captain Eoin Morgan, right, and his team mate Jos Buttler collide while running between wickets during their fourth One-day International cricket match against Sri Lanka in Colombo. Photograph: Dinuka Liyanawatte/Reuters