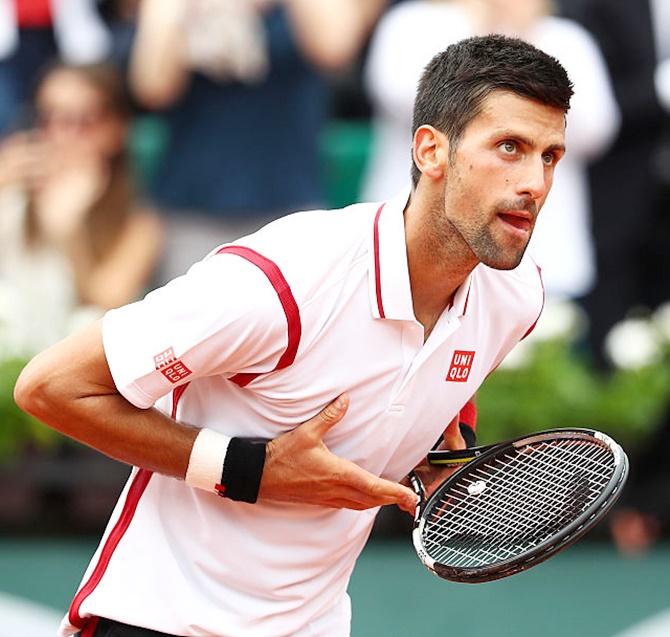 IMAGE: Novak Djokovic of Serbia celebrates. Photograph: Julian Finney/Getty Images
Novak Djokovic urged people to think about Brazilians who are having to live with the Zika outbreak on a daily basis rather than worrying about how the situation might affect those travelling to the country for the Rio Olympics in August.
The World Health Organization (WHO) rejected a call on Saturday to move or postpone the August 5-21 Rio Games over the outbreak after more than 100 leading scientists said new findings about Zika made it unethical for the Games to go ahead.
The United Nations health agency said having the Games in Rio as planned would "not significantly alter" the spread of Zika, which is linked to serious birth defects.
"Honestly, I don't know what to think anymore... but for the moment I'm planning to play Olympics. Nothing is changing," Djokovic told reporters at the French Open on Saturday.
"To even think to cancel the Olympic Games is unthinkable. Many athletes and people planned in advance... their trips and accommodation in Rio.
"Health is most important for anybody that is there. But we should not only think about people coming in Rio. How about those people living there, you know? Not talking about them too much.
"So I think we have to look from different perspectives in order to make a right conclusion."
The WHO's advice is that pregnant women should not travel to areas with Zika virus transmission, including Rio de Janeiro. It also advises everyone to make all efforts to protect against mosquito bites and to practice safe sex.
Zika infection in pregnant women has been shown to be a cause of the birth defect microcephaly and other serious brain abnormalities in babies.
The connection between Zika and microcephaly first came to light last fall in Brazil, which has confirmed more than 1,400 cases of microcephaly.
"People should consider Brazilians and what they go through," added Djokovic.
"I know that the Olympic Games is a big deal... (we) should talk about what happens to people there? What are they really experiencing, so they can also make right conclusion for the other international people coming in or not to Rio."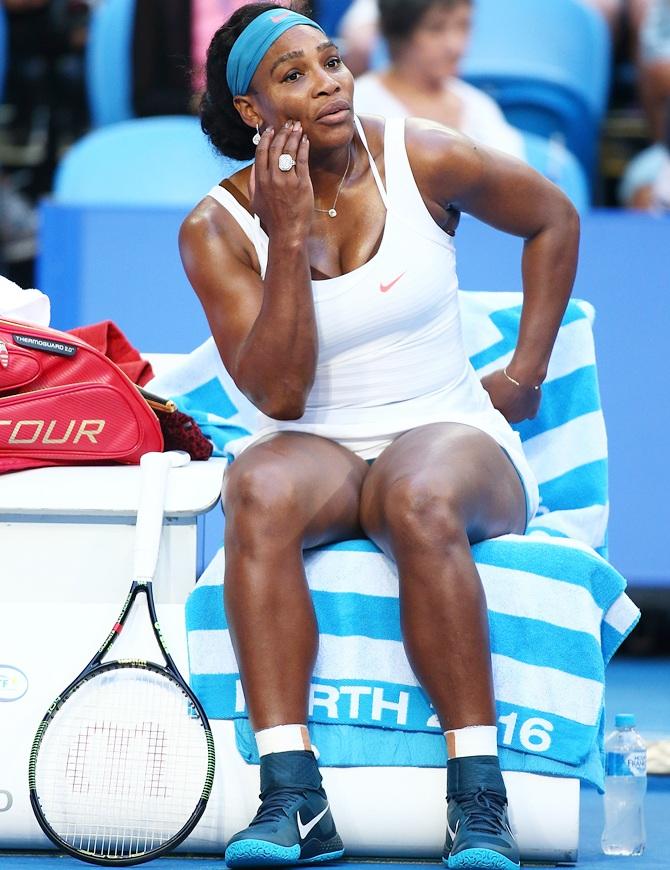 IMAGE: USA's Serena Williams. Photograph: Paul Kane/Getty Images
Women's number one Serena Williams, the 2012 Olympic gold medallist, confirmed she too had not changed her thoughts about going to Rio.
"It's something that's been on my mind. I'm really just gonna have to go super protected," said 34-year-old Williams, the defending Olympic champion, after making the last-16 of the French Open with a 6-4, 7-6 (12/10) win over home hope Kristina Mladenovic on Saturday.
The WHO said moving the Olympics would not have a major impact on the spread of Zika.
The tennis event in Rio has already been hit by withdrawals although not necessarily health-related.
So far, 17th-ranked John Isner of the United States, Austrian 15th seed Dominic Thiem, Bernard Tomic, the world number 22 from Australia and Spanish veteran Feliciano Lopez, 23 in the rankings, have all announced they are giving the Olympics a miss.
They were joined by former Roland Garros semi-finalist Ernests Gulbis who, on Saturday, panned the sport's appearance at the Olympics as "tennis tourism".
The controversial Gulbis, who also made the fourth round in Paris on Saturday, said he had no desire at all to represent Latvia at the Olympics.
"I really don't like that in the Olympic Games that there is no points and no prize money. It's a little bit like tennis tourism," he said.
That group of no-shows could still be joined by 2008 champion Rafael Nadal if the Spaniard fails to recover from the wrist tendon injury which caused him to withdraw from the French Open on Friday.