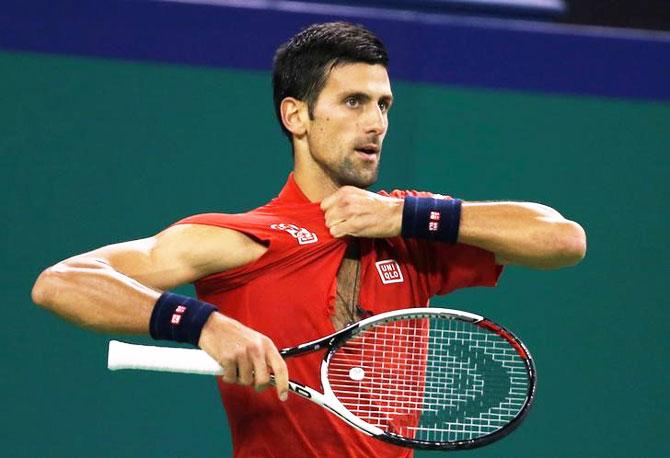 IMAGE: World No. 1 Novak Djokovic. Photograph: Aly Song/Reuters
Novak Djokovic has admitted that Andy Murray's attempt to surge to the top of the rankings has rejuvenated an otherwise mediocre season for the World No. 1.
Djokovic has been suffering from a serious slump in form since winning his first French Open and completing the career Grand Slam in June.
The Serbian, who suffered from a shocking early loss at the Wimbledon followed by first round exit at the Rio Olympics, then finished runners-up at the US Open.
"So I had to kind of rediscover that feeling of being on the court and keep pushing myself," he said.
"I guess it took a little bit of time, more time, and I'm just -- I'm in a better state of mind at the moment than I was some months ago."
However, as Djokovic prepares to defend the Paris Masters title which he has won for the last three consecutive years, he has said that Murray's effort for the top of the world rankings has provided him with the much required fresh impetus.
"It makes me want to go on court and fight for every point because there is something to win at the end," Djokovic said, adding he felt "rejuvenated and regenerated."
The 29-year-old will lose the numero one position if he fails to make to the championship match of the Paris Masters till the time Murray wins the title.
However, if reaches next Sunday's final in Paris, Djokovic will retain his world number one ranking.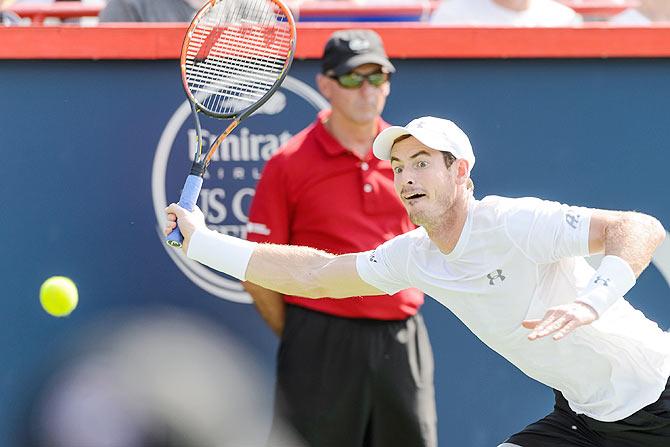 IMAGE: Great Britain's Andy Murray. Photograph: Minas Panagiotakis/Getty Images
The World No 1, who has admitted "private issues" contributed to his summer slump, believes that Paris is the perfect place to revive his fortunes.
"Winning Roland Garros this year gave me a lot of joy but it required a lot of energy. I felt a little exhausted after and I was a little less motivated," said the Serb, who hasn't played since a semi-final defeat to Roberto Bautista Agut in the Shanghai Masters," he said.
"I took a little time to think about all these things, to find a new motivation and a new ambition. It's in place. I feel good. I'm happy to come back here to Paris. I hope to have a good week," he added.
Djokovic, who has a bye in the first round at the Paris Masters, would face either Nicolas Almagro of Spain or Gilles Muller of Luxembourg in the second round.
Djokovic has been handed a tough route to the title in Paris, where he will start in the second round against Spain's Nicolas Almagro or in-form Gilles Muller of Luxembourg.
He faces a potential semi-final clash against US Open champion Stan Wawrinka and looming is a battle for the world number one spot with Britain's Andy Murray, who beat France's Jo-Wilfried Tsonga in the final in Vienna on Sunday.
Djokovic is not losing any sleep, however.
"I have been in these particular situations before in terms of ranking, so I know what to do, and I just keep things very simple," he said.