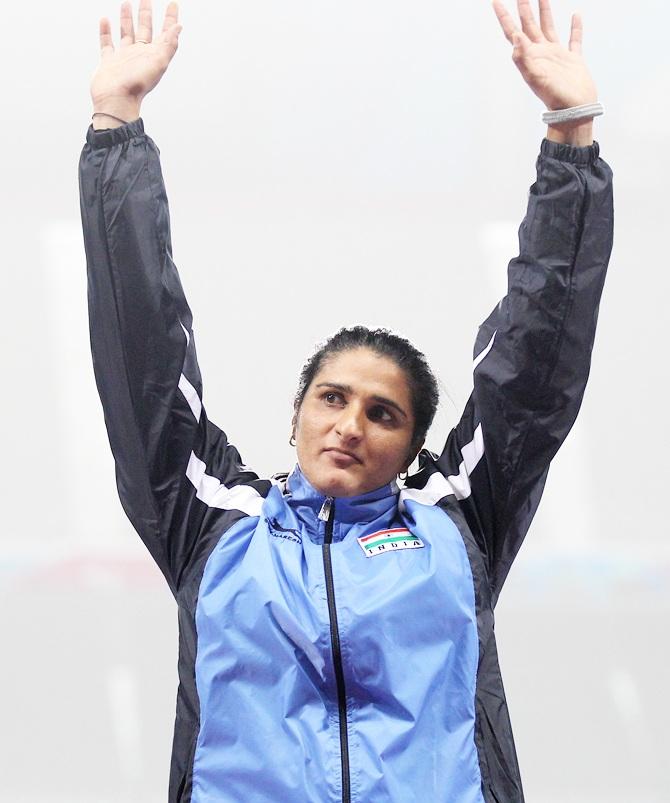 Indian discus thrower Seema Punia has qualified for the Rio Olympic Games with a throw of 62.62 metres.
The Haryana athlete outdid 2008 women's Olympic champion Stephanie Brown-Trafton to win a gold medal at the Pat Young Thrower's Classic in Salinas, California on Sunday.
Seema's effort saw her surpass the Olympic mark of 61.00 mts.
The 32-year-old Seema crossed the Rio Games qualification standard of 61.00m at the Hartnell College Throwers Complex with her season's best effort of 62.62m.
This will be Seema's third Olympic Games appearance having taken part in 2004 and 2012 where she failed to get past the qualification round on both the occasions. She is the 19th Indian track and field athlete to have qualified for Rio Olympics.
An elated Seema, said, "There is a sea-change from 2004 to now. Discus throwing is my passion. This time I didn't have much time to prepare, but I already have a gut feeling that Rio will be my best Olympic Games."
Meanwhile, the 2010 CWG women's discus champion Krishna Poonia won the silver medal at a qualification competition held at Chula-Vista Olympic Training Centre, San Diego, with a throw of 57.97 metres.
Seema, now training in the United States with funds provided by the Sports Ministry under the Target Olympic Podium Scheme, had won gold in the 2014 Asian Games in Guangzhou, China with a throw of 61.03m. She had also won a silver medal at the 2014 Glasgow CWG Commonwealth Games with an effort of 61.61m.