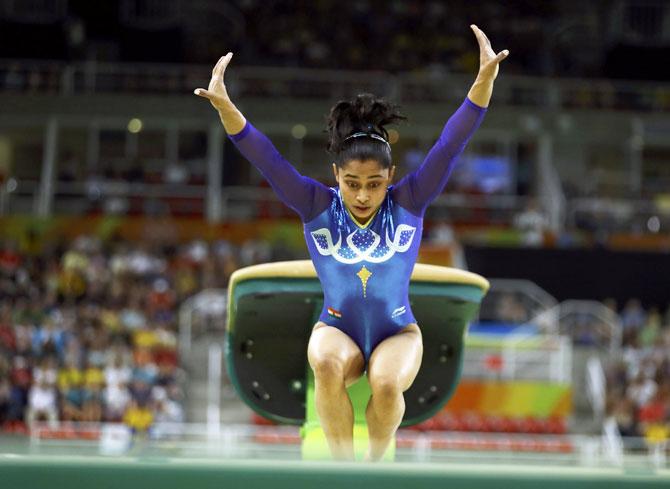 IMAGE: India's Dipa Karmakar competes in the Vault final at the Rio Olympics on Sunday. Photograph: Mike Blake/Reuters
Dipa Karmakar missed a bronze medal by a whisker, finishing fourth in the women's vault final at the Rio Games on Sunday.
Nonetheless, the Tripura gymnast made history, coming up with the best-ever performance by an Indian gymnast at the quadrennial Games.
The 23-year-old, the first Indian woman gymnast to qualify for the Olympics, scored an average of 15.066 points, a mere 0.15 less than eventual bronze medallist Giulia Steingruber (15.216) of Switzerland.
The gold went to pre-event favourite Simone Biles (15.966) of the United States, who had earlier emerged victorious in the team and all-round events.
Reigning vault World champion Maria Paseka of Russia took the silver with an average of 15.253 points.
Dipa, who had scored 14.850 in the qualifying round, could scored more points had she not landed on her haunches in her risky 'Produnova' vault.
Coming in as the sixth competitor in the final, she
opted for the 'Tsukahara' in her first attempt, in which she scored 14.866 points.
She got 6 for difficulty level and 8.855 for execution.
In her 'Produnova', Dipa did everything right except that she did not have a perfect landing as her buttocks touched the ground.
She scored 15.266 from her 'Produnova' with 8.266 points for execution for a difficulty level of 7. The average of the two attempts gave her 15.066, a mere 0.15 difference with bronze winner Steingruber.
Dipa, who won a bronze in the 2014 Commonwealth Games, had some anxious moments as she waited for her score to appear on the scoreboard.
Her coach, Biswesar Nandi, hugged her after the 'Produnova' vault and Dipa herself gave the thumbs up to the camera but it seemed that it dawned on both of them that it was not a perfect landing in the most risky vault which very few in the world attempt.
She was the second competitor to perform the 'Produnova' in the final, the other being 2008 Beijing vault silver winner Oksana Chusovitina of Uzbekistan, who finished seventh in the eight-woman finals with an average point of 14.833.
Dipa, however, will hold her head high as she has
scripted history by becoming the first India to qualify for the vault final in her first Olympics.
Apart from being the first Indian woman, she is also the first Indian gymnast to have qualified for the Olympics after 52 long years.
Since Independence, 11 Indian male gymnasts have taken part in the Olympics (two in 1952, three in 1956 and six in 1964), but this was the first for an Indian woman at the Games.