Fourth place finishes usually cause heartbreaks in a medal-starved nation like India, but such was the effect of Dipa's Karmakar's Produnova vault in the final at the Rio Olympics that it made the country wake up to the sport like never before and made her an overnight star.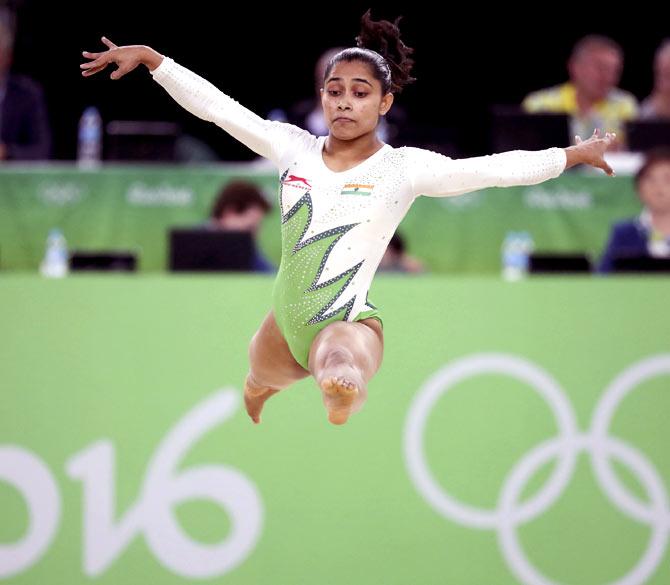 IMAGE: Dipa Karmakar competes during the qualification round at the Rio 2016 Olympic Games. Photograph: Damir Sagolj/Reuters
She embodied the Olympic spirit despite missing out on a coveted podium finish and while she was at it, Dipa Karmakar gave Indian gymnastics some unprecedented moments of glory in what can be called a watershed year for the sport.
The 23-year-old from the small north-eastern state of Tripura became the toast of a cricket-mad nation even though she managed just a fourth-place finish at the biggest show on earth in Rio.
It wouldn't be wrong to say that Dipa simply vaulted into a billion hearts with her now famous and death-defying Produnova, a routine so risky that even powerhouses from Russia and USA would not attempt it.
What Ashish Kumar couldn't do by winning unprecedented medals at international events, Dipa did despite finishing fourth at the Rio Olympics.
Fourth place finishes usually cause heartbreaks in a medal-starved nation like India, but such was the effect of Dipa's Produnova vault that it made the country wake up to the sport like never before.
People from all walks of life couldn't help talking about her jaw-dropping jump ever since she became the first Indian gymnast to reach an Olympic final before missing out on the podium by a whisker.
So much so that none other than Abhinav Bindra, India's first and only individual Olympic gold-medallist, declared her his hero.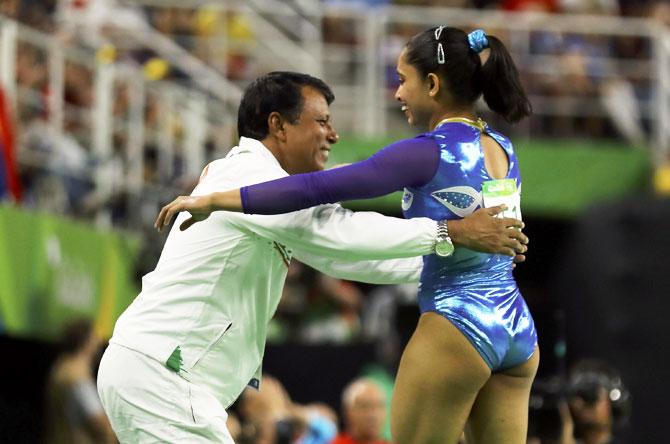 IMAGE: Dipa gets a hug from her coach Bisbeshwar Nandi after her brilliant performance in the Vault final at the Rio Olympics. Photograph: Mike Blake/Reuters
In fact, the adulation she received for finishing fourth was no less than what Rio medallists P V Sindhu (silver) and Sakshi Malik (bronze) attracted.
The efforts of the 23-year-old from Tripura won her the Rajiv Gandhi Khel Ratna, the country's highest sporting honour.
It is not as if there weren't any other fourth-place finishers from India in Rio, Bindra himself being one, but while there was a sense of disappointment in those, there was nothing but jubilation and adulation awaiting Dipa on her return from Rio.
That could well be because the expectations were sky high from others, Dipa took almost everyone by surprise by doing what no Indian had had done in the past. She had become a household name just by the reaching the vault final in a sport that hardly got any attention back home.
Probably, the only other time gymnastics grabbed the eyeballs in India was when Ashish Kumar became the first from the country to win a medal at the Commonwealth and Asian Games. But even his record performance in 2010 could not garner as much as attention as Dipa managed six years later.
Now with the 2020 Tokyo Olympics in sight, the weight of expectations is surely on Dipa's shoulder and with that comes responsibility, says her coach Bisweshwar Nandi.
"She has single-handedly put Indian gymnastics on the world map. She made India proud, and also our state of Tripura. Some people did not even know where Tripura was but not it is the case anymore. All this has been made possible by Dipa," Nandi said.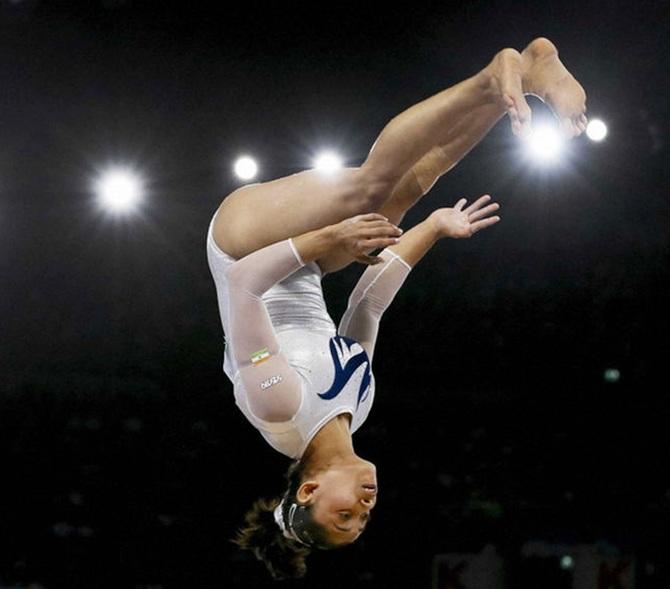 IMAGE: Dipa will be a genuine medal hope at the 2020 Tokyo Olympics if she keeps landing her jumps the way she did in Rio and work on other important aspects of her game. Photograph: PTI
However, there is a long way to go for Dipa, he says, with her next prime target being the World Championships in October 2017. One can't help but slip in a subtle mention of the 2020 Olympics, where she will be a genuine medal hope if she keeps landing her jumps the way she did in Rio and improve other important aspects of her game.
"She is definitely a medal hope at the World Championships and Tokyo Olympics but it all depends on how she fares on that day. Vault is very risky and she could suddenly be injured.
You never know. So the focus is only on preparing the best we can," said the coach.
He points out regular foreign exposure as key to Dipa's progress.
Nandi also insists that there has been no drop in intensity of Dipa's training.
"During Rio, she trained for four hours twice a day. Now it is two and a half hour in the morning and three in the evening. There has been a drop in number of hours but no drop in intensity."
Many athletes tend to lose sight of their ultimate goal after initial fame and recognition but Nandi says Dipa's feet remains firmly on the ground.
"It is tough not to be distracted after the kind of attention Dipa got. With back-to-back felicitations I was bit worried for her initially but she handled it maturely. She remains the same as she was before Rio Olympics and more importantly knows what she needs to achieve."
Along with Nandi, the whole of India would be backing Dipa to win a bagful of medals in the future -- be it at the Commonwealth, Asian or Olympic level.