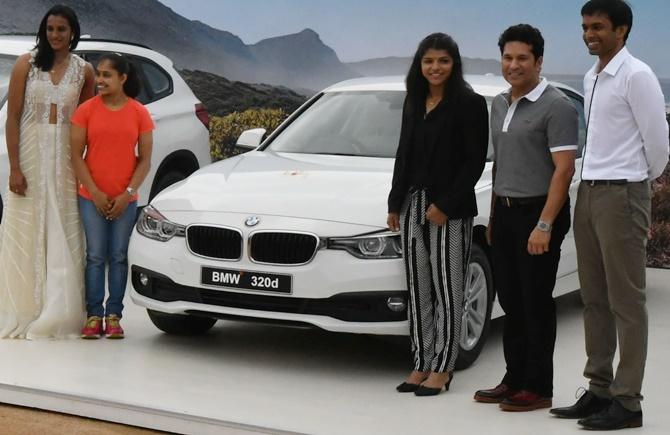 IMAGE: India's star Olympians PV Sindhu, Dipa Karmakar, and Sakshi Malik with Sachin Tendulkar and India's badminton coach P Gopichand at a function on Sunday, where they were gifted BMWs. Photograph: SnapsIndia
Shobaa De has raked up another row and is being trolled again for questioning the gifting of the BMW cars to Rio Olympic medallists Sakshi Malik, PV Sindhu and her coach P Gopichand as well as Olympian gymnast Dipa Karmakar.
- PHOTOS: Sindhu, Sakshi, Dipa, Gopichand presented swanky BMW
Questioning Sachin Tendulkar's announcement to gift Rio Olympians a BMW car each, she tweeted on Sunday, "Here's a small, annoying but pertinent question: Did Sachin T pay for the BMWs he 'gave away ' to Rio athletes?
On Monday morning she broached the topic again with a pic of the BMW cars presented to the Rio Olympians and tweeted: "Great ad for BMW. Who will pay for running these pricy beasts? Hoping they don't become white elephants for athletes,"
As If she was asking for it, the Page 3 socialite was once again trolled, and leading the pack was former India batsman Virender Sehwag.
In reply to that question, Sehwag tweeted: Nope he borrowed from me (sic)."
Another cheeky troller tweeted: "@DeShobhaa No, it was Santa Claus, this year we having early Christmas, ok?"
But there were others who were with her on questioning the move.
One tweet read: "@DeShobhaa BMW s facepalm! Couldn't he have gifted them something they might need a little more than a luxury car?" while another stated: @DeShobhaa do they deserve this, hopeless thing happening in this country try to reward our soldiers & farmers MERA BHART SACH MEIN MAHAN."
One Twitter user decided to drag Sachin Tendulkar into the debate by tagging him into the conversation: "@DeShobhaa @sachin_rt , Mr Tendulkar ur comments please, high time some one stop this jealous lady from her hatred towards achievers."
Whether Sachin has anything to add to this 'controversy' or no, Shobaa De is certainly scoring own goals one after the other and putting herself in embarrassing situations.