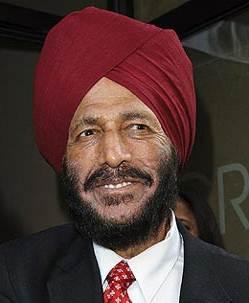 Legendary track and field sprinter Milkha Singh says hockey legend Dhyan Chand deserved the Bharat Ratna honour "before anyone else", even as he proposed that cricket great Sachin Tendulkar be made the country's sports minister.
"Sachin should be made sports minister so that he can work for the betterment of sport. Only a sportsman will work sincerely and with dedication for the cause of sport," said Singh in Panaji, while launching the mascot for the forthcoming Lusofonia Games, scheduled in Goa in January next year.
Responding to a query, Singh, who is fondly known as 'Flying Sikh', said the thought of him being conferred the Bharat Ratna, India's highest civilian honour, never crossed his mind.
"It is something that I have never given any thought to, to be honest. However, one person who deserved the Bharat Ratna before anyone else was Dhyan Chand.
"Dhyan Chand's contribution to the field of sport remains unparalleled," he declared.
Singh, along with tennis player Sania Mirza, unveiled the mascot and torch for the Lusofonia Games at a glittering in Panaji on Tuesday evening.
The clamour for the Bharat Ratna being conferred on Dhyan Chand has been on for some time.
Tendulkar was recently conferred the honour after his retirement from cricket.
Image: Milkha Singh