Del Potro eyeing another Rafael-Roger double in New York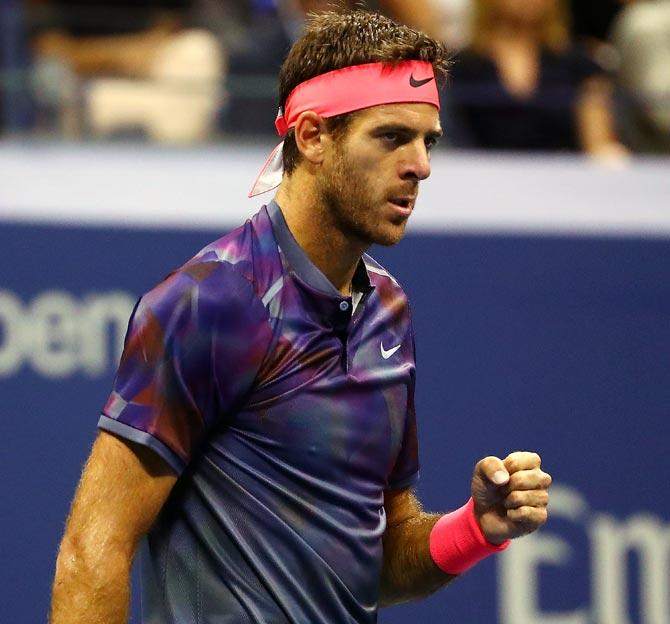 IMAGE: Juan Martin del Potro celebrates after winning against Roger Federer. Photograph: Al Bello/Getty Images
Juan Martin Del Potro has done it once so why can't he do it again?
When he won the US Open title in 2009, the then 20-year-old Argentine beat Rafael Nadal and Roger Federer back-to-back to win his first Grand Slam title.
Now, after three wrist surgeries that almost forced him to give up the sport, Del Potro will look to do it the other way round by following up his win over Federer on Wednesday with a victory over world number one Nadal in Friday's semi-final. Del Potro has done it once so why can't he do it again?
"I know if I play my best tennis, I could be a danger for him," Del Potro said after his best performance of the fortnight.
"Physically I'm not in the perfect conditions, but when you play semi-finals of a Grand Slam, everything can happen, so you must be ready for the chance.
"Playing against Rafa in my favourite tournament, I will try to enjoy the atmosphere and the game."
Del Potro's stunning 7-5, 3-6, 7-6(8), 6-4 victory was all the more impressive as he had been forced to back up after a five-set victory over Dominic Thiem in the previous round, when he was still struggling with a virus.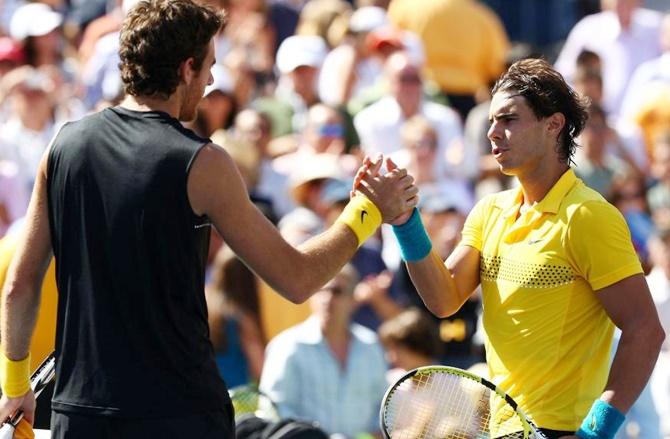 IMAGE: Juan Martin Del Potro will take on Nadal in a rematch from their 2009 US Open semis. Photograph: US Open/Twitter
After thundering forehands past Federer with incredible regularity, the 28-year-old is growing in confidence even if he believes that beating Nadal will take an even better performance than he produced against the Swiss.
"Tomorrow is going to be a different match than the past," he said.
"He's the number one player in the world and he's playing so confident this tournament.
"He's a lefty guy, so he has a chance to find easily my backhand. So I don't know what's going to be my strategy.
"But for sure I will try to make winners with my forehands and don't run too much, because my legs are tired. But it will be an interesting match to play."
When they played in 2009, Del Potro smashed Nadal off the court with a blistering performance, dropping just six games.
Eight years on and after so many injuries, Del Potro's backhand is not yet back to where it was but he was encouraged by the way it held up against Federer.
"I think my backhand is improving every week," he said.
"Tonight I made my best backhands on the tournament in the important moments of the match, and it was in the set point of the third set.
"Then to break his serve in the fourth, and I hit my best backhand on the tournament tonight, which is a good signal for the future."