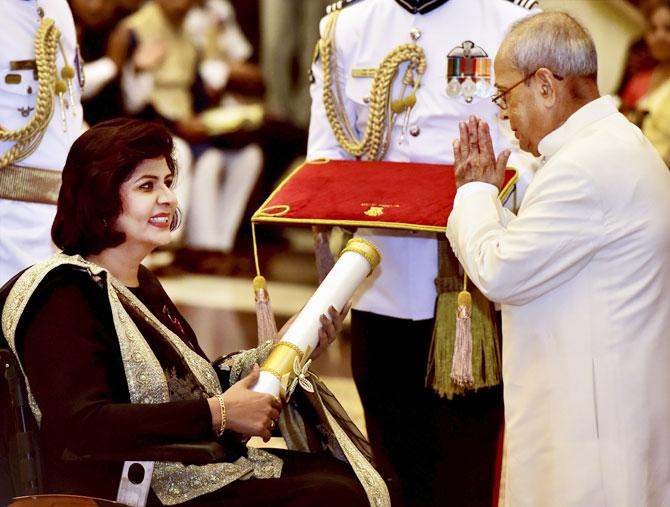 IMAGE: President Pranab Mukherjee confers the Padma Shri on Rio Paralympics silver-medalist Deepa Malik on March 30, 2017. Photograph: Kamal Kishore/PTI
Deepa Malik, who scripted history by becoming India's first-ever woman to win a medal at the Paralympic Games, said on Monday that she was "shocked" that her name was not included in the list of recipients for the prestigious Rajiv Gandhi Khel Ratna award.
Last Thursday, the awards selection committee of Khel Ratna recommended para athlete and Rio Paralympics gold medallist Devendra Jhajharia for the prestigious award for 2017.
Along with Jhajharia, former Indian hockey team captain Sardar Singh was nominated for the Khel Ratna award.
The Arjuna awardee list was also revealed and 17 prominent sports persons including Cheteshwar Pujara (Cricket) and SV Sunil (Hockey) were nominated for the honour. Two other medalists at the Rio Paralympic Games -- Varun Singh Bhati and Mariyappan Thangavelu -- were recommended for the Arjuna Award.
Surprisingly, Deepa, who also won silver in the women's shot put F53 at the prestigious quadrennial event, was omitted from the list.
Speaking to ANI, the 46-year-old athlete said, "It is shocking for me that my name is not there in the list of awardees."
"However, I do think that the competent panel, who recommended the names for the prestigious awards, must have thought something. Or it can also be the case that some details must have been overlooked."
Deepa further said that her application for this year's Khel Ratna must be considered.
"I think my application for the Khel Ratna must be reconsidered. I have put forward my case before the committee and the government. I have written a mail to the Sports Minister," she said.
The Gurugram-based athlete further insisted that it was wrongly reported in the media that she was furious after the recommendations made by the Sports Authority Committee for the awards.
"It is also written in certain sections of the media that I am furious over the decision," she said.
"It's my request that I should not be misquoted. I am also not going to any court. I have just forwarded my application through a channel that is there in a democratic country," added Deepa, who has even received the Padma Shri, India's fourth highest civilian honour.
India, who had sent their largest-ever contingent of 19 athletes for the Rio Paralympics, won four medals, including 2 gold, one silver and one bronze.
More than 4400 athletes from 160 countries participated at the Rio Paralympics 2016 held in Rio de Janeiro, Brazil from September 7 to 18, 2016.
Deepa received the Arjuna Award in 2012.