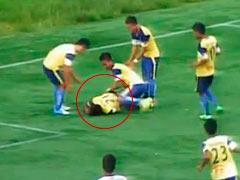 Peter Biaksangzuala (circled) died from injuries suffered in his goal celebrations for Bethlehem Vengthlang FC during Mizoram Premier League match on Tuesday. Photograph: Courtesy: Mizoram Premier League
A 23-year-old Indian footballer died from severe spinal cord damage after a celebration went tragically wrong during Mizoram Premier League (MPL).

Bethlehem Vengthlang FC midfielder Peter Biaksangzuala died on Sunday at a hospital in Mizoram after celebrating a goal with a somersault in Tuesday's match in the third tier Mizoram Premier League (MPL).

Doctors unsuccessfully attempted to heal his injuries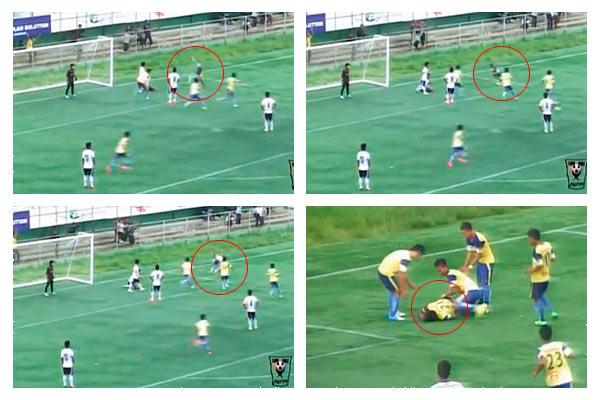 COllage of Peter Biaksangzuala's goal celebration (circled) that went horribly wrong as he lands on his head in Tuesday's match. Photograph: Courtesy: Mizoram Premier League
After scoring the equaliser against Chanmari West FC, a flipping Biaksangzuala landed awkwardly and was lying unconscious as his team mates surrounded him and gestured for help.
He spent five days in hospital, as doctors unsuccessfully attempted to heal his injuries, and was pronounced dead in the early hours of Sunday after being put on a ventilator.

Bethlehem has decided to retire the number 21 jersey as a tribute to Biaksangzuala while Hmar said MFA would organise a match in his memory.
Biaksangzuala's death on the field is no rare occurence. The world has witnessed many footballers collapse and die during a match.
Rediff.com lists the footballers who died while playing, in the last decade.
Morosini collapsed on the field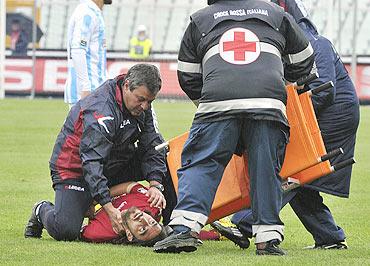 Piermario Morosini is attended to by medics after collapsing on the field. Photograph: Reuters
Tragedy struck the footballing world when Livorno's 25-year-old Piermario Morosini died on the field during their Serie B match against Pescara in April 2012.
Morosini fell to the ground with no one around him in the 31st minute. He got up looking confused and then collapsed again as medics and then an ambulance rushed on to the field.
Italian football plunged into grief in the aftermath and the country's football federation postponed all professional matches.
Venkatesh collapsed and died
The most recent of deaths on a football pitch in India was seen in Bangalore when 27-year-old D Venkatesh collapsed and died on March 15, 2012. The player, representing first division side Bangalore Mars in a BDFA A Division league match against South Western (SW) Railway, collapsed at the fag end of the game at a Bangalore Football Stadium.
With no ambulance around, his teammates hired an auto-rickshaw to take him to a local hospital where Venkatesh was declared dead, it was reported.
Federation officials, however, were not available for further details.
Naoki Matsuda met his fate while training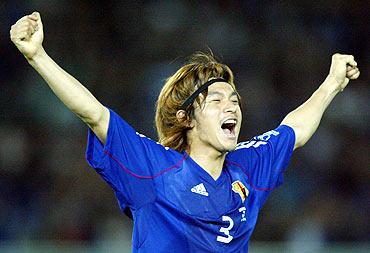 Naoki Matsuda. Photograph: Reuters
Matsuda was a popular Japanese footballer who wore national colours on 40 occassions and represented the country at the 2002 World Cup.
Apart from a successful career in the Japan national side, Matsuda made 385 appearances for Japan's 1st division club Yokohama F-Marinos, helping them win back-to-back JLeague titles in 2003 and 2004.
But the 34-year-old tragically met his fate while training with his third division side Matsumoto Yamaga, when he collapsed.
Medical personnel had rushed to Matsuda's aid after he collapsed with suspected heatstroke. Yamaga later said the player had gone into cardio-respiratory arrest.
He breathed his last three days later.
'Normal incident of obstruction' causes death
Nigerian footballer Endurance Idahor died after collapsing during a game in Khartoum.
Idahor, 25, who played for Sudan's Al-Merreikh club, clashed with another player minutes after the start of the match, an official from the Sudan's Football Association had said.
He added that Idahor collapsed during a game with Sudan Premier League rivals Al-Amal, held at Al-Merreikh's stadium in the Khartoum suburb of Omdurman.
"It was a normal incident of obstruction," said the official had revealed.
Dani Jarque died following a cardiac arrest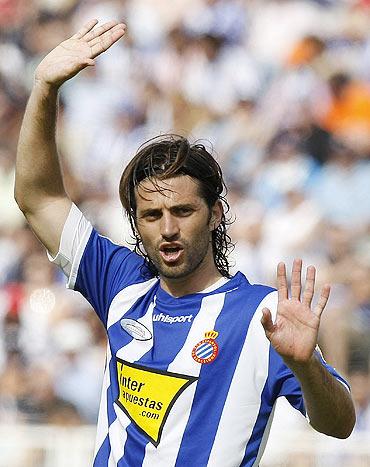 Daniel Jarque. Photograph: Reuters
On the eve of Spain's first division club, Espanyol's exhibition match against Italian club Bologna, the Spanish club's captain Dani Jarque was found unconscious in his hotel room following a pre-season training session.
Jarque died following a cardiac arrest after the training session in Coverciano, Italy. Club doctors and Italian paramedics tried to revive the 26-year-old without success.
Phil O'Donnell collapsed during the second-half of the game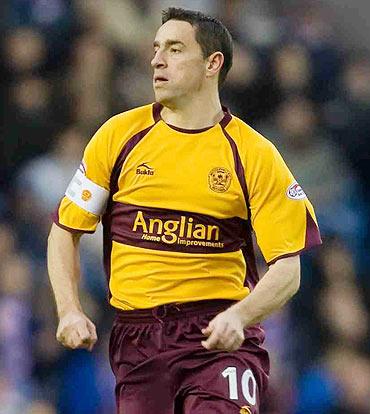 Phil O'Donnell. Photograph: Reuters
It was a day of mourning on December 29, 2007 for the Scottish Premier League when Motherwell captain Phil O'Donnell died after collapsing towards the end of his side's Scottish Premier League game against Dundee United.
The 35-year-old midfielder fell to the ground just before being replaced with Marc Fitzpatrick near the end of the match.
O'Donnell was treated for around five minutes on the field before being taken to a waiting ambulance.
"Phil collapsed during the second-half of the game. He was standing alone at the time.
"He was immediately attended to by Motherwell's club doctor and assisted by Dundee United's club doctor.
"He was transferred almost immediately to an awaiting ambulance and taken to Wishaw General.
"It is believed Phil suffered some form of seizure and was pronounced dead at 1718," Motherwell chief executive Ian Stillie had said at the time of O'Donnell's death.
Cristiano Junior collapsed during the Federation Cup final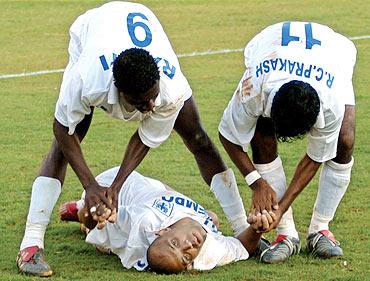 Cristiano Junior. Photograph: Reuters
This was one of the first big on-field tragedies to hit Indian football.
Dempo's Brazilian striker Cristiano Junior collapsed during the finals of the Federation Cup Football Championship in Bangalore on December 5, 2004 and was brought dead to the Hosmat hospital, the hospital Chief Medical Officer Satyaprakash had said.
Junior was "brought dead" to the hospital and the cause of his death would be known after the post mortem, Satyaprakash had said.
The Brazilian collapsed during the match against Mohun Bagan after scoring his second goal in the 78th minute.
During the final, Junior was involved in a collision with Bagan goalkeeper Subrata Paul and collapsed in a heap.
The death was surrounded by controversy when the autopsy report stated the cause of death as cardiac failure, but a further post-mortem carried out by Brazilian authorities contradicted those claims.
Kolkata's Bengali newspapers, quoting Junior's brother from Brasilia, said the Brazilian autopsy report found that the deceased footballer had sustained a head injury prior to the final -- a finding that wasn't mentioned in the Indian autopsy report.
The injury resulted in a blood clot, but Dempo officials ignored it and asked Junior to play in the final. Junior was hurt in the head again in the collision with the goalkeeper.
Serginho was taken to a hospital unconscious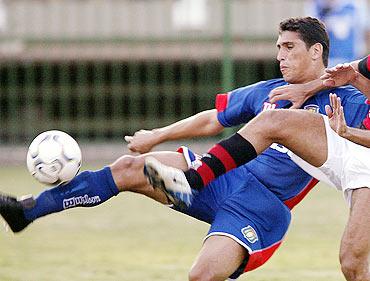 Serginho. Photograph: Reuters
Sao Caetano defender Serginho was taken to a hospital unconscious and in critical condition after collapsing during a Brazilian championship match against Sao Paula on 27 October 2004.
Sao Paulo doctor Marco Aurelio Cunha said Serginho likely suffered a cardiac arrest at the time the player left the Stadium.
The incident made Brazilian football officials consider the presence of greater medical assistance on football grounds.
Miklos Feher died of a heart attack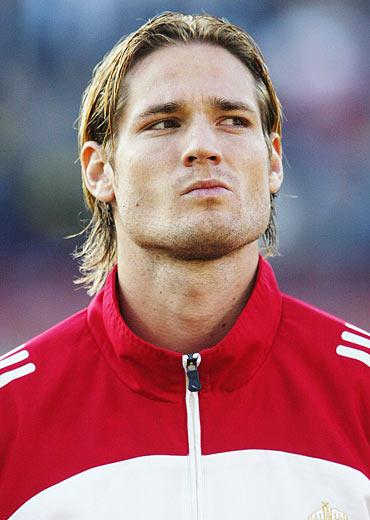 Miklos Feher. Photograph: Reuters
The 24-year-old Miklos Feher came on as a substitute for Benfica during a Portuguese league game against Vitoria Guimaraes on 25 January 2004.
But that proved to be a costly move for the club as well as the player. Just moments after entering the pitch, the Hungarian fell to the ground. He was stretchered off the pitch and taken to hospital after he collapsed unconscious.
The game was stopped for 15 minutes as team doctors tried to resuscitate the player but he later died in hospital.
The autopsy report revealed that he had died of a heart attack.
Marc-Vivien Foe also died of heart failure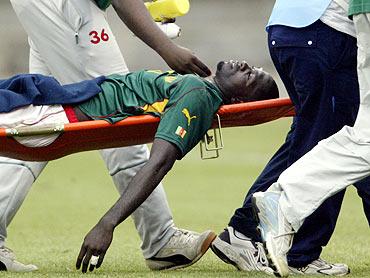 Marc-Vivien Foe is stretchered off the field. Photograph: Reuters
The Cameroon international, who wore the Machester United jersey in the 2002-03 season, died of heart failure after collapsing during his country's Confederations Cup semi-final against Colombia on June 26, 2003.
Foe was carried off on a stretcher after collapsing towards the end of the match, won 1-0 by Cameroon.
FIFA, who said there would be an autopsy to determine the circumstances of the death, later issued a statement saying Foe had "collapsed to the ground in the second half, around the 72nd minute, for no apparent reason.
"The player was still alive when he was taken to the medical centre in Gerland Stadium in Lyon, where he died. Doctors performed cardiac resuscitation for 45 minutes without success."
Serhiy Perkhun died off brain haemorrhage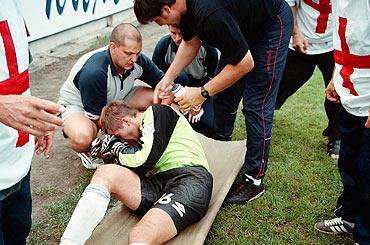 Serhiy Perkhun is tended to by medics after his clash with an opponent. Photograph: Reuters
CSKA Moscow goalkeeper Serhiy Perkhun was involved in a clash of heads in a Russian premier division match on August 29, 2001.
The Ukraine international suffered serious injuries after he clashed heads with Anzhi Makhachkala striker Budun Budunov in the second half of the match, which ended 0-0.
He slipped into a coma and was in a serious but stable condition when he was taken to hospital. He was given a five percent chance of survival. His situation got worse with time and he eventually died eight days later. The reason for the death was brain haemorrhage.
Catalin Hildan (October 5, 2000)
He was a Romanian footballer who played for Dinamo Bucharest till the time of death. In the 74th minute of a friendly match between Dinamo and FC Olteni?a, Hildan suffered a heart attack and collapsed.