German pair Savchenko, Massot set free skate world record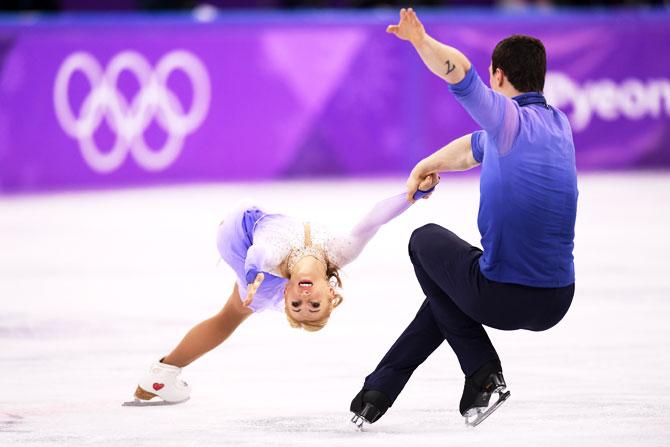 IMAGE: Germany's Aljona Savchenko and Bruno Massot compete during the Pair Skating Free Skating at Gangneung Ice Arena in Gangneung at the Winter Olympic Games on Thursday. Photograph: Harry How/Getty Images
German figure skaters Aljona Savchenko and Bruno Massot set a pairs free program world record of 159.31 points, beating the world record they set of 157.25 at the Grand Prix Final in December, after a stunning skate at the Pyeongchang Winter Olympics on Thursday.
The pair collapsed and cried on the ice after a performance that saw them beat the previous record that they had also set at the Grand Prix Final last year by more than two points.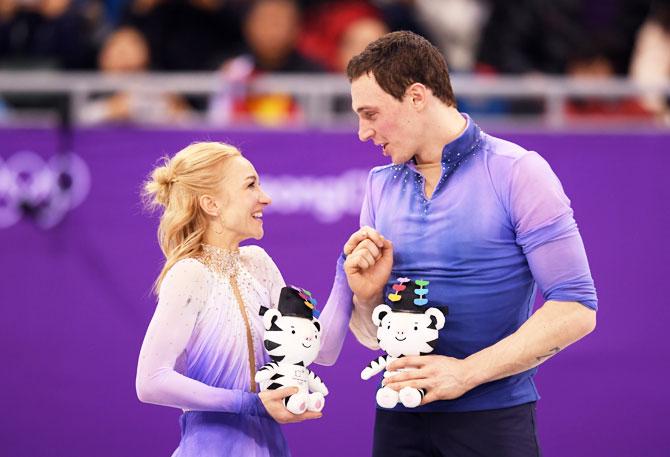 IMAGE: Gold medal winners Aljona Savchenko and Bruno Massot of Germany celebrate on the podium. Photograph: Harry How/Getty Images
The German duos sensational four-and-a-half-minute routine just denied Chinas world champions Sui Wenjing and Han Cong, the hot favourites who were pipped to the title by less than a point after Sui took a tumble.
Meagan Duhamel and Eric Radford of Canada took bronze.
Pyeongchang Games staff, fans injured by flying debris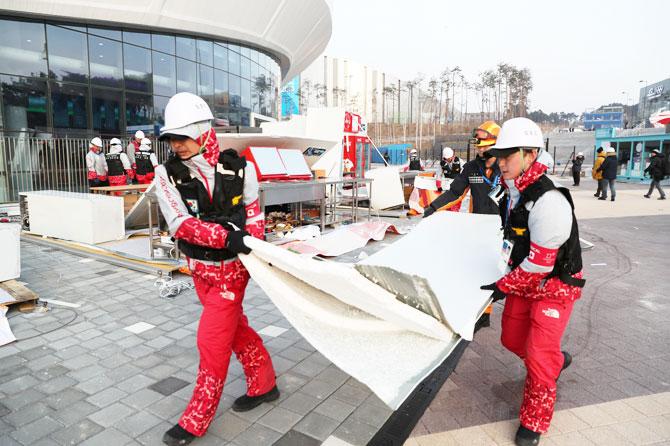 IMAGE: Firefighters remove the debris of a damaged food stall that was blown over by the wind at Gangneung Olympic Park in Gangneung, South Korea on Wednesday. Photograph: Damir Sagolj/Reuters
A total of 16 Pyeongchang Olympics staff and spectators were injured when strong winds ripped through the Olympic venues on Wednesday, while also causing considerable damage to the installations, officials said on Thursday.
Several events were postponed or rescheduled, including Nordic combined, biathlon and Alpine skiing, and more than 60 tents were damaged by winds with a speed of seven metres per second as organisers warned of flying debris.
"Sixteen people had slight injuries, 13 were operational staff and three were spectators," Games spokesman Sung baik-you told reporters.
"They suffered light injuries, were treated and then sent home."
The wind ripped tents, signposts and steel fencing off their base and sent them flying through the Olympic park.
"We have some facility props flying around. We had 60 tents slightly damaged," Sung said, adding 120 pieces of steel fencing were also damaged by the winds.
"Yesterday we took preliminary measures. From 0600 this morning the wind speed was between two to five metres per second and so things have returned back to normal."
While calm returned along with glorious sunshine to the Olympic venues on Thursday, the spread of the norovirus that has hit mainly security staff showed no signs of abating.
More than 200 people have now been infected with the virus, also known as the "winter vomit bug" but no athletes so far, according to organisers.
The virus had broken out in the leadup to last week's opening ceremony and led to some 1,200 security staff being quarantined. Organisers had to call in military personnel to replace them.
"Now we have additional cases of 33 people. There are additional cases in Gangneung," Sung said.
"We will see this afternoon how many people have now been diagnosed."
No reason given for my team demotion, says Jamaica's Kiriasis
Former Olympic and world champion Sandra Kiriasis on Thursday blamed her sudden departure as coach of the Jamaican women's bobsleigh team to an inexplicable demotion by team officials that she could not have accepted.
The German was preparing for Jamaica's first female bobsled appearance at an Olympics but her Pyeongchang Games adventure was cut short on Wednesday before the team even got to compete.
The Jamaican bobsleigh federation president Christian Stokes said Kiriasis had been "a destructive force on the team" but the 43-year-old rejected the allegations and said she had been suddenly demoted to a position as the team's track analyst.
"Without giving any reasons I was told out of the blue that with immediate effect I should work only as a track and performance analyst, would have to leave the Olympic village, would lose my accreditation as part of the Jamaican team and was not supposed to have any more contact with the athletes," she said in a statement on Facebook.
She said the decision to demote her comes after she had supported the team "beyond the call of duty", getting sponsors and equipment and even rented a sled at the German track of Winterberg for the athletes to take to Pyeongchang and compete in.
"Naturally I cannot accept to be treated the way I have been treated," she said.
"I still do not know the reasons behind the decision of Jamaican Bobsleigh Federation and certainly will not allow to be used as the puppet on a string by the federation which have also saved a lot of money due to my commitment and contacts."
The acrimonious split was certainly not part of the script that has captured global attention as the Jamaican women have been inextricably linked with their men's team's appearance at the 1988 Games, which inspired the successful movie "Cool Runnings".
Jazmine Fenlator-Victorian and Carrie Russell will become Jamaica's first female Winter Olympians next week. Training begins on Saturday with the opening heats on Tuesday.
"Fact is that I have not abandoned the team but have chosen not to continue due to the unacceptable conditions offered by the federation without any explanation and which would have forced me to sacrifice my reputation and my professionalism," Kiriasis said.