Brilliant Hirscher claims elusive first alpine skiing gold medal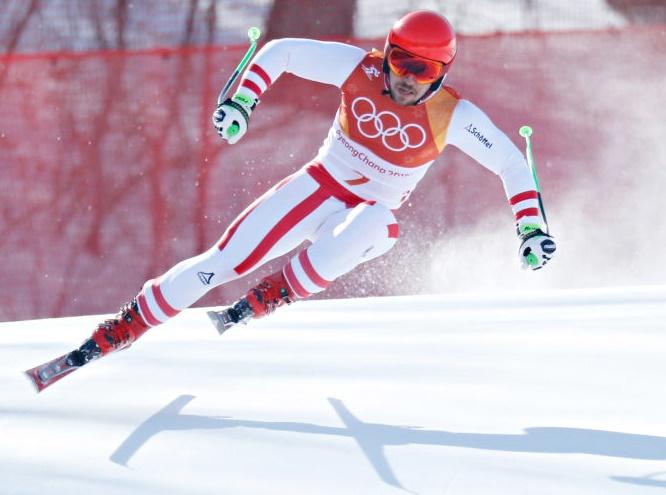 IMAGE: Marcel Hirscher of Austria in action. Photograph: Alexis Boichard/Agence Zoom/Getty Images
Marcel Hirscher, the greatest skier of his generation, ended his long wait for an Olympic gold medal when the Austrian claimed top spot in the men's combined event after a blistering slalom run on Tuesday.
Hirscher, who has won the last six overall World Cup titles and is poised to claim a seventh, climbed from an unexpectedly high 12th place after the downhill segment at the Jeongseon Alpine Centre to pip France's Alexis Pinturault by 0.23 seconds.
The Austrian's previous best in the Olympics was a silver medal in slalom at Sochi four years ago.
"I'm super happy because now this stupid question (about whether) I'm thinking that my career is perfect without a gold medal is gone away," he told reporters.
"I killed it. It is something special but really unexpected. We were not sure two weeks ago if I would compete in the combined or not."
The Austrian was forced to hold back his joy for a few moments after team mate Matthias Mayer, who was within touching distance, made a strong start to his slalom but forked a gate and fell.
The 28-year-old Hirscher, who has said this would be his last Olympics, then sprinted out into the finishing area to celebrate his triumph.
Victor Muffat-Jeandet completed a good day for French skiers by claiming the bronze medal behind compatriot Pinturault in an event that brings together a downhill stage and then a slalom section to test the all-round skills of competitors.
Hirscher has won 10 World Cup races in slalom and giant slalom this season leaving Pinturault delighted to have just finished so close to the winner.
"I'm really, really happy. Marcel has been unbeatable... so I really had to try hard and at least it was only two tenths. I can only be happy and proud," he said.
Muffat-Jeandet said he had paid the price for a lacklustre downhill effort, where he finished 20th, more than a second behind Hirscher.
"I was really disappointed and angry with my downhill run. In skiing you have to do two full runs and with guys like Pinturault and Hirscher, if you do one bad run it's not enough for the podium," the Frenchman said.
Norway's Aksel Svindal, who was second after the downhill segment behind Germany's Thomas Dressen, surprisingly decided not to run the slalom leg.
Team-mate Aleksanderr Aamodt Kilde said the 35-year-old Svindal had been wary about damaging his knee, which he has had long-running problems with and had operated on last year.
France waits 70 years for medal and two come along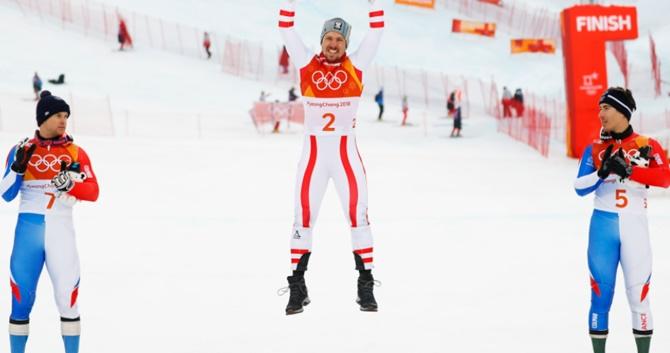 IMAGE: Alexis Pinturault of France, Marcel Hirscher of Austria, and Victor Muffat-Jeandet of France react during the victory ceremony. Photograph: Leonhard Foeger/Reuters
Victor Muffat-Jeandet staged an astonishing turnaround and endured an excruciating wait before helping end France's 70-year Olympic medal drought in the men's Alpine combined.
Muffat-Jeandet took bronze behind compatriot Alexis Pinturault and Austrian champion Marcel Hirscher to give France their first medals in the event since Henri Oreiller won gold and James Couttet bronze in 1948.
While Pinturault had been one of the favourites at the Jeongseon Alpine Centre, the chances of Muffat-Jeandet landing a medal had looked dead and buried when he recorded the 29th fastest time in the downhill run.
"I was really disappointed and angry with my downhill run," he told reporters.
"In skiing, you have to do two full runs and with guys like Pinturault and Hirscher, if you do one bad run, it's not enough for the podium."
Second out in the slalom as a consequence, the 28-year-old judged his run on the icy slope perfectly and crossed the line in 46.97 seconds, only a hundredth of a second outside the time Hirscher clocked for gold.
"For me it was still not enough," he said. "There was still Marcel, still Alexis, and some downhillers who are quite good in slalom.
"It was a long wait, guys after guys. In the end everyone was telling me 'okay, it's going to be okay', and I was like 'No way, there's still three or four guys'.
"Finally, I had no more emotion and I was flat."
Muffat-Jeandet had recovered his emotions sufficiently by the time he spoke to reporters to start enjoying his unlikely triumph.
"In my dreams I always wanted to be a skiing champion, but I didn't even think about an Olympic medal," he added with a beaming smile.
"It seemed such a long way away, the Olympic Games. It's my first Olympic Games qualification, my first race, and I won a medal."
The two Frenchman won the only two combined events run on the World Cup circuit this year but Pinturault admitted that when it comes to slalom Hirscher is in a league of his own.
"He's actually really unbeatable in this discipline this year," he said.
"So I knew that it's going to be difficult, tight, and I had to do my best to make anything.
"I'm simply happy. Proud, too, of what Victor and I did, and also for having fought in such a good way to bring home this silver medal."
Mission Kim-possible as teenager soars to snowboarding gold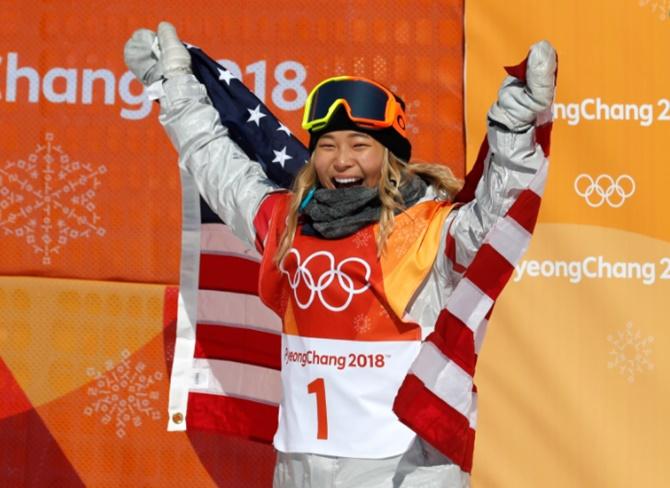 IMAGE: Chloe Kim of the US celebrates her win. Photograph: Jorge Silva/Reuters
Chloe Kim blew away the competition to win the women's snowboard halfpipe gold at Pyeongchang's Phoenix Snow Park on Tuesday, the American teenager finishing well clear of China's Liu Jiayu and compatriot Arielle Gold.
The 17-year-old Kim produced a top score of 98.25 points on her third and final run to beat Liu by almost 10 points in front of the largest crowd seen at the venue so far to live up to her billing as a heavy favourite for the gold.
Liu was the only woman who seemed capable of challenging Kim and will be delighted to earn her first Olympic medal at the third time of asking, as she also denied the United States a chance of sweeping the podium.
The Chinese, ranked second in the world, laid down a good first run to score 85.50 but Kim responded immediately and sent a comprehensive message to the rest of the field with an opening 93.75 effort that she made look easy.
Her performance put pressure on her rivals to raise their game and Liu, competing at her third Games, tried her best to respond with an improved performance on the longest halfpipe in Olympic history.
Liu scored 89.75 to close on Kim, who fell attempting back-to-back 1080s during her second run, but the 25-year-old Chinese failed to score higher in the final round, allowing the American a chance to enjoy what was effectively a victory run.
Kim launched into her back-to-back 1080s, the first method and the second cab, to score a near-perfect 98.25 and cement her status as the leading light in women's snowboarding.
"I knew I wouldn't have been satisfied going home with the gold but knowing I could have done even better," said Kim, who admitted to being hard on herself and thought she could have done even better on that final run.
"So that final was just for me and to show myself that I could do it and put down the best run that I could."
Kim, who leads the world rankings and was the overwhelming favourite coming into the Olympics, admitted there had been pressure on her to succeed.
"There has definitely been a lot of hype around this, on just a two-hour time period (for the final). It is pretty nerve-wracking as this has been a dream of mine since I was a little girl," she added.
"I put a lot of pressure on myself and wanted to put down the best run I have ever done."
Gold left it late but delivered when it mattered, saving her best for the final round, which she started with a risky 1080 at the top of the run on her way to scoring 85.75.
The 21-year-old, who suffered a separated shoulder shortly before the 2014 Sochi Olympics, said coming third was tinged with sadness as it bumped team mate Kelly Clark off the podium.
"It was a bittersweet position to be in when it came down to Kelly and I for third position," Gold lamented.
"She is someone I have looked up to ever since I started snowboarding, even more so after I got to know her. All the work she does behind the scenes is something I have tried to incorporate."
Clark, competing at her fifth Games, showed she still has plenty to teach the younger generation with a score of 83.50 on her third run. However, the day was all about Kim.