Swede Van der Poel ends Dutch monopoly in men's 5000m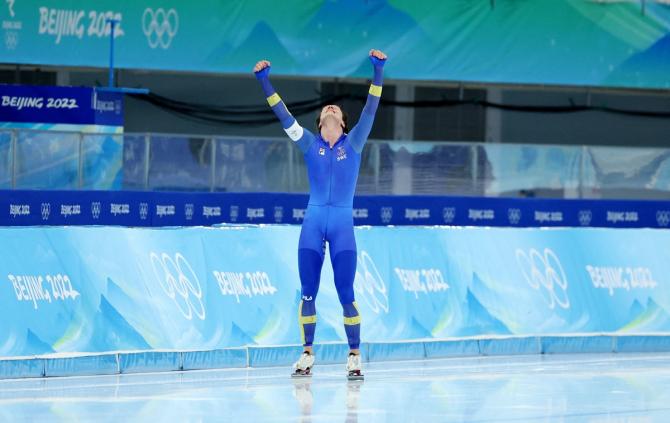 Sweden's Nils van der Poel skated a blistering last lap to snatch the gold medal in the 5000 metres speed skating at the Beijing Olympics on Sunday, ending Dutchman Sven Kramer's 12-year monopoly of the title.
The Swede, who broke the world record at Salt Lake City two months ago, trailed Dutchman Patrick Roest by over a second throughout the race but stormed to victory in an Olympic record time of six minutes 08.84 seconds.
Roest, who had skated an Olympic record time in his earlier race, took silver in 6.09.31 while Norwegian Hallgeir Engebraaten claimed the bronze in 6.09.88.
Three-times champion Kramer, whose domination of the event spanned three Olympics, placed ninth overall out of 20 skaters.
Beijing will be the 35-year-old's last Winter Games before he retires from the sport.
Bolshunov blazes to skiathlon gold
Alexander Bolshunov, representing the Russian Olympic Committee (ROC), recovered from an early spill to win the men's 2x15 km Olympic skiathlon with a dominant performance on Sunday and celebrate gold after winning three silvers and a bronze in 2018.
His ROC team mate Denis Spitsov took the silver medal, finishing one minute 11 seconds behind, with Finland's Iivo Niskanen, reigning Olympic champion over the 50km classic distance, taking bronze just over two minutes behind the winner.
Bolshunov took a tumble at the eight-minute mark but was quickly back up and battled Niskanen for the remainder of the classic portion of the race.
When the pair switched skis at the 15-km mark, Bolshunov came out in second place but quickly blew past his rival and powered away, building up an insurmountable lead and cruising through the rest of the race.
Niskanen, better known for his classic skiing than his freestyle, appeared to struggle and was passed by Spitsov but gradually found his rhythm and was able to hold off the chasing pack.
Spitsov survived a fall of his own late on, losing his footing as he took a drink in the closing stages, but by that point Niskanen was too far behind to exploit the opportunity.
It was Bolshunov's day, however, and the 25-year-old turned the final kilometres into a victory parade.
He spent the final lap pumping his fist, waving to the crowd and high-fiving his coaches and support team as he blazed his way to his first Olympic gold clutching a hefty ROC flag, but he still remembered to wait at the line and embrace his silver-medal-winning compatriot.
Bolshunov took the opportunity to thank his father, who taught him to ski, as he basked in his Olympic success.
"He did everything he could during all my professional career, he always supported me, helped me, advised me and guided me -- basically, the results I have today are because of him," he said.
Niskanen was pleased to have claimed a bronze medal, despite tough conditions.
"The Russians were flying today but I think I managed to keep the gap to the others until the last lap, so I enjoyed the last lap and enjoy that I got the medal," he told reporters.
Bolshunov will have plenty of opportunity to add to his impressive medal haul as he is expected to participate in five more events in Beijing.
Russian Bolshunov hits back at doping rumours
Alexander Bolshunov torched the field to win his first Olympic gold medal in Sunday's skiathlon before hitting back at insinuations that Russian athletes at the Beijing Olympics could not be trusted when it comes to doping.
For the third consecutive Games, Russian athletes are participating as neutrals, barred from competing under their own flag after their anti-doping agency was found to be not in compliance by the World Anti-Doping Authority (WADA).
When Bolshunov triumphantly crossed the finish line over a minute ahead of his compatriot Denis Spitsov, who won silver, he did so bearing the flag of the Russian Olympic Committee, rather than that of Russia.
When asked about his dominant performance and what the explanation for it was, Bolshunov faced the issue head-on.
"You're hinting at doping ... this should have nothing to do with sports. We have clean sportsmen, clean athletes who are at the Olympics who do doping tests almost every day," he said.
"We have to fill out these forms indicating where we will be training, what time, we show the time window when we can take a test, when we are going to be travelling, if I use a plane or a train from one place to another," Bolshunov added.
"I believe it's wrong to ask us these questions -- you don't achieve these results all of a sudden, you don't become an Olympic champion, because it takes years and years of training."
Bolshunov then issued a personal invitation to journalists to come see the Russian team train and to see the work they put in to get to the Olympics.
"Theses training sessions are very difficult, believe me, and after you have seen how we train, I believe you and your audience will never have these questions again," he said.
Chinese teen sensation Su advances to final, McMorris follows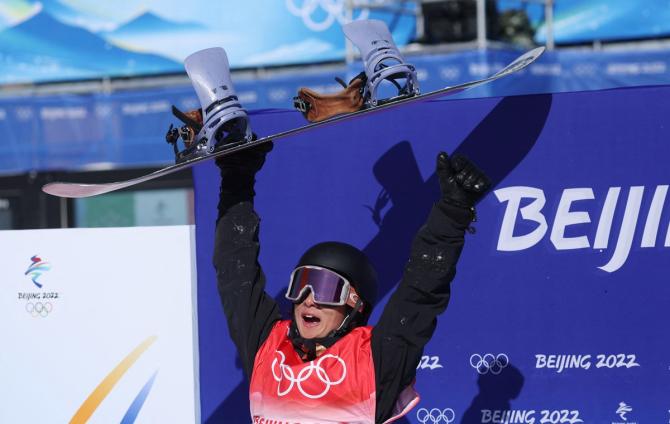 Chinese teen Su Yiming won first place in the men's snowboard slopestyle qualifiers at the Beijing Olympics on Sunday, advancing to the final along with one of his childhood heroes, Canadian veteran Mark McMorris.
The 17-year old Chinese snowboarder, who is making his Olympic debut in Beijing, stunned with a 86.80 point run out of the gate, edging past McMorris, who recovered from a shaky first run with 83.30 points in his second try.
"It is a very rare experience competing against my childhood heroes," Su said.
Su said he still had more advanced tricks up his sleeve ahead of the men's final on Monday.
"It's cool to see him (Su) rise to the occasion with all the pressure of being in China and to land that good of a run in his first go is pretty impressive, and I look forward to a battle with him tomorrow," McMorris said.
McMorris, who has two Olympic bronze medals from the Sochi Games and Pyeongchang in 2018, told reporters ahead of the qualifiers that his goal was to "change the shade of my previous bronzes" into silver or gold.
American Sean FitzSimons, who like Su is making his Olympic debut, said he eased into the final by sticking to his staple jumps.
"I think it's probably going to be one of the heaviest slope contests ever," FitzSimons said about Monday's final, adding that he expected to see incredible riding from his rivals.
FitzSimons said he was having a good competition season after he stopped worrying about judges and returned to enjoying riding again.
"I just stopped worrying about what I got, what the judges gave me," he said. "I'm not going to think about what anyone else is doing, I'm going to do me and hopefully put one down."
The 21-year old won the slopestyle contest at the Laax Open in Switzerland in January.
Redmond Gerard of the United States, who won gold in 2018, came in fifth in the qualifiers.
Sebastien Toutant from Canada said it was a different experience not having his family and friends accompany him to the Olympics as they did to the Pyeongchang Games.
"What makes the Olympics special is having my family come watch me, they don't get to do that at every contest and being able to represent your country," he said. Toutant came in eighth and will be advancing to the final.
Weather conditions were challenging at Genting Snow Park in Zhangjiakou, with boarders flying over hard packed snow and air temperature dropping to -20.9 degree Celsius.
Sunday's top 12 snowboarders will compete in Monday's final.
Reprieved Australians clinch first ever Olympic victory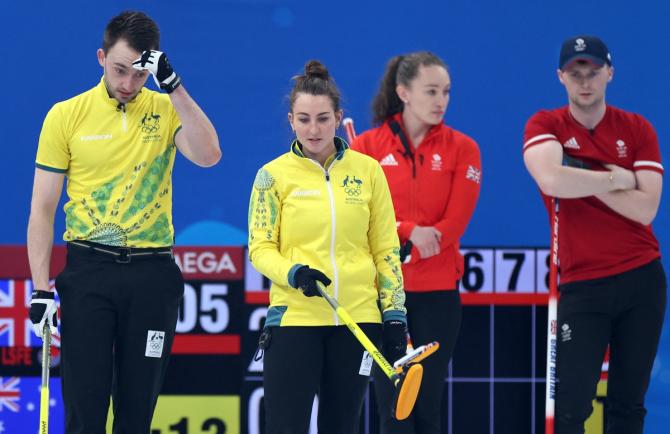 Australians Tahli Gill and Dean Hewitt secured their country's first ever Olympic curling victory at the National Aquatics Centre on Sunday, only a few hours after believing their mixed doubles campaign had been cut short due to COVID-19.
The pair, who became the first curlers from Australia to compete at the Games, claimed a 9-6 win over Pyeongchang silver medallists Switzerland having lost all seven of their previous round-robin matches.
Swiss duo Jenny Perret and Martin Rios were leading 6-3 but Australia fought back and scored six unanswered points in the last three ends for a landmark breakthrough after earlier enduring a rollercoaster of emotions.
Gill returned a series of positive tests late on Saturday and had been placed in isolation ahead of her planned return to Australia but on Sunday the pair were cleared by a medical expert panel to continue under the Games' close contact arrangements.
"It's very special... We've been so, so close for so many games," said Gill as four of Australia's defeats had been by a single-point margin. "I knew we could do it. I love how resilient we've been this whole campaign."
Gill, 22, had previously contracted the virus prior to the Olympics and tested positive on arrival in Beijing but was subsequently cleared to compete with Hewitt after she produced two negative tests.
The duo will take on mentor John Morris of Canada in their final round-robin game later on Sunday, having been coached by the 43-year-old en route to making Games history.
"It's unbelievable what he's done for us to get here," Hewitt said on Saturday. "We get along really well with him. He's a friend first and coach second... He prepared us in the best possible way leading up to it and we're very thankful for that."
Morris, teaming up with Rachel Homan, warmed up for the clash with his proteges by escaping with a narrow 6-5 victory over the Czech Republic as Canada stole a point in the extra end to move closer to securing a semi-final spot.
Pacesetters Italy have already sealed their berth in the last four and remain unbeaten following their 8-4 win over hosts China, while Britain are level with Canada in second place with both teams having registered five wins and two losses each.
Sweden lost 6-2 to Norway but remain fourth in the standings, with the top four teams advancing to Monday's semi-finals.
'Proud Kiwi' Sadowski-Synnott bags New Zealand's first Winter Games gold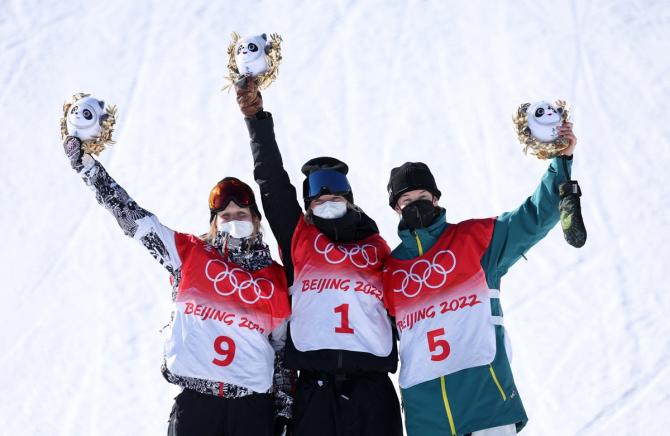 Zoi Sadowski-Synnott of New Zealand said she was a "proud Kiwi" after winning gold in the women's slopestyle event at the Beijing Olympics on Sunday, snagging the nation's first-ever Winter Games gold medal.
Rival snowboarders said the 20-year-old's final run pushed the women's field to the next level and called it a giant leap for the sport.
Sadowski-Synnott scored 92.88 on her final run, landing back-to-back 1080s on a challenging course resembling the Great Wall of China.
Asked how she felt about making history as the island nation's first Winter Games gold medalist, she said it made her a "proud Kiwi".
"I hope I made them happy and they will celebrate for me," she said.
Her coach, Sean Thompson, said "everyone was going to go crazy" back home over the win.
"She's amazing and deserves every bit of it," he said.
The New Zealander won over a tough field of competitors, including the reigning twice-gold medalist Jamie Anderson, who missed the podium after she said she "blew it" on Sunday.
Julia Marino of the United States, who took silver, said Sadowski-Synnott was elevating the women's slopestyle competition, putting down tricks previously only ever successfully performed by men.
"She stomped that to the last line," Marino said, adding she was "overcome with happiness" for all the winners.
"I just think it's insanely huge for the progression of the sport," she said.
After Sadowski-Synnott landed her final trick, her supporters erupted in cheers, waving her home country's flag as well as another flag displaying the black and white silver fern.
Australian Tess Coady, who won bronze, jumped on top of the Kiwi at the finish and Marino also piled in.
"I felt less 'cobwebby' than yesterday. I for sure wanted to step it up," Coady said, adding that she had listened to a snowboarding podcast on Saturday that reminded her she should not settle for a mediocre performance.
The skies were sunny but hard snow and the extremely low temperatures made the event demanding for boarders as air temperatures fell to -19.6 degrees Celsius at Genting Snow Park in Zhangjiakou.
Snowboarders described the course, which even includes a replica of an ancient watch tower on the Great Wall, more challenging than others they've tried.
Anderson, who lost her title and came in ninth in the finals, paused after an interview and turned towards the awards ceremony, watching in silence as the winners were crowned.