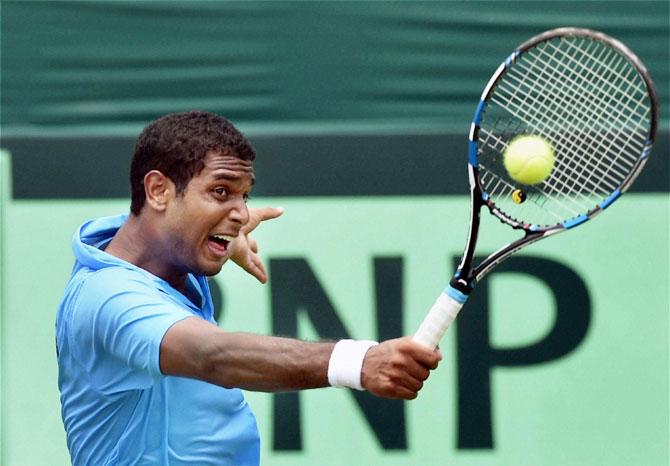 IMAGE: India's Ramkumar Ramanathan returns against South Korea's Seon Chan Hong during their Asia/Oceania Group-I Davis Cup tie in Chandigarh on Friday. Photograph: Atul Yadav/PTI
India won the opening singles to take a 2-0 lead over South Korea on Day 1 of the Davis Cup Asia/Oceania Group-I tie against South Korea, in Chandigarh, on Friday.
After young Ramkumar Ramanathan made a winning Davis Cup debut, scoring a hard-fought 6-3, 2-6, 6-3, 6-5 (15-15) victory over Seong Chan Hong in the first singles, Saketh Myneni got the better of Yong-Kyu Lim 6-1, 3-6, 6-4, 3-6, 5-2.
In both the singles, injury forced the Koreans to concede the tie in the fifth set.
After battling for two hours and 36 minutes, the 21-year-old Ramkumar, ranked 217 in the ATP singles rankings, was serving for the match when Hong suffered a thigh injury and conceded it.
In the second singles rubber, which was interrupted with medical time-outs and a long toilet break as both players struggled with cramps, Myneni raced to an early lead after breaking Yong-Kyu twice in the opening set and sealed it 6-1 with an ace.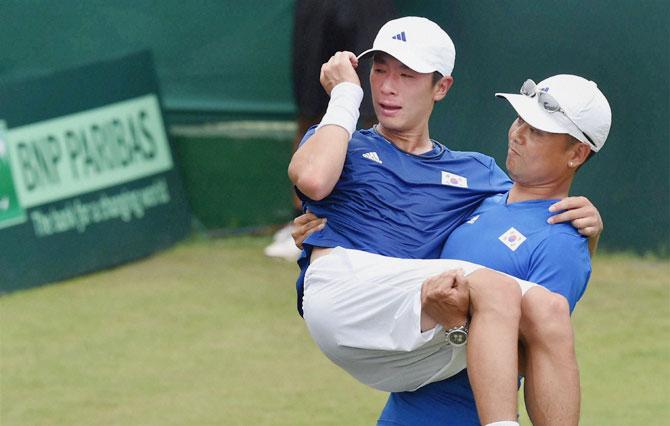 IMAGE: South Korea's Seon Chan Hong is assisted by medical staff after suffering an injury during his Davis Cup singles against Ramkumar Ramanathan at the Asia/Oceania Group-I tie at Chandigarh on Friday. Photograph: Atul Yadav/PTI
However, the Indian lapsed in concentration and dropped serve once before losing the second set 3-6.
Ranked No. 150, Myneni was broken again in the third set but he returned the break in the fourth game to level at 2-2.
Another break in the 10th game gave the Indian the third set at 6-4.
The Korean came back strongly in the fourth set, needing just a break to win it 6-3 and force the decider.
However, he was broken in the opening game of the fifth before Saketh raced to a 5-2 lead.
Serving for the match, Saketh wrong-footed Lim while winning the first point. Then, while running to meet a volley, Lim fell down and was forced to retire in the eighth game with the Indian leading 5-2, 15-15.
Earlier, Ramkumar was leading 6-3, 2-6, 6-3, 6-5 (15-15) when Hong suddenly clenched his right thigh, grimacing in pain. It brought a sudden end to the match, taking a bit of sheen out of the Indian's victory at the Chandigarh Club.
Leander Paes and Rohan Bopanna will take on Hong Chung and Yunseong Chun in the doubles rubber on Saturday.