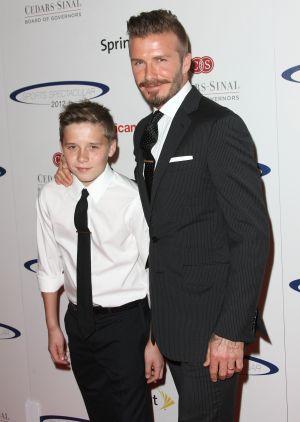 David Beckham and his son Brooklyn met with an accident after the former soccer star crashed into another car as he pulled out of his Beverly Hills home.
The 38-year-old football star, who was driving his black Range Rover Sport, allegedly dashed into another vehicle as he pulled out of the driveway. It is believed that his 14-year-old son was in the passenger seat, reported Daily Star.
According to the witnesses, Beckham drove out of his drive way and straight into a white Acura 4X4, driven by an unnamed woman.
The duo have not got any injuries as they were wearing seat belts. Although David's Range Rover, which costs more than $60,000, suffered major damage in the accident.
David reversed back onto the driveway of his home after the crash and waited for the arrival of local police to question him about the accident.
Onlookers said that the police went inside the soccer star's home to gather more information about the incident.
Image: David Beckham and Brooklyn
Photograph: Frederick M. Brown/Getty Images