'Sakshi's medal will do to women's wrestling what Sushil's 2008 Olympic medal did to wrestling in general.'
'It will make more and more families put their daughters into wrestling.'
'More and more young girls will fall in love with the sport and demand that they be taken to akhadas.'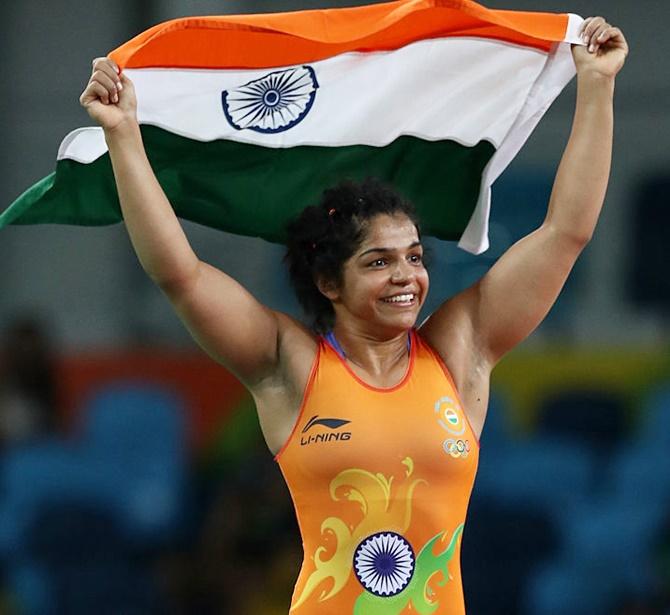 IMAGE: Sakshi Malik celebrates defeating Aisuluu Tynybekova in the women's Freestyle 58 kg bronze medal match at the Rio Olympics. Photograph: Lars Baron/Getty Images
Wrestling, a historic sport in the country, has grown to become one of India's top medal prospects at thr Olympics.
While Khashaba Dadasaheb Jadhav was the first to win a Bronze medal at the 1952 Helsinki Olympics, it was only at the last three Olympics that India has emerged as something of a wrestling powerhouse.
Legendary wrestler Sushil Kumar followed his Bronze medal at the 2008 Beijing Olympics with a Silver at London Games.
Wrestling provided India's first medal at the Rio Olympics with Sakshi Malik becoming the country's first woman grappler to win a medal (Bronze) at an Olympics.
Journalist Rudraneil Sengupta has traveled through India's wrestling landscape to bring stories from Indian akhadas.
Enter The Dangal: Travels Through India's Wrestling Landscape is the result of his research, which delves into the history of wrestling in India, the difficulties faced by the wrestlers and the sport's future in the country.
Rediff.com's Aruneel Sadadekar spoke to Sengupta about his book, wrestlers and the sport's future in India.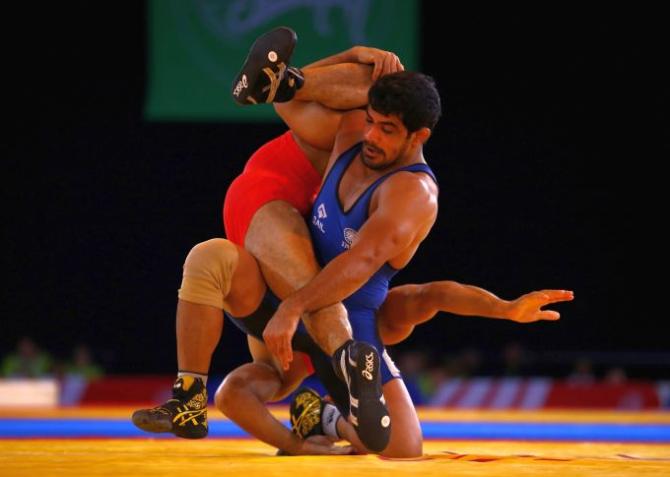 What made you write a book on wrestling?
My first significant contact with wrestling was in 2010, when I went on a reporting assignment to write on Sushil Kumar preparing for the Commonwealth Games in Delhi.
I was expecting the usual routine when covering sportspeople -- that I will be given very little time to interact, that the interview will be rushed and impersonal, with lots of generic answers.
Instead, Sushil and I ended up spending a whole afternoon where I got to watch him train, where he explained to me the nuances of wrestling, spoke passionately about his family and his past and gave me a great idea -- to go spend the night at his family's house on the outskirts of Delhi the day before his bouts, to get a feel of what an athlete's family goes through before a major tournament, to see life in his 'village', and then to travel with his family and the village entourage to the venue to watch him fight.
It was the kind of intimate access journalists dream of, and it was a very special experience for me. It also opened my eyes to the importance of wrestling in India, how entrenched it is as a sport and a tradition, and how widespread the culture is.
Till then, I thought cricket was the only sport that had a true culture here.
I started reporting more and more on wrestling, till an editor at Harper wrote to me after reading one of the articles and asked me if I thought wrestling would make a good subject for a book. And that's how it happened!
Could you outline the wrestling scenario in India today?
The game has grown by leaps and bounds since Sushil's medal at Beijing, and the other international medals, from wrestlers like Yogeshwar, Bajrang, Narsingh, Alka Tomar and the Phogat sisters -- that followed.
Till Sushil's medal, wrestling had a thriving culture, but it was a closed world -- in the rural areas it was big, but in the cities, only wrestlers knew about the scene.
Also, till Sushil's medal, the prevailing mindset among wrestlers was that they stood no chance at the Olympics because they were far behind their global counterparts in terms of infrastructure, technique, and sport science.
There was a defeatist attitude in general (but you can't blame the athletes for this, because they were not entirely wrong).
Sushil's medal opened a door -- you will hardly meet a practicing wrestler right now who will not openly admit to being inspired by Sushil and thinking to themselves: 'We can win at the international level.'
Also, there was a boom in new akhadas, and a significant increase in young men and women joining akhadas.
Television discovered wrestling. Newspapers discovered wrestling. Suddenly it was in the public eye.
State governments, especially Haryana, started providing Olympic mats to akhadas.
Unfortunately, that bit about our wrestlers being behind on infrastructure, technique and sports science continues to be true.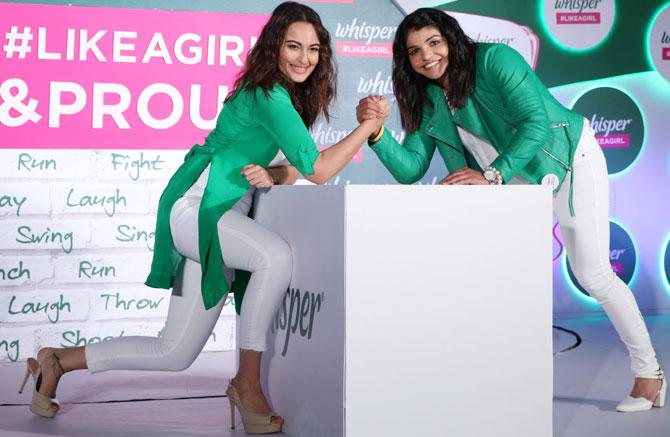 IMAGE: Rio Olympics Bronze medalist Sakshi Malik with Bollywood star Sonakshi Sinha at a promotional event in Mumbai. Photograph: Hitesh Harisinghani/Rediff.com
Will Sakshi Malik's Bronze medal from Rio ring in any changes with respect to women wrestling in India?
There is no doubt that it will.
The movement to get women into wrestling began in the late '90s, and that was a time of major upheavals.
That first wave produced the likes of Alka Tomar and Geeta Phogat -- the change continued slowly, bringing in another generation -- Geeta's younger sisters, Sakshi Malik.
Sakshi's medal will do to women's wrestling what Sushil's 2008 Olympic medal did to wrestling in general.
It will make more and more families put their daughters into wrestling -- more and more young girls will fall in love with the sport and demand that they be taken to akhadas, and governments will increase funding and focus on women's wrestling.
The Aamir Khan film Dangal will only add to the momentum. There are exciting times ahead.
In her interview, Sakshi mentioned how she had been taunted at for taking up a male-dominated sport in Haryana.
During your research, did you come across such issues faced by women wrestlers in Haryana and other states?
During my research, I did not meet a single woman wrestler who was not taunted, harassed, and discouraged from taking up wrestling.
Wrestling has always been a very male sport in India -- in fact, it is the 'male' sport -- it's the game that defines manliness.
Women were not even supposed to watch wrestling at tournaments.
Haryana, as we all know, has a terrible reputation when it comes to gender rights -- its abysmal sex ratio, etc -- but the opposition to women in wrestling was just as high in say Maharashtra or West Bengal as it was in Haryana.
In fact, Haryana has now left all other parts of India behind when it comes to producing women wrestlers. It's leading the revolution.
Could you explain to our readers some of the issues faced by women wrestlers?
Typical blind misogyny -- that women defile the sacred earth of the akhada, that women wrestling is against the natural order of things, that it provokes sexual deviancy, that wrestling makes women unfit for marriage, that ancient tradition says women should not wrestle (or be seen at akhadas or dangals) -- stupid thoughts that should die an instant death.
What are the immediate changes we need to see in order to allow India to become a force in the sport of wrestling internationally?
Educate coaches.
Most of our coaches are woefully short of knowledge and pedagogical skills. Teaching is ad hoc.
There is also a belief in the wrestling community that education is a waste of time and that if you want to be a serious wrestler, spending any time on studying will only pull you back.
This results in a large pool of semi-literate wrestlers, who then go on to become semi-literate coaches.
In sports, as in anything, an exchange of knowledge and the dissemination of knowledge is crucial to development, and that is almost non-existent now.
The federation, like most sports federations in our country is run lazily and with little focus on the sport itself.
How that can be changed is anybody's guess.
They should be responsible for creating and promoting infrastructure and sports science.
They had the opportunity of a lifetime to put their house in order when wrestling went through its popularity boom, but have totally wasted it.
And wrestlers have very poor access to sports medicine as well -- in a super physical combat sports with constant injuries, that becomes a major reason for wrestlers not doing well globally.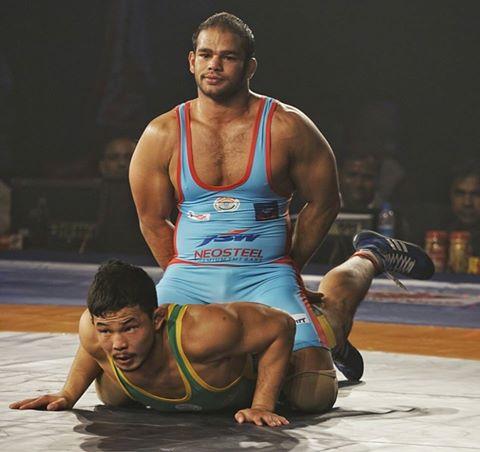 IMAGE: Narsingh Yadav in action in the Pro Wrestling League.
What about the doping controversy surrounding Narsingh Yadav?
That's an incident that puts into focus all that is wrong with the sport.
It should have been the responsibility of the federation to speak to Sushil and Narsingh and advise them on the right course of action.
Instead they fueled the fight, openly accused Sushil and Satpal of sabotage with no proof, and did some shoddy investigation which proved nothing, and took the most puzzling decision of giving a clean chit to Narsingh, without following WADA's strict rulebook.
Anyone who has ever glanced at the WADA rules should have known that Narsingh will be blocked by WADA at the Olympics.
Your book mainly covers mud wrestling in India. Tell us something about this ancient Indian sport.
How is it different from the sport of wrestling as we see it today?
I think mud wrestling does not work as a name for mitti ki kushti. Because there is no mud!
The surface on which wrestlers fight is dry, tilled earth. I don't use the word mud wrestling anywhere in my book.
Wrestling is one of the world's oldest sports -- some say it is mankind's first sport.
It's no different in India, where wrestling has had an unbroken tradition for hundreds of years.
It is mentioned in the epics -- the Mahabharat, the Ramayan or the Shahnama and in religious texts, it was patronized and found great favour in the courts of Hindu kings and Muslim kings alike.
It was both the sport of the common man and of kings. It was an essential part of martial training for all soldiers.
While there are certain technical differences in traditional wrestling and Olympic wrestling (the surface they fight on being the biggest difference), essentially the techniques of wrestling -- how to manipulate and dominate a body through physics and without hitting -- has not changed since ancient times.
Do you think India can improve its medal chances if these 'pehelwans from the akhadas' are convinced to switch to mat wrestling?
Yes, absolutely.
Fighting on mats is a completely different experience in terms of speed and how much balance you have.
Indian wrestling has suffered massively over the decades for not having access to mats.
Generations of wrestlers have trained on earth and found out on the international stage that they were wholly unprepared to fight on a mat.
All the international medals we win now, including Sushil's, is because they had access to mats early on in their careers.
And mat does not mean the end of traditional wrestling -- most of our mat wrestlers do pretty well on mitti and continue to fight in both traditions.
What is the importance of wrestling in rural India? To what extent is it a part of the social fabric?
In certain parts of India -- Haryana, Punjab, Maharashtra, MP, UP -- it is the number one sport in rural India.
Wherever wrestling is prevalent, it is seen not just as a sport. but as a way of life.
A pehelwan is a pehelwan for life, and is meant to follow certain prescriptions of what it means to live a good life -- a certain kind of diet, ethical codes, etc.
And families tend to be very serious of maintaining a legacy. A wrestler will always want his or her son (and now happily, their daughters) to continue the family tradition.
How do you look at the future of Indian wrestling?
If the wrestling federation can become a professional body, it has a great future.
If not, then it will continue to find international success in fits and starts.
One great change is the interest in women's wrestling, which will continue to grow.
And I see no reason why the tradition of wrestling, which has survived for so many hundreds of years will not continue to remain strong.