India's boxing ace Vijender Singh outclassed Trinidad and Tobago's Aaron Prince in the men's 75kg category to reach the semi-finals and assure himself of a medal at 2014 Commonwealth Games in Glasgow, on Wednesday.

Vijender, the 2008 Olympic bronze medallist, won 3-0 on points in an unanimous decision of the three judges.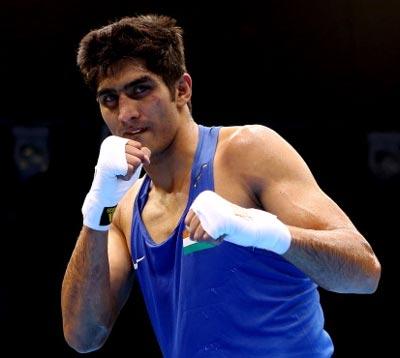 The first round was a bit subdued with both the boxers trying to get a measure of each other. The Indian played a bit defensively while his opponent looked to attack and score some early points.

One judge out of the three gave 10-9 points to Finch while the other two gave in favour of Vijender with identical scores.

In the second round though, Vijender was on fire as he landed a flurry of punches on his hapless opponent who could only look to defend. A straight jab and then a right hook punch from Vijender rattled Finch. The tempo continued in the third round and Vijender won comfortably at the end.

After the bout, Vijender revealed he had to change his tactics midway into the bout and looked to be more aggressive which ultimately paid off.

"I changed my tactics midway in the bout. In the first round I was trying to play a bit defensively. But he kept on coming and so I had to change my tactics and become aggressive," he said.

"It is all about doing right things during the bout. I took some punches from my opponent but it was all about boxing. You get hit. I am getting better and hope I win gold."
Medals tally: 2014 Commonwealth Games
Complete coverage of the Glasgow Commonwealth Games
Image: Vijender Singh of India
Photograph: Scott Heavey/Getty Images