Recent doping scandals may have tainted the image of Indian weightlifting, but Commonwealth Games gold medal winner K Ravi Kumar says he just wanted to prove that medals could be won without resorting to performance-enhancing drugs.
"I think my gold medal will inspire many young lifters, so it is certainly important. Weightlifting has faced doping problems in the recent past. By winning gold I wanted to prove that this can be achieved even without taking the wrong way," said Ravi Kumar, who won the coveted gold medal in the 69 kg weightlifting category on Wednesday.
"I will advise young Indian lifters to not choose the wrong way and train hard. It will certainly pay dividends in the long term," he added.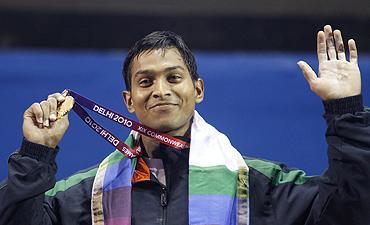 Ravi on Wednesday created a Commonwealth Games record with a total lift of 321 kg, while grabbing gold.
The decks for Indian lifters' participation in the Delhi event were cleared earlier this month when the Commonwealth Games Organising Committee released Rs 1.75 crore to the Indian Weightlifting Federation so that it could pay the doping fine to its parent body.
The Federation was under pressure to pay the fine of $3,75,000 and an additional $31,000 for individual fines and 'B' sample testing charges, failing which, the Indians would have been barred from taking part in Delhi and also the Asian Games.
Ravi also admitted that he was under pressure during his gold-producing performance.
"I was feeling the pressure. I had promised family, my Federation and also the media that we will win gold. But after we missed out on two golds in 62kg, I thought what would happen if I can't do it?
"But after lifting 146kg in snatch, I was free because I knew that today I will get something. Both the snatch and clean-jerk are very important in this level. One bad performance in any section can cost you medals," added Ravi, who got into the sport seven years ago.
However, the bodybuilder-turned-weightlifter was not complacent, and he is already hopeful of another good show in next month's Asian Games in China.
"My training will start from tomorrow at the Games Village and after the event is over, we will shift to NIS, Patiala. Asian Games is going to be tough as there will be countries like China, Kazakhstan and Korea," he said.
"I will also try to put up my best performance there to fetch medals for the country," he added.
Asked about the reported incident, where another lifting gold medalist Renu Bala Chanu (women's 58kg section), was seen taking an auto-rickshaw to return from the venue, both Ravi and coach D D Sharma dismissed the report as false.
"It is wrong news. Till 9 pm, she was with us and after that Renu asked for permission to go with her parents. Renu was offered a car but she opted to go with her parents in an auto-rickshaw," Sharma said.
"The arrangements have been great at the Delhi Games. They are taking care of every individual," Ravi said.