Born to a poor family in a non-descript village in Nashik district of Maharashtra, pursuing athletics was the only choice left for Kavita Raut.
And she does not regret her decision after becoming the first Indian woman to win an individual track medal in Commonwealth Games.
Raut bagged a bronze in 10,000m race by clocking 33:05.28 to give India its first athletics medal in Delhi Commonwealth Games.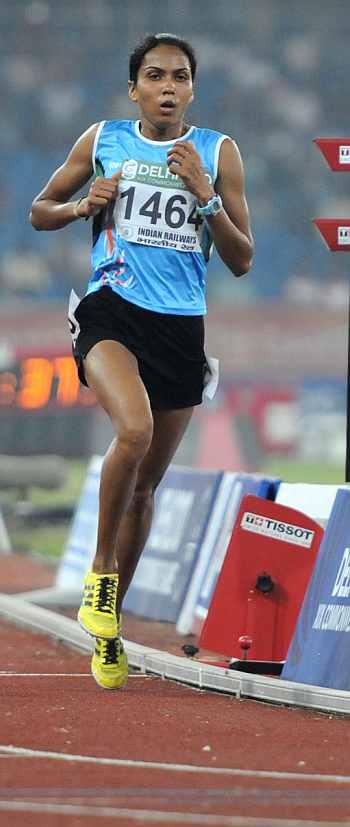 Before Raut, the women's 4X400m relay team had won a silver in 2006 Games in Melbourne where long jumper Anju Bobby George and Seema Antil had also bagged a silver and a bronze respectively.
Neelam Jaswant Singh had won a silver in discus throw in 2002 Manchester Games.
But Anju, Antil and Neelam's medals have come in field events.
The 25-year-old Raut from Sabpadda village in Nashik district says she chose running as it can be done barefooted and without spending any money.
"I am from a very poor family. I have an elder and younger brother. I wanted to pursue some sport but my family cannot afford. So I chose running as I can do it barefooted," says Raut.
Kavita, the only daughter in the family of five, says she has no regrets for choosing running and she now aims to win gold in Asian Games.
"I don't regret my decision, my target now is to win gold in Asian Games," she said at the press conference after the medal ceremony.
Asked why she chose 10,000m, Raut said, "I am a small girl and my coach (at Nashik) Virender Singh tried me in 1,500m, 3,000m, 5,000m.  Finally, he decided me to run in 10,000m. I also run in half marathons."
"It was in 2002, I started my active running career and my village folk supported me a lot and they encouraged me a lot whenever I won in national events. I then got scholarship for three years from a company and things got better for training," she explains.
Raut says backing from the people of her village has been a pillar of strength for her. "Whenever I return home after winning national events they will come out in large numbers.
"My coach pasted papers at my village informing the people that I am going to run in Commonwealth Games. The support of people from my village has been my strengh," she says.
"I would like to thank my parents for allowing do what I wanted. Then my coach at my village and coaches at the national camps including Nikolai sir I want to thank them for what I have achieved," she says.