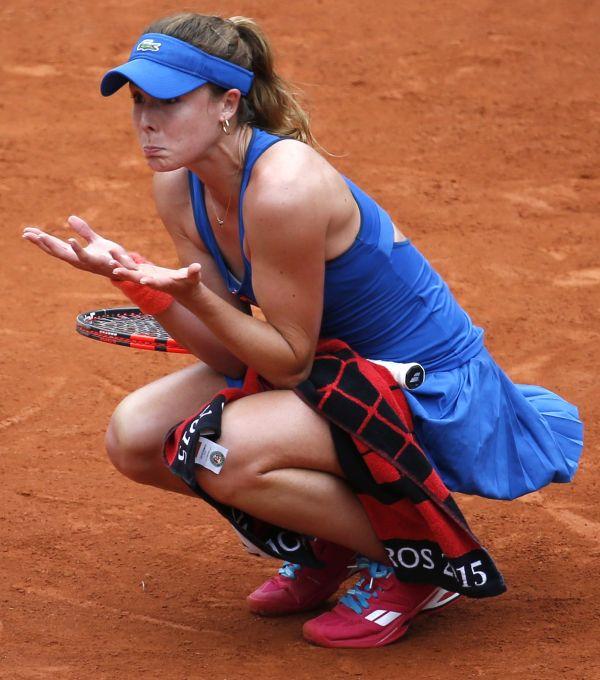 Alize Cornet of France argues with the referee during the women's singles match against Elina Svitolina of Ukraine at the French Open tennis tournament. Photograph: Pascal Rossignol/Reuters
Local favourite Alize Cornet has backed up former world number one Victoria Azarenka's call for a review of the line call regulations at the French Open, labelling a decision against her on Sunday as "shameful".
On Saturday, Belarussian Azarenka said she was the victim of a bad call in her third-round defeat by Serena Williams and Cornet felt the same after her exit.
The Frenchwoman was facing a break point at 5-5 in the second set of her fourth-round match when her Ukrainian opponent Elina Svitolina stopped playing and asked the chair umpire to check a mark as she felt Cornet's shot had sailed long.
The umpire climbed down off her chair to check the mark and called the ball out. Cornet argued the call was wrong, telling the umpire she "stole" a point from her. Svitolina won the match 6-2 7-6(9), after Cornet saved five match points, to reach her first quarter-final in a grand slam.
"It's a scandal," Cornet told a news conference.
"It's shameful. I don't know how she could look me straight in the eye and tell me the ball was out."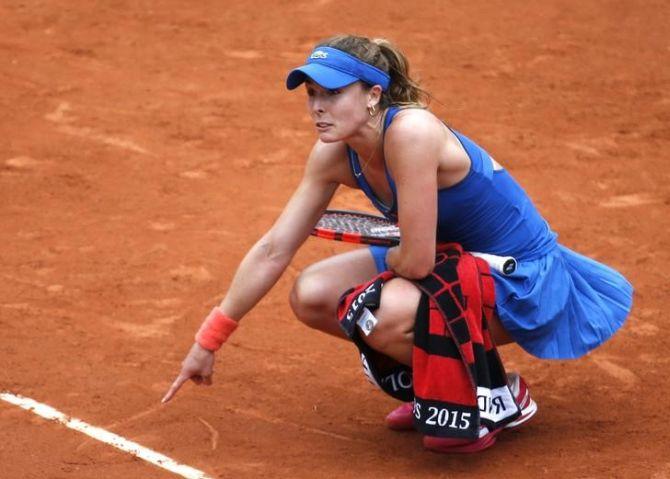 Alize Cornet of France shows the white line as she argues with the referee during the women's singles match against Elina Svitolina of Ukraine. Photograph: Pascal Rossignol/Reuters
Asked if the Hawk-Eye system should be used on clay, Cornet said video could be a solution to lift doubts over suspect calls.
"Maybe the video would have shown me that I was wrong. But I saw it," she said.
"It was right there. I think sometimes it would really be worth using the video."
The Hawk-Eye system, which allows players to ask for a review of a point, has been enforced on all surfaces except clay where umpires rely on the mark the ball leaves on the red dirt.
"The problem is if you use video for everything, why have umpires? Because that's your job. That's their job. That's what they are there for," Cornet added.
"But I really felt the pressure. She was waiting. My opponent was waiting. And I think she knew. She knew it was good. And it was so frustrating."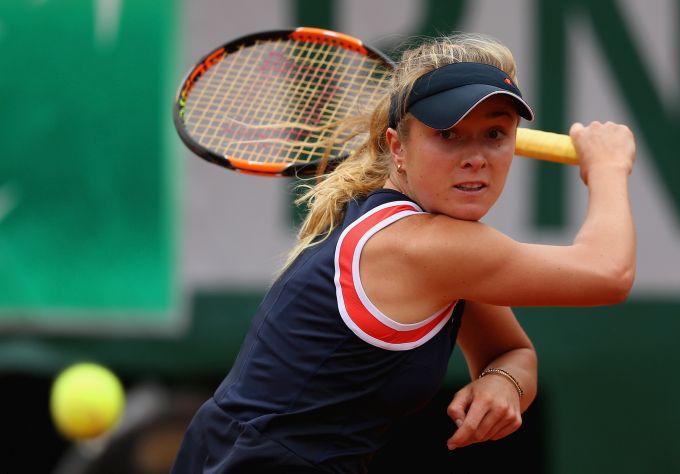 Elina Svitolina of Ukraine plays a backhand in her Women's Singles match against Alize Cornet of France. Photograph: Clive Brunskill/Getty Images
Svitolina begged to differ, saying the mark left on clay is enough to judge a point.
"...there is a mark. There is a chair umpire who decides," she said.
"I don't think they should do Hawk-Eye on clay courts because there is a chair umpire who is deciding and seeing the mark."