Alberto Contador is free to compete again after Spain's cycling federation (RFEC) lifted his one-year doping ban on Tuesday but the Tour de France champion still faces the threat of possible appeals by two global bodies.
Contador said he was "relieved and obviously happy" at the decision, though the International Cycling Union (UCI) and the World Anti Doping Agency (WADA) could yet appeal to the Court of Arbitration for Sport (CAS).
"It has been some very stressful months for me," Contador said in a statement on his team's website (www.saxobank-sungard.com).
"To both the team and the authorities I have explained that I never cheated or deliberately took a banned substance."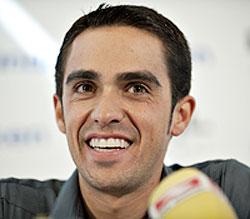 Contador has been banned since August after testing positive for a small amount of the banned anabolic agent clenbuterol on his way to victory in last year's Tour, his third win in the sport's most important race.
The UCI said it reserved the right to study the reasons behind the RFEC decision before expressing an opinion.
"Once this documentation (from the RFEC) has been received, the UCI will issue its decision within 30 days," the body said in a statement.
WADA noted in a later statement it would have another 21 days to determine whether or not to use its independent right of appeal to the CAS.
Tuesday's ruling means Contador will be able to join up with his team Saxo Bank, conceivably in time to defend his title at the Tour of Algarve starting on Wednesday.
CONTAMINATED MEAT
The 28-year-old Contador has always denied deliberate wrongdoing, saying the failed test was due to contaminated meat. His team's owner Bjarne Riis said the Spaniard had been vindicated by Tuesday's ruling.
"This decision is indeed proof that the relevant authorities do not find grounds for believing that Alberto has committed any intentional doping offence," Riis said.
"We take note of this decision and fully respect it, but we are also sensitive to the fact that the parties of this case still have the right to appeal this decision."
Spanish media reported that the RFEC's disciplinary committee reversed their decision because it could not prove intent or negligence on Contador's part.
Announcing his appeal against the RFEC's original one-year ban, Contador had criticised "obsolete" doping controls in cycling. He was backed by the local media, the general public and by the RFEC's president, who was not a part of the disciplinary proceedings.
Spanish Prime Minister Jose Luis Rodriguez Zapatero entered the fray last week.
"There is no legal reason to sanction Contador," he said on the government's Twitter feed.