- 'I chose to be an athlete who participates in the revolution. I know that might cost me my future athletic career, I understand that very well.'
IMAGE: Gymnast Ahmad al-Sawas performs gymnastic moves near damaged buildings in the rebel-held Bustan al-Qasr neighbourhood of Aleppo, in Syria. Photograph: Abdalrhman Ismail/Reuters
As Syrian gymnast Ahmad al-Sawas watched his country fall apart, his Olympic dream collapsed too.

The last national champion before the fighting began, he knew that supporting the anti-government side in the five-year-old civil war would prevent him from being selected for the Rio Games.

"I chose to be an athlete who participates in the revolution," said Ahmad, who trains where he can for two hours a day -- be it on a mattress on a soccer field, in a local hall or somersaulting off a wall.

"I know that might cost me my future athletic career, I understand that very well."

Syria's Olympic Committee is sending seven athletes to compete in Rio this month, in athletics, swimming, judo, table tennis and weightlifting.

That the committee is run out of Damascus by the government of President Bashar al-Assad has effectively ruled out anyone who lives in rebel-held areas, including the Bustan al-Qasr district of Aleppo where 19-year-old Ahmad makes a living selling and repairing electronic equipment in his father's shop.

Syria's most populous city before the war, Aleppo has been divided between government-controlled and rebel-held zones throughout the conflict, which has killed well over 250,000 people.

For Ahmad - who also fought with a rebel group for three months - being a champion athlete is part of a family tradition. His father Hisham, a Graeco-Roman wrestler, won medals in national competitions between 1983 and 2011.

But Hisham's career also fell victim to politics, as Syrian authorities banned him from competing in international tournaments for alleged membership of the Islamist Muslim Brotherhood, an accusation he denies.

Ahmad, who began gymnastics aged six, travelled to Russia for the 2012 Children of Asia games, and won the national championship in 2011, for which he received $40 from the government as a participant.

But he admits missing Rio will be a big disappointment - "I've been training regularly and preparing myself" - though he is doing his best to ensure his talents still leave a legacy by giving free two-hour gymnastics lessons to Aleppo children every other day.

LONG ROAD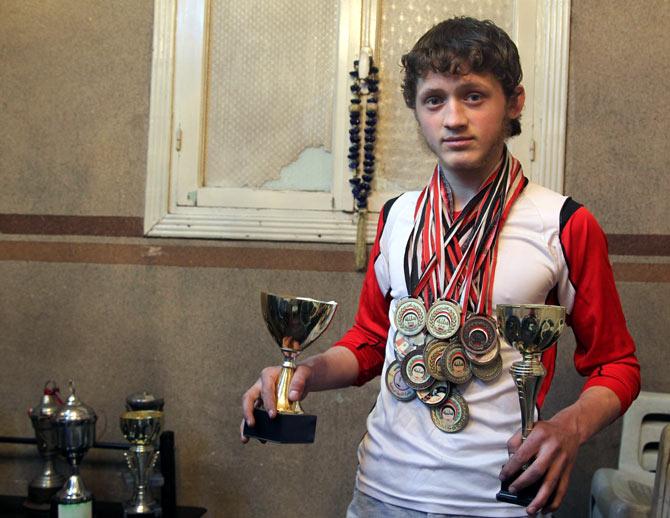 IMAGE: Gymnast Ahmad al-Sawas poses with his medals and trophies inside his home in the rebel-held Bustan al-Qasr neighbourhood of Aleppo, in Syria. Photograph: Abdalrhman Ismail/Reuters
For the four men and three women from government-controlled areas who will be representing Syria, the road to Rio is a long one.

First they will be driven from Damascus to the Lebanese capital Beirut, and from there on a series of plane journeys via Qatar to Brazil, said Syrian Olympic committee head Firas Moualla.

Moualla told Reuters the Syrian conflict and international sanctions meant athletes had missed out on funding and training opportunities.

"It is difficult because they lack the opportunity to go to training camps abroad, to get the necessary European country permits to take part in championships to qualify and prepare them for (Olympic) participation," he said.

In another reminder of the impact of the war on sport, two athletes originally from Syria will also compete in Rio under the banner of the first-ever Olympic refugee team.

One of the seven competing under the national flag who did train abroad is 50m freestyle swimmer Baean Jouma: the first Syrian to qualify by meeting the Olympic qualifying standard - rather than via the wild card system - since heptathlete Ghada Shouaa, who won Syria's only gold medal in 1996.

Jouma, also originally from Aleppo, moved to Damascus in 2007 to train and recently spent six months in a Russian training camp.

The time abroad was difficult for her as she was alone and surrounded by a language she did not know.

"But I have always had my goal and I wanted to achieve it and so I will put up with all these things until I get where I want to be," Jouma said.

"I can't promise I will get a medal," she said. "But I will do my utmost to break 26 seconds. If I do, I will become the second female Arab athlete to do this."