In the presence of party vice-president Rahul Gandhi, ace discus thrower Krishna Poonia joined the Congress at a rally in Rajasthan on Wednesday, ahead of the upcoming state Assembly elections, scheduled for December 1.
Poonia's formal joining of the party was announced at the rally at Churu by Sirsa Member of Parliament and Rahul's confidant, Ashok Tanwar.
"It's a new beginning in my life. I have brought laurels for the country in the field of sports but now I want to serve the people and make a difference in their lives," Poonia said from Churu.
"It was an overwhelming experience when it was announced that I have joined the Congress Party in front of around two lakh people. It was at the same time a different experience that I was sitting with Rahul Gandhi, the chief minister (Ashok Gehlot) and state Congress Party chief among others," said Poonia.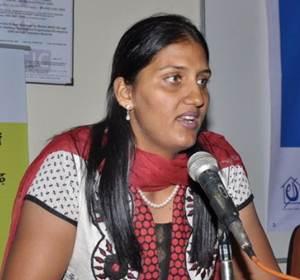 Asked what had prompted her to join politics, she said she developed the desire to work for the betterment of the people, especially for the youth, women and children while leading social campaigns in her state after winning a gold medal in the 2010 Commonwealth Games in Delhi.
"After the 2010 Commonwealth Games, I was involved in social cause campaigns, mostly relating to women and children, and lots of people want me do something to bring changes in their lives. I felt a connect with these people -- mostly women and deprived children.
"It's new responsibility entrusted to me and I know it's going to be challenging. I thank the Congress Party, Rahul Gandhi and other leaders and I hope I can do something for the people of Rajasthan," said Poonia, the only Indian woman track and field athlete to win an individual gold medal in Commonwealth Games.
It is learnt that Poonia is expected to fight the Assembly elections from one of the six constituencies in Churu district as she has a following among the people there.
Asked if she will contest the elections, Poonia said, "I have just joined the party and I will do whatever the party says. Churu is my home district and let us see."
She also said that she will not end her track and field career even if she elected in the polls.
"I want to win a gold medal in the Commonwealth Games and Asian Games next year. Now I will have the added responsibility after joining the Congress Party but I will continue my sporting career."
Poonia is the second high-profile sportsperson to join a political party in view of the upcoming Assembly elections in Rajasthan. Recently, 2004 Olympics silver medallist shooter Rajyavardhan Singh Rathore joined the Bharatiya Janata Party and is also expected to contest the Assembly polls.
Poonia resigned from the Indian Railways on Tuesday after 11 years of service, as, under election laws, any person who wants to contest polls cannot be employed in a public sector undertaking.
After she won a gold medal in the discus throw at the 2010 Commonwealth Games, Poonia was roped in as brand ambassador by Rajasthan state Health Ministry though she quit from that position a few days back in view of her joining politics.
She has been involved in a couple of campaigns in Rajasthan -- the first one aimed at spreading awareness against female foeticide, called 'Save the Girls from Kanya Bhuran Hatya' at Hanumangarh, Sikar, Jhunjhunu and other districts.
The second campaign, called 'Khushi', at some villages in Udaipur district, aims at spreading awareness among people on the importance of care for the underprivileged and deprived children -- their health, education and nutrition.
Image: Krishna Poonia