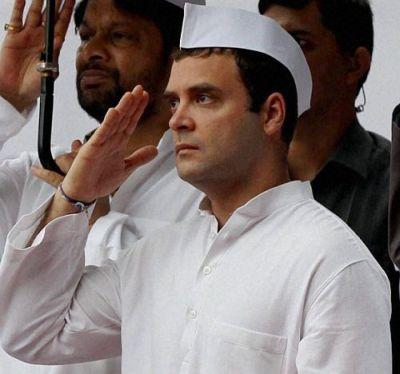 Accusing Bharatiya Janata Party of fanning communal flames, Rahul Gandhi, while addressing rallies in poll-bound Rajasthan on Wednesday, said the party's "politics of hatred" was damaging the country's fabric and apprehended he may also be assassinated like his grandmother and father, who had fallen victims to it.
The Nehru Gandhi scion also admitted of being engulfed with anger for long as he used to consider the assassins of his grandmother, former Prime Minister Indira Gandhi, his "friends".
Rahul Gandhi's speech at the political rally in Churu was more like excerpts from his personal life and it seemed like he was speaking what he felt and not from a scripted speech. It was indeed very unlike the one narrating his mother's (Congress president Sonia Gandhi) story in Madhya Pradesh.
"In MP I had delivered two speeches depicting my mother's pain for not being able to vote for the food security bill. But when I reached home from MP, my mother asked me why did I tell her story (at the rallies) and that I should talk about my own stories," Rahul said, as he started his speech at Churu.
The Congress vice president directly accused the Bhartiya Janata Party of spreading hatred among Hindus and Muslims in the country.
Striking an emotional chord, the Congress vice president said that when he visited riot-hit Muzaffarnagar in Uttar Pradesh sometime back and talked to both Hindus and Muslims, he could see his own story in their words.
"I was seeing my face in their grief. That is why I am against their (BJP's) politics....What do they do? They will put Muzaffarnagar on fire, Gujarat on fire, UP on fire and Kashmir on fire and then you and we will have to douse that. This damages the country," Gandhi said.
He said that such politics leads to anger and resentment and precious lives are lost in violence.
He even mentioned that the people who killed his grand mother and father can kill him too. "They have killed my grandmother and father, and they may kill me too one day. But I do not fear from death," he added.
The Gandhi scion began his story by recalling about his grandmother's assassins. "Beant Singh had taught me how to play badminton and how to smash the shuttle while the other (Satwant Singh) taught me how to pull up. I used to play with them. I knew them since long and had faith on them," he said. He then went on to add, "One morning, sometime in 1984, I was walking around the house. At that time the (Los Angeles) Olympics was on. Beant Singh came to me and asked where my grandmother used to sleep? I could not understand why he was asking, but I gave a misleading answer. Then he showed me how to save myself when a hand grenade is hurled and told me that I should lie down."
Continuing to share a chapter of his life that is not much talked about, he said, "After several years, I came to know that they were planning to kill my grandmother during Diwali."
Later, he also narrated the story of the fateful day -- October 31, 1984 -- when Indira Gandhi was assassinated by her two bodyguards.
He asserted, "They killed her because of hatred and it took me 10 to 15 years to get over the anger. However, it takes a minute to get provoked," said Rahul.
"Anybody can get angry. The anger is deliberately put into people. Politicians do it. Interested party does it. And then the common man, who is hurt has to carry this anger with him. He moves everywhere with this anger. That is why I am against the politics of BJP. Because what they do is that they hurt (people) for political gains."
Gandhi, whose grandmother Indira Gandhi was killed by her Sikh bodyguards during the militancy days in Punjab and father Rajiv Gandhi was assassinated by the Liberation Tigers of Tamil Eelam, also narrated an incident of an MLA from Punjab visiting his office recently and telling him that had they met 20 years ago, he would have killed the Congress vice president due to anger.
Relating the anger among a section of people due to communal violence to the larger theme of resentment due to deprivation in society, the Congress vice president said that anger does not emanate only from killings and also from hunger.
Reaching out to youths, Gandhi also promised to end the "quotaism in political system", where a handful run the show, in the same his father late Rajiv Gandhi brought an end to quota system in telephone allocation.
"We have to change one more thing in the next 10 years and this we have to do with youths. The biggest lacunae in our country is in the political system. Be it of BJP, Congress, BSP and SP. This system is run by 300 to 400 people. I want that in coming years, system should be run by lakhs of youths.
"Rajiv Gandhi had brought to an end to quotas in (landline) telephone and all of you got a mobile phone in your hand. I want to bring an end to this quotaism in the political system and as you have mobile phones in your hand, political power will also be in your pocket in future," Gandhi said.
Noting that political change will be heralded in the country after 2014, he said once Congress party introduces it, all other parties will follow suit like they do in other aspects.
"The fight for 2014 is going on. My job is not only to win elections but also to tell you the long-term thinking for future," he said, promising youths of Rajasthan not only employment in India but also abroad in the time to come due to the measures taken by the UPA government.
Later Rahul also talked about development and said that the Congress –led state government and central government are building infrastructure for more manufacturing units and that Churu is part of it.
"I am not against businessmen, but I want a partnership between poor and industrialists".
During the rally, Commonwealth Games gold medalist discuss thrower Krishna Poonia was seen on the stage with Rahul Gandhi and other leaders. Krishna Poonia, who hails from Haryana, is married to Virendra Singh Poonia of Churu district, and looks all set to contest elections from Churu on a Congress ticket.
With inputs from PTI