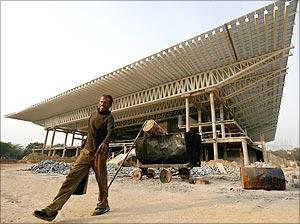 Legal tangles might have caused some delay but more than half of the construction work at the 2010 Commonwealth Games (CWG) village in New Delhi is over and the facility would be ready in March next year, the Sports Ministry said on Tuesday.
"56 per cent of the Commonwealth Games Village project is over and it will be completed by March 31, 2010," Minister of State for Youth Affairs and Sports Pratik Prakashbapu Patil said in response to a question in the Lok Sabha.
"The progress of work at Commonwealth Games Village is monitored closely at various levels including Ministry of Youth Affairs and Sports, CWG Organising Committee, Lt Governor and Chief Minister, Delhi. It is also monitored in the Co-ordination Committee meetings and also in weekly co-ordination at DDA's level," he added.
The construction at the village site, which is close to the Yamuna river bed, had been challenged in the Delhi High Court which constituted a panel to study its ecological effect.
But the Supreme Court recently gave the go ahead for the construction.
The Minister also assured that the Games' venues would be world class.
"For 17 disciplines of CWG 2010, 12 venues will be developed as competition venues and various venue-owning agencies Sports Authority of India, Delhi Development Authority, Government of NCT of Delhi, University of Delhi are spending considerable funds for developing these as world class venues," he said.
"For the preparation of trainees and of the competition venues for CWG 2010, government has allocated Rs 2460 crores to SAI, which will help in the creation of state-of-the-art facilities," Patil said.
"An amount of Rs 1770 crore has been allocated by the Planning Commission to the government of NCT of Delhi for improvement in the city infrastructure which includes, substantial amount for beautification of Delhi. In addition to these, NDMC and MCD will also spend considerable amount from their own resources for sports and civic infrastructure," he said.
Patil also gave details of the upgradation being carried out at the various SAI centers across the country.
"Upgradation of facilities in these centres in the form of civil amenities, play fields and staff welfare measures have been carried out," he said.
"Government provides financial assistance to SAI to set up state-of-the-art sports training facilities for the training of national athletes. On an average, SAI spends around Rs 30 crore annually for the infrastructure development at various SAI centres," he added.
Photograph: Reuters