'It was actually very difficult to focus on the match, as well, as my mind was all the time blocked with the pain.'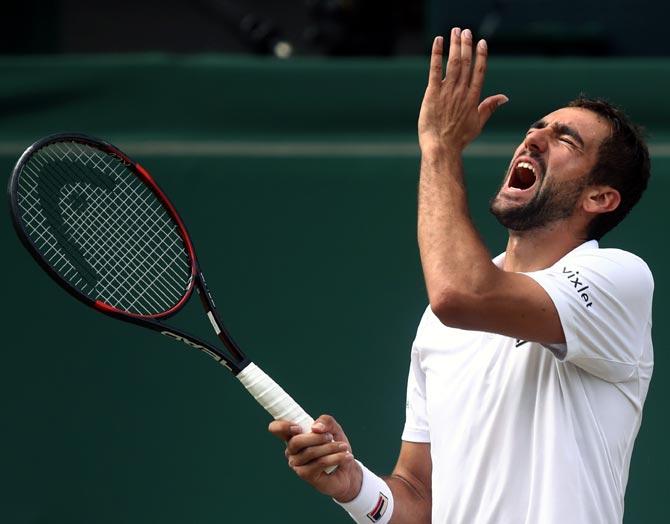 IMAGE: Marin Cilic reacts during the Wimbledon final against Roger Federer. Photograph: Julian Finney/Getty Images
Marin Cilic, thrashed by Roger Federer in straight sets in Sunday's Wimbledon final, said he had been suffering from a blister in his foot during the showpiece clash.

The Croatian seventh seed was distraught after going 3-0 behind in the second set, sitting on his chair in tears.

He received a medical timeout at the end of the second set on the way to a 6-3 6-1 6-4 defeat in his first Wimbledon final.

"It was definitely one of the unfortunate days for me for this to happen. I had a really bad blister and fluid came down into the callus," the 28-year-old said, noting that he had felt the injury during his semi-final with Sam Querrey.

"It was tough emotionally because I know how much went into the preparation in the past few months.

"It was really bad luck but I wanted to give my best and try as much as I could. But it was tough when you are in that situation because you know there is not much chance to win."

Cilic said the blister had surfaced during his run to the final, which included a long five-setter against Gilles Muller of Luxembourg in the quarter-finals.

The Croat said that physiotherapists had done all they could to help him recover for the final.

"They helped. The last 30 hours, they were just constantly almost with me. They did as much as they could, but unfortunately I still felt the pain," he said.

"Every time I had to do a reaction fast, fast change of movement, I was unable to do that," he added.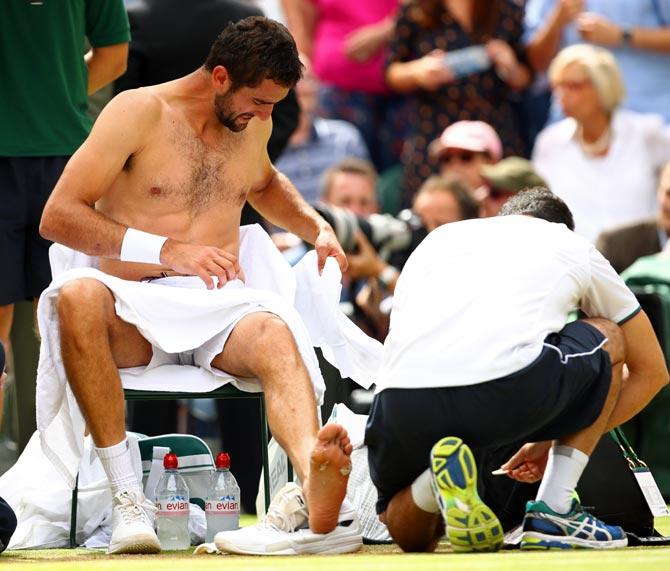 IMAGE: Marin Cilic reacts during the Wimbledon final against Roger Federer. Photograph: Julian Finney/Getty Images
Cilic said his tears were not as a direct result of the pain but were an emotional response to the situation he found himself in during his biggest game at the All England Club.

"It was just a feeling that I knew that I cannot give my best on the court, that I cannot give my best game and my best tennis, especially at this stage of my career, at such a big match.

"It was very, very difficult to deal with it. You know, that was the only thing. But otherwise, you know, it didn't hurt so much that it was putting me in tears. It was just that feeling that I wasn't able to give the best," he said.

The Croat said that the blister had impacted on his ability to concentrate on the task of trying to beat Federer.

"It was actually very difficult to focus on the match, as well, as my mind was all the time blocked with the pain. It was tough for me to focus on the tactics, on the things that I needed to do.

"I wasn't serving very good today because of that. Also, you know, I was just not able to set up properly on the balls. It was very, very tough to deal with it," he said.