Football in West Bengal may not be the same again in the aftermath of the Saradha chit fund scam which has left thousands of investors in disarray and could mean a drying up of funds for clubs.
Given the current scenario, the biggest loser would be I-League team United SC.
Having spent heavily on I-League leading scorer Ranty Martins and Costa Rican World Cupper Carlos Hernandez with a Rs 13 crore budget last season, United SC are unsure about their existence with the fate of their title sponsors, Prayag, hanging in the balance.
"Let us first see whether we're able to survive or not. As of now, Prayag has stuck to its commitment, but we don't know what will happen in the transfer season," United director Nabab Bhattacharya said.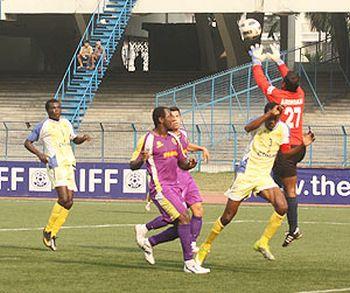 The big-spending United SC did live up to expectations winning their maiden IFA Shield this season. The purple brigade, who were placed fourth, also have a realistic chance of finishing in top three of the I-League.
Bhattacharya said their top players Ranty and Hernandez are already getting big offers and a bigger budget is required to retain them.
"They are getting huge offers. We had a budget of about Rs 13 crore last season but it will have to go up now. But where are the takers for Indian football?
"Mohun Bagan and East Bengal with UB Group behind them will have no problem but it's small teams like us who will have to bear the brunt," he said.
Former champions East Bengal which has association with Rose Valley, a company which calls itself a multi-business conglomerate, however, also expressed concern about retaining the club's top recruits.
"We are helpless, where is the money? Not sure how to rope in a foreign player now."
Debashish Dutta of Mohun Bagan said the chitfund bust has been a big shock for football. "Small clubs will suffer more. Big clubs like us will also suffer because our budgets will definitely come down."
There are 325 clubs in West Bengal registered with the Indian Football Association. The AIFF has issued a statement asking new I-League teams to verify the background and track record of a prospective sponsor before signing a deal.
"We are really concerned about the matter. We don't want football to suffer. We are keeping a close watch on the situation," AIFF Vice-President Subrata Dutta said.
A veteran Subrata Bhattacharya said. "The Maidan was never dependent on chitfunds. Then why now? Chitfunds should not decide a footballer's worth."