China's Chen Jin went one better than last year to lift the men's singles world badminton title on Sunday, subduing Indonesia's Taufik Hidayat 21-13, 21-15 in the final.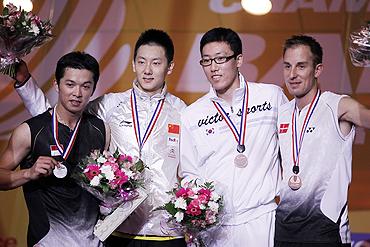 His victory highlighted a brilliant day for China who for the first time since 1987 took all five titles.
Chen had finished runner-up in 2009 when he lost to compatriot Lin Dan but Lin was beaten this time round in Friday's quarter-finals, leaving centre stage for Chen.
The Chinese took his chance with both hands, often outplaying Hidayat, world champion in 2005 and Olympic gold medallist in 2004.
Chen raced into a 7-0 lead in the first set and though Hidayat fought back, two errors at the end handed the advantage to the Chinese.
Defending superbly when necessary, Chen led 6-2 in the second and generally called the shots. Hidayat bravely saved three match points from 20-12 but Chen was not to be denied.
"Mentally I was very strong today. I prepared very well and I didn't let Taufik play to his strengths, particularly around the net," Chen said
Hidayat said: "I tried my best today but made too many mistakes. I was able to get single points but not put a run together."
Chen's victory formed part of a Chinese clean sweep of the five titles.
In an all-Chinese women's singles final, seventh seed Lin Wang beat Wang Xin, seeded three, 21-11, 19-21, 21-13.
The mixed and women's doubles were also China-only finals with Zheng Bo and Ma Jin winning the former and Du Jing and Yu Yang the latter.
The men's doubles pair of Cai Yun and Fu Haifeng, defending their 2009 title, beat Malaysia's Koo Kien Keat and Tan Boon Heong in three sets.
The result meant Malaysia remain without a world title since the tournament was first staged in 1977.
Over the last few years, Chen has often played second fiddle to the charismatic Lin but the old order may be changing.
"They (Chong Wei and Lin) are up there but now I have got the opportunity and an equal chance with them," the 24-year-old Chinese said.
The new champion said earlier in the week he hoped one day to dethrone Lin as China's No. 1, without waiting for Lin to retire.
That scenario moved a step closer after Sunday's triumph but Chen insisted he was not the new Lin Dan.
"I wouldn't compare myself with him," he said. "Lin Dan is Lin Dan and Chen Jin is Chen Jin."
Lin beat Chen to the world title in the final in Hyderabad last year but Chen had defeated him in the 2008 All England final.
The next big test may arise at the Asian Games in November and Chen will be ready.
"After today I've got to start all over again and I'm very happy," he said.