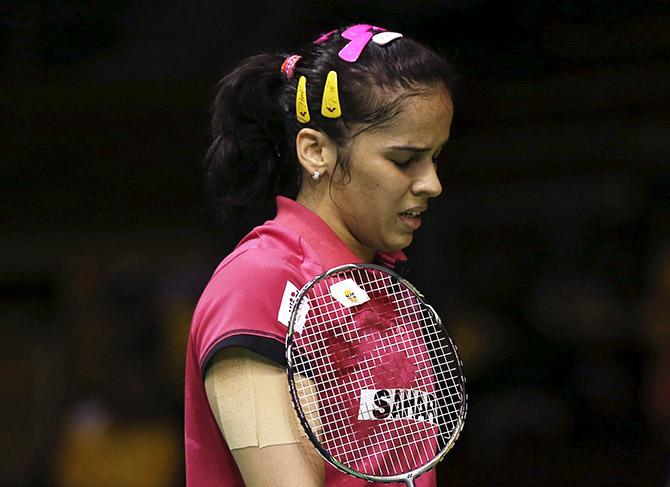 IMAGE: Saina Nehwal reacts after losing a point. Photograph: Olivia Harris/Reuters
Indian ace shuttler Saina Nehwal's dream of defending her women's singles title came crashing as she suffered a straight-game defeat to Olympic champion Li Xuerui in the final of the $ 700,000 China Open Super Series Premier, in Fuzhou, on Sunday.
The Olympic bronze medallist Saina, committed a litany of unforced errors to go down 12-21, 15-21 against World No 7 Li in the women's singles summit clash which lasted for 39 minutes at the Haixia Olympic Sports Center.
Up against an opponent against whom she has lost nine times in the past, Saina failed to create the pressure which could have wilted Li, who showed better understanding of the Indian's game to outdo her for the 10th time.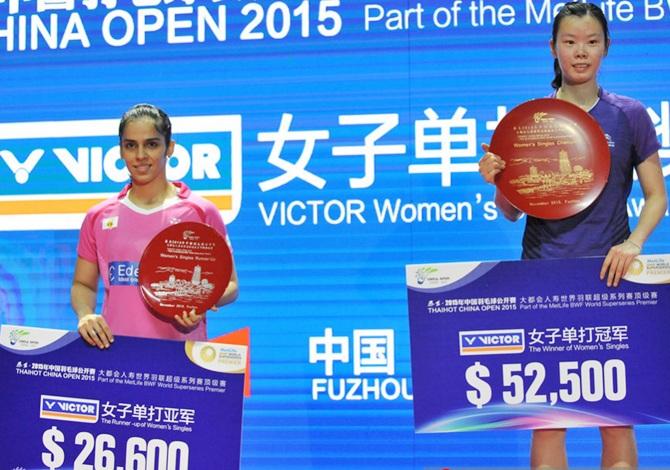 IMAGE: India's Saina Nehwal, left, poses with her runner-up trophy. Photograph: Twitter
In their 12th meeting, Saina initially used her knowledge of the conditions to her advantage to zoom to a 4-1 lead early on but she committed too many unforced errors after that for Li to move ahead.
Saina, who last played Li in Malaysian open, struggled with a few strokes going wide and also left gaps on her left which the Chinese exploited to wrest a 7-4 lead.
Saina won a parallel game and a point when Li missed the line after a long rally but the Chinese used her net drops and rode on Saina's unforced errors to lead 11-6 at the break.
Li, who has won the last five matches against Saina, continued her march after the interval even as the Indian kept breathing down her neck with some occasional points.
Li made some immaculate saves while Saina started crumbling under pressure which allowed he Chinese to lead 19-10. Saina then again hit wide to gave Li a 10-point advantage at 20-10. Saina saved a couple before mistiming a return to give the first game to Li.
In the second game, Saina surged ahead to a 4-0 lead once again. Playing their fifth final of the year, Li and Saina engaged in engrossing rallies and even though Li came up with some spectacular shots, she also committed some mistakes to allow Saina lead 11-6 at the interval.
However, Li changed gears after the interval and came up with sharp smashes and drops to reel off seven points to surpass Saina and make it 13-12 in her favour.
Li picked up the shuttle early and came up with disguised shots to catch Saina offguard.
There was a spring in Li's steps as she dominated the proceedings. The Indian failed to give the finishing touch to the rallies and also went wide and long too often to help Li eventually grab a 19-15 lead.
A brilliant drop by Li found Saina stretched as her stroke went to net and then next the Indian hit the shuttle long as Li clinched her second title of the season.