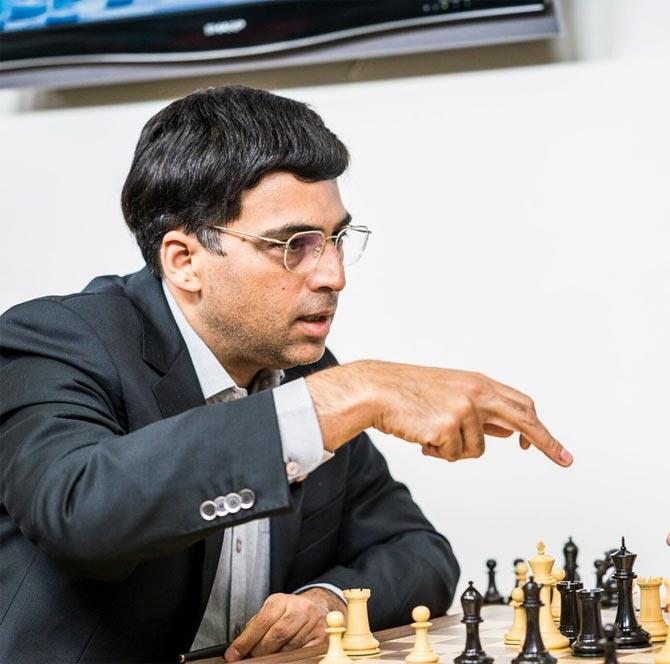 Five-time world champion Viswanathan Anand had another below-par day with a couple of draws and a defeat, finishing ninth spot in the rapid section of St. Louis Rapid and Blitz tournament that concluded in St Louis, USA.
While the rapid section is not conclusive final standing in the tournament, Anand now faces a daunting task as he has a huge ground to cover in the Blitz section that will have eighteen games in all with one point awarded for each victory.
Hikaru Nakamura of the United States and Shakhriyar Mamedyarov of Azerbaijan overtook overnight leade Fabiano Caruana of United States to emerge joint leaders on 12 points after the nine-round rapid section.
With two points for a win guaranteed in rapid games, both Nakamura and Mamedyarov won two games on the final day besides a draw while Caruana could only get two draws that relegated him to the second spot.
Caruana ended on 11 points, a couple of points ahead of Sergey Karjakin of Russia, Levon Aronian of Armenia and Leinier Dominguez Perez of Cuba, who all had nine points apiece.
Maxime Vachier-Lagrave of France and Wesley So of United States share the seventh spot on eight points while Anand and Alexander Grischuk of Russia are now at the bottom with just six points.
If he needs a big comeback, Anand will need to score at least 12-13 points in the blitz event and the past indicates that the Indian ace is very capable of that.
The blitz event will be spread over two days with nine rounds played on either days and the start again will be crucial for Anand.
The day started with a draw for Anand against Grischuk and then against Caruana butMamedyarov proved superior to Anand in the final round of rapid.
Caruana could not believe his luck as he left a rook up for grabs in the first game of the day against Dominguez and the last two games were meant for recovery thereafter.
Mamedyarov and Nakamura were obvious pick of the day with the former being a little lucky in escaping against Dominguez.
Standings after rapid section: 1-2. Hikaru Nakamura (USA), Shakhriyar Mamedyarov (Aze) 12 each; 3. Fabiano Caruana (Usa, 11); 4-6. Levon Aronian (Arm), Sergey Karjakin (Rus), Leinier Dominguez Perez (Cub) 9 each; 7-8. Maxime Vachier-Lagrave (Fra), Wesley So (Usa) 8 each; 9-10. V Anand (Ind), Alexander Grischuk (Rus) 6 each.
Nihal Sarin closes in on final Grandmaster norm
Young Nihal Sarin closed in on his final Grandmaster norm after settling for a draw with Romanian GM Constantin Lupulescu in the seventh round of Abu Dhabi Chess in Abu Dhabi on Tuesday.
Having done the hard work, Nihal theoretically requires one point out of the last two to become the next Grandmaster of India, but the statistic reveal that if all goes well, even a half point will be enough for the 14-year-old Kerala boy to become the third Grandmaster from his state after G N Gopal and S L Narayanan.
It turned out to be a good day for the fancied Indians as Murali Larthikeyan came up with a superlative effort to down Vladimir fedoseev of Russia and Aravindh Chithambaram crashed through the defences of Marty Kravitsiv of Ukraine.
Local stalwart A R Salem Saleh, who also represents the Delhi team in the PRO-Chess league, was in his element as he defeated top seed Le Quang Liem of Vietnam to join overnight leaders Daniil Dubov of Russia and Anton Korobov of Ukraine in lead on six points from seven rounds.
Karthikeyan and Chithambaram are two players in pursuit of a podium finish from India as both reached 5.5 points and shared the fourth spot along with Richard Rapport of Hungary, Parham Maghsoodloo of Iran, Gabriel Sargissian of Armenia and Ivan Cheparinov of Georgia.
Many norm aspirants remained on course while a few lost their way and will be hoping to recover with just two rounds to come in one of the strongest opens of the continent.
Young International Master P Iniyan kept himself in contention for a Grandmaster norm holding Tigran Petrosian of Armenia to a draw but D Gukesh fell out of contention after losing to Firouza Alireza of Iran.
V S Rathanvel made a strong claim for his International Master norm beating Grandmaster M Shyam Sundar.
11-year old Pranav Anand remained an IM norm aspirant despite losing to highly rated Grandmaster Sjugirov Sanan of Russia while Sankalp Gupta almost ensured his IM norm by beating Grandmaster Abhijit Kunte.
Important and Indian results round 7 (Indians unless stated): Daniil Dubov (Rus, 6) drew with Anton Korobov (Ukr, 6); A R Salem Saleh (Uae, 6) beat Le Quang Liem (Vie, 4.5); Rapport Richard (Hun, 5.5) beat Amin Tabatabaei (Iri, 4.5); Vocaturo Daniele (Ita, 4.5) lost to Ivan Cheparinov (Geo, 5.5); Murali Karthikeyan (5.5)beat Vladimir Fedoseev (Rus, 4.5); Gabriel Sargissian (Arm, 5.5) beat Levan Pantsulaia (Geo, 4.5); Aravindh Chithambaram (5.5) beat Kravtsiv Martyn (Ukr, 4.5); S L Narayanan (4.5) lost to Parham Maghsoodloo (Iri, 5.5); Lupulescu Constantin (Rou, 4.5) drew with Nihal Sarin (5); Erigaisi Arjun (4.5) drew with Amin Bassem (Egy, 4.5);Vladimir Akopian (Arm, 5) beat Abhimanyu Puranik (4); Aryan Chopra (4.5) drew with Adly Ahmed (Egy, 4.5): Abhijeet Gupta (4.5) drew with Kadric Denis (Bos, 4.5); P Iniyan (4.5) drew with Tigran Petrosian (Arm, 4.5); S Nitin (4.5) drew with Jojua Davit (Geo, 4.5); Debashis Das (5) beat Aaryan Varshney (4); Pranav Anand (4) lost to Sjugirov Sanan (Rus, 4.5); Sundararajan Kidambi (3.5) lost to Nigel Short (4.5); Firouzja Alireza (Iri, 4.5) beat D Gukesh (3.5); Abhijit Kunte (3.5) lost to Sankalp Gupta (4.5); Nguyen Anh Khoi (Vie, 4.5) beat Dushyant Sharma (3.5); V S Rathanvel (4.5) beat M Shyam Sundar (3); Raunak Sadhwani (4) beat Mary Ann Gomes (3); Koustav Chatterjee (4) beat Ikeda Junta (Ina, 3); Shailesh Dravid (4) beat Raghunandan Kaumandur Srihari (3); Al Muthaiah (4) beat V S Raahul (3); N Krishna Teja (4) beat Kushagra Mohan (3);Shantanu Bhambur (4) beat P Saravana Krishnan (3).