Riding on three back-to-back victories, Grandmaster Abhijeet Gupta emerged as the best performing Indian as he finished seventh in the Al Ain Classic International chess tournament that concluded in Al Ain (UAE) on Saturday.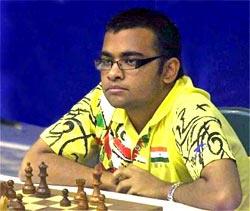 Gupta, who started the tournament as the defending champion, lost his fifth and sixth round games but scored victories in the remaining and his last round win against Vadim Malakhatko of Belgium was particularly special.
Gupta finished seventh overall with a tally of 6.5 points in all.
Grandmaster Vidit Gujrathi played out a hard fought draw with top seed Yuriy Kryvoruchko of Ukraine in his final round game and finished eighth overall after matching Gupta on points. The other Indian in contention, Sandipan Chanda, however, lost his last round game against Sergei Zhigalko of Belarus.
Sahaj Grover and Chanda finished among the prizes too ending on 14th and 17th spot overall with six points each in their kitty. Grover did well in his final game to hold a higher-ranked Samuel Shankland of United States to a draw.
It was a four-way tie at the top and Gaioz Nigalidze of Georgia emerged as the champion on seven points winning his last round game against compatriot Mikheil Mchedlishvili.
Tigran Petrosian of Armenia, Vladimir Onischuk of Ukraine and Zhigalko finished in a tie for first but ended 2-4 respectively after the tie was resolved.
P V Nandhidhaa was one of the biggest gainers among Indians adding over 50 ELO rating points from the event. The Chennai-girl also completed the requirements of becoming a Woman International Master in the process as she crossed the 2200 rating barrier while scoring five points in the tournament.
Gupta stood as the lone warrior on a tough final day for the Indians. Playing white against Malakhatko, the Indian sacrificed a pawn early and opened lines on the king side with a pawn onslaught.
Malakhatko was fine in the middle game till he went for an erroneous exchange of Bishop with a knight and soon Gupta was in control which he did not let go.
Gujrathi played a solid defensive game against Kryvoruchko. The French Winawer by the Ukrainian gave a lasting advantage but Gujrathi hung on, taking care of all details while not allowing a breakthrough to white.
Chanda went for the open Ruy Lopez and had balanced positions against Zhigalko. Zhigalko went on relentlessly and won a pawn in the ensuing endgame. A further mistake by Chanda took the game to a King and pawns endgame wherein it was curtains soon for the Indian.
Important and Indian results final round (Indians unless specified): Vladimir Onischuk (Ukr, 7) drew with Tigran Petrosian (Arm, 7); Yuriy Kryvoruchko (Ukr. 6.5) drew with Vidit Santosh Gujrathi (6.5); Sergei Zhigalko (Blr, 7) drew with Sandipan Chanda (6); Mikhailo Oleksienko (Ukr, 6.5) drew with Alexander Areshchenko (Ukr, 6.5); Gaioz Nigalidze (Geo, 7) beat Mikheil Mchedlishvili (Geo, 6); Sahaj Grover (6) drew with Samuel Shankland (Usa, 6); Abhijeet Gupta (6.5) beat Vadim Malakhatko (Bel, 5.5); Arman Pashikian (Arm, 6.5) beat Hovik Hayrapetyan (Arm, 5.5); Rauf Mamedov (Aze, 6) beat M Shyam Sundar (5); V Vishnu Prasanna (5.5) drew with Constantin Lupulescu (Rou, 5.5); Viorel Iordachescu (Mda, 5.5) drew with S Arun Prasad (5.5); G N Gopal (6) beat Levon Babujian (Arm, 5); Alexander Kovchan (Ukr, 6) beat Tejas Bakre (5); Shardul Gagare (5.5) drew with Martyn Kravtsiv (Ukr, 5.5); Manuel Petrosyan (Arm, 5) beat Deep Sengupta (6); Ankit Rajpara (6) beat Parviz Gasimov (Aze, 5); Abdulla Khayala (Aze, 4.5) lost to Sagar Shah (5.5); Vladimir Feldman (Aus, 4.5) lost to Eesha Karavade (5.5); Nakhbayeva Guliskhan (Aze, 5) drew with P V Nandhidhaa (5); Narmin Khalafova (Aze, 4) lost to Soumya Swaminathan (5); Sameir Ramez (Egy, 4) lost to S Vijayalakshmi (5); Vugar Asadli (Aze, 4) lost to Akash Thakur (5); Abhimanyu Puranik (5) beat Narmin Mammadova (Aze, 4); Sayantan Das (4.5) beat Amruta Mokal (3.5); R Vaishali (4.5) beat Abtini Hasan (Syr, 3.5); Ahmadzada Ahmad (Aze, 4.5) beat Raja Harshit (3.5); Narmin Soyunlu (Aze, 4) drew with Rucha Pujari (4); R Praggnanandhaa (4) beat Elmar Atakishiyev (Aze, 3).