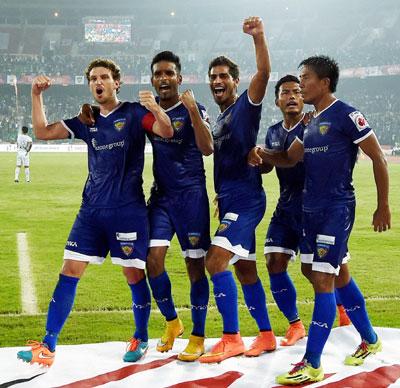 Defending champions Atletico de Kolkata (ATK) will kick off their Indian Super League campaign against a formidable Chennaiyin FC coached by World Cup champion Marco Materazzi on Saturday.
ATK's player of the season last time round, Fikru Teferra, will be donning new jersey this time round as he was picked up by Chennaiyin FC at the auction along with goalkeeper Edel Bete.
Having sorted out the grey areas that existed last year, particularly in the mid-field and defence, Chennaiyin FC has roped in some strong players from Brazil and Italy for the upcoming season.
Chennaiyin had also retained the core of the squad that enabled them to top the league stages last year.
The home team's star midfielder and 'Golden Boot' winner last year with nine goals, Elano Blumer of Brazil would play a significant role in determining Chennaiyin's fortunes this year as well.
Besides replacing some players like Mikael Silvestre and Eric Djemba-Djemba with Italian midfielders Manuele Blasi and defender Allessandro Potenza, Chennayin had also recruited Brazilian mid-fielder Raphael Augusto and defenders Eder Monteiro and Mailson Alves.
The icing on the cake for Chennaiyin turned out to be the signings of Ethiopian striker Fikru and Cameroonian goalkeeper Bete, both of whom were poached from ATK.
And come this year, the southern outfit would look to the duo to dish out game changing performances that both produced in the inaugural season of the tournament.
Chennayin manager-cum-player Materazzi had made sure that in his team at least two players are fighting for each position, which will give enough depth and balance to the side.
On the other hand, ATK have signed Japanese born Indian midfielder Arata Izumi and India international Rino Anto.
Besides the title holders have also roped in four domestic stars -- Lalchhawnkima, Augustine Fernandes, Amrinder Singh and Kunzang Bhutia.
Athletico de Kolkata have made significant changes to their team this year. The team management's decision to release players like Fikru, last year's captaon Garcia and Jofre Mateu, who played a key role in their title-winning run, has definitely raised a few eyebrows.
Image: Chennaiyin FC players celebrate after scoring a goal against Atletico De Kolkata during last season of the Indian Super League.
Photograph: PTI