Chelsea fans are revelling in the latest footballing fact -- if you cannot have Ronaldo or Zinedine Zidane in your team, the next best thing is a Russian oil tycoon.
Saddled with debts estimated at 80 million pounds ($128.2 million) and with operating losses that nearly trebled to more than 11 million pounds for the six months to December 31 2002, Chelsea finished last season facing an uncertain future.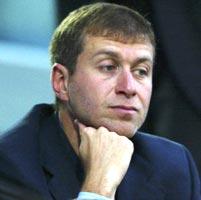 Yet in the three weeks since billionaire Roman Abramovich agreed to buy the west London premier league club, their prospects have been transformed beyond recognition.
The money worries now just a distant memory, Chelsea have embarked on a spending spree worth nearly 40 million pounds that may threaten the hierarchy of English soccer.
Manager Claudio Ranieri, whose wish-list of new players is fast becoming a reality, was handed a completely new left flank on Monday.
England wingback Wayne Bridge joined from Southampton and Ireland's attacking midfielder Damien Duff arrived from Blackburn Rovers at a combined cost of 24 million pounds.
Cameroon's Geremi, who adapted well to the rigours of the premier league last season during a loan spell at Middlesbrough from Real Madrid, will add strength to the midfield and a potent threat from free kicks.
YOUTH CULTURE
Right back Glen Johnson was a revelation at West Ham United last season, despite their subsequent relegation, and the 18-year-old player had been tipped for a move to a big club.
Johnson's move also underlined the fact that, aside from sheer talent, youth is the other recurring theme in Ranieri's dealings as the wily Italian looks to the future.
Bridge, 22, swapped teams with the 34-year-old Graeme Le Saux, while Duff, 24, fills the creative void left by the 37-year-old Gianfranco Zola's return to his native Sardinia.
Geremi, at 24, will link up in midfield with Frank Lampard, 25, who established himself last season as an England squad regular, and Emmanuel Petit.
Central defence also looks to have a bright future, with skipper John Terry and William Gallas destined to outlast Petit's fellow 1998 World Cup winner Marcel Desailly, who turns 35 early in the new season.
Though much has been achieved in a short time, the spending spree is unlikely to end just yet.
Chelsea have until a transfer deadline of August 31 to keep spending, while another window of opportunity opens throughout January 2004 should any finishing touches be needed.
If nothing else, the shake-up should act as a warning to strike pair Eidur Gudjohnsen and Jimmy Floyd Hasselbaink, who scored more than 50 goals two years ago but managed only half that last season.
REVOLVING DOOR
Any more resting on past achievements and the Icelander, the Dutchman, or both, could soon find themselves on the wrong side of Stamford Bridge's revolving door.
Teenager Carlton Cole showed plenty of promise in his dozen appearances last season, while the arrival of a big-name striker cannot be ruled out.
Speculation has already linked Chelsea with Inter Milan's Christian Vieri, who grew up in Australia, and Arsenal's Thierry Henry, the premier league's top scorer in 2002 and runner-up in 2003.
Though neither are likely to be Blues next season, they at least reflect the new level of expectation at a club whose top scorer last season, Zola, is now 1,600 km away and was never an out-and-out striker in the first place.
Aside from the money available, Chelsea's other attraction to potential newcomers is that they clearly look like a club who are going places.
Undoubtedly title candidates at home, where they will challenge the domination of Manchester United and Arsenal, Chelsea should easily negotiate the two qualifying games which separate them from the Champions League.
Abramovich wants to make his club one of the best in Europe, ultimately challenging the likes of Ronaldo and Zidane's Real Madrid, and the message has been received loud and clear.
Explaining his decision to leave a club where he was perfectly happy, Duff told reporters before boarding a flight to join his new team mates in Malaysia: "Chelsea are on the up.
"They are a huge club already and they are only going to get bigger. So I want to be part of it."
Bridge, who admitted to the lure of Champions League football, was on the same wavelength.
"It's an exciting time for Chelsea and it is going to get even better," he said. "I've come here and I want to win things."
Given the way Chelsea are spending money, that objective may well be realised sooner rather than later.